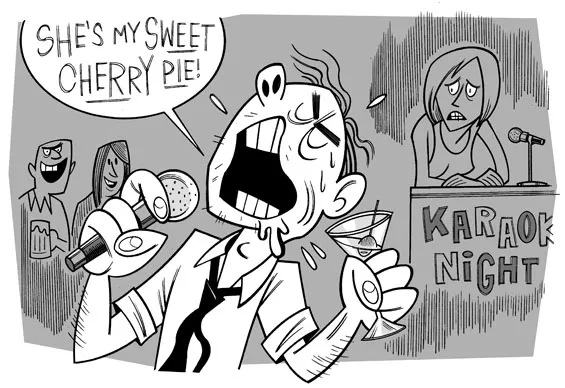 Illustration by Mike Gorman
Karaoke can be a dangerous endeavor. What can you sing that won't make friends shun you? How can you go balls-out during your next performance? Each week in Ask a Karaoke Host, RFT Music writer and professional karaoke host Allison Babka answers your burning questions about maximizing your melodious mutterings and minimizing your friends' pain. Ask her stuff by emailing rftkaraoke@gmail.com or hashtagging #rftkaraoke on Twitter.
Don't judge, but I've never done karaoke. I'm up for it, but what are the top five newbie mistakes and how can I dodge them? --The 40-Year-Old Karaoke Virgin
I'm glad you asked, and not just because I like making lists and telling people what to do. You're not alone in your karaoke virginity; people wonder all the time about overcoming the fear of that first solo performance. I've got a few tips that should help you save face until you feel confident enough to do whatever you damn well please.
1. Don't go without pals. And I'm not talking about that douche bag Johnny who thinks his sarcasm is an endearing way to toughen people up. Go with friends who are supportive, who you'll hear clapping the loudest as you finish up your song. Their confidence and pride in you will be infectious. Besides, if you freak out while singing, you can always beg a friend (or the DJ) to come up and help.
2. Don't reach for the heavens. Look, I know you'll want to sing something that will knock everyone's socks off, but don't stray too far from what's within your vocal range and what you're familiar with. You'll want to feel as comfortable as possible your first time out, and it's hard to do that if you're attempting a falsetto that you don't actually have.
3. Don't forget to practice. Pre-karaoke, make a list of songs you love and know inside-out. Practice those suckers every chance you get, because those will become your go-to selections. Sometimes choosing a tune at the bar can be overwhelming to newbies (and veterans, too). Having a list you're confident about will take a bit of that edge away.
4. Don't be a downer. I implore you to pay attention to your audience. If most of the barflies are singing festive pop, choose something from your list that's in the same vein. It's hard enough to sing alone for the first time; you won't want to compound that with people shooting you dirty looks or going outside for a smoke because you ruined the mood with "A Long December." Bonus: you'll naturally smile and relax more if you sing something fun.
5. Don't be a jerk. Don't get sloshed and do obscene things with the microphone. Don't crowd the DJ or ask for her number. Don't chat at your table louder than someone is singing. Don't forget to clap for everyone, even that one girl who unwisely performs "My Heart Will Go On." But most of all, don't worry; someone somewhere sings worse than you do. The last two minutes of Journey's "Lovin', Touchin', Squeezin'" are a series of "nah-nah's." Am I expected to sing those, or can I ad-lib from my personal Steve Perry fanfic collection? --There's a Story in My Voice
As much as I'd love to hear some of this fanfic, your audience might not be as enthusiastic. On the other hand, some song outros can go on forever, making you feel like a ninny or Bryan Adams. You can pre-empt this nightmare by telling your DJ to fade out the song after two rounds of redundancy. You also might boldly step off the stage with a wireless mic and encourage audience members to help you out on those repetitious lyrics. You're not cool enough to sing your own words, though. Trust me on that.
What's the one song that makes you cringe when people request to sing it? If you say "Baby Got Back," I may have to cut you. --L.A. Face, Oakland Booty
I fear anonymous readers, so I won't name "Baby Got Back." But I'll definitely think it. I do, however, have a long list of songs that assault my ears when people try to karaoke them. Here's a sample: "Don't Stop Believin'," "Rolling in the Deep," "Bohemian Rhapsody," "Love Shack," "Simple Man," "The Greatest Love of All" and anything from stage musicals or Disney. Save that crap for your commute. Seriously, no one wants to hear stuff from Wicked in a bar. Now please don't cut me.
As a Friday-night karaoke host at a South County bar, Allison Babka receives her share of drunken song dedications, occasionally makes people cry and even has been glorified by a singing psychic. She's considering adding "Call Me Maybe" to her personal karaoke repertoire, and she hates herself for it. Bug her with karaoke nonsense on Twitter at @ambabka, and use #rftkaraoke.
---