Metric: Tuesday at the Pageant
Uh....I got nothin'. This little mouse cursor icon has been blinking at me for a couple minutes now while I've been just staring vacantly at my keyboard, unable to think of anything amusing to write in this little show-post introductory paragraph. It's not my fault. When I came in this morning I came across a news story that a co-worker wrote (RFT blogger Nick Philips, to be specific) about a camel that recently banged a llama to death en route to a Kirkwood petting zoo, and it has me completely thrown off. I mean, I'm not going to be able to top that, so I'm not gonna try.
See also: -Bassnectar at the Pageant: Photos -The 15 Most Ridiculous Band Promo Photos -Normally we'd put the title of the post here, but in this case we're just gonna give you the back end of the url: "camel_sexes_llama_to_death_kirkwood_greentree_festival.php"
Metric comes to the Pageant on Tuesday; a camel banged a llama to death recently. The Swedish sisters that comprise First Aid Kit will be at the Firebird on Saturday; I wonder if Sweden ever has problems with camel-on-llama sexual violence. The Dodos will play Firebird on Sunday; luckily, that band's namesake has nothing to fear from sex-crazed perverted camels, having mercifully already faced extinction. I'm distracted. The rest of our picks follow.
*NOTE: I did not make a pun with the word "hump" at any point in time during this post, even though we are referring to camel sex. (But Nick sure did!)
Soulard Blues Band Mon., 9:00 p.m. October 1 @ Broadway Oyster Bar - $5 By RFT Staff The Soulard Blues Band has had a remarkable run as one of St. Louis' most durable and popular blues acts. Fans have stuck with them through many personnel changes and stylistic shifts, and their continued patronage has always been rewarded by a fine crew of singers and players assembled by bassist, bandleader and sole founding member Art Dwyer. The current edition of the band more than lives up to its hard-earned reputation.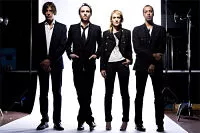 Metric Tues., 8:00 p.m. October 2 @ The Pageant - $30/$32 By Christian Schaeffer The Occupy Wall Street protest recently reached its one-year anniversary, and it's fitting that the civil unrest that marked 2011 fueled some of the most compelling music of 2012. Synthetica, the new release from Metric, is not a direct reflection on any one political quandary but a continuation of the Canadian quartet's exploration of the personal and the political. Lead single "Youth Without Youth" paints a picture of pint-sized nihilism set against a Gary Glitter drum beat and bristling guitars that create a well-heeled riot. Singer and synthesist Emily Haines has long since mastered the icy glare and beguiling affect of the best front-ladies, but Synthetica is at its best when her emotion and involvement with a collapsing world waiting to be rebuilt. Value-Added: If the $30 ticket price seems a bit steep, know that each ticket purchased comes with a digital download of the new album, which should find its way to the top of many best-of 2012 lists.
Big K.R.I.T. Wed., 7:30 p.m. October 3 @ Old Rock House - $25-$30 By Calvin Cox From this 2011 show review: The show really ramped up when Big K.R.I.T. hit the stage just after 9:00 p.m. The Mississippi-born emcee didn't waste any time getting the crowd energized with loud, krunk, trunk- bangers like "Return of 4Eva" and "Country Shit." K.R.I.T. balanced out the high-energy songs with a couple of slower, more weed friendly cuts like "Time Machine" and "Hometown Hero." The up-and-comer didn't make much use of the stage, but the St. Louis fans responded to his enthusiasm and thick southern drawl.
Fred Friction Thurs., 11:00 p.m. October 4 @ Mangia Italiano - Free By Jaime Lees Fred Friction does not offer precision, flashiness or a flawless performance. He offers the truth. And though this local legend has an army of musicians to choose from when he wants accompaniment for his live shows, he frequently prefers to present his deceptively simple songs with just his voice and an acoustic guitar. He sings sweet stories of childhood dreams, relays booze-soaked tales of regret and pushes through sad love songs with twist endings. Friction's songs are personal and touching in such a way that it is impossible to separate the man from the music. His sincere delivery is inimitable, and the tunes are always delivered with wise, knowing eyes and a bemused grin. Note: Friction's unique personality and style of dress is often noted among audiences. They say that he's a St. Louis institution who might need to be put in a St. Louis institution, but isn't that true of all of the best ones?
Marty Stuart and His Fabulous Superlatives Fri., 8:00 p.m. October 5 @ The Sheldon - $35-$40 By Roy Kasten Every morning, Marty Stuart wakes up, looks in the mirror and pinches himself. The diminutive country star hasn't had a hit in decades, but he knows he has it all: The best band (the Superlatives), the best outfits (nothing but sharp Nudies and spangled Manuels), the best mullet (a silver spiked mane), the best marriage (to the best country singer, in his eyes, Connie Smith) and the best record deals (with the freedom to cut gospel, honky tonk, hillbilly rock and tributes to the Lakota people). The Dean of the "new traditionalists," Stuart has been on a musical winning streak all his life -- and he's never forgotten how lucky he is. Listen For: The harmonies of these singers. They aren't called the Superlatives for nothing.
Stars Fri., 10:30 p.m. October 5 @ Plush - $17 By Kiernan Maletsky There is almost no one we'd rather have whispering in our ears than Stars' Torquill Campbell. He and the rest of his steadily excellent Canadian band Stars have been making subdued pop beauties for well over a decade, and this year's North is as indelible as anything they've ever produced. It's a turn toward rhythm compared with the band's more melodious recent albums; lead track "The Theory of Relativity" is downright dance-y. Though Stars is still more than capable of perfect bittersweetness - you need little more than the title of "Hold On When You Get Love and Let Go When You Give It" for proof. Extracurricular Activities: Stars' Amy Millan has a beautiful solo project, if you're a fan of the folk side of her main gig.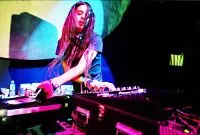 Bassnectar Sat., 7:00 p.m. October 6 @ Chaifetz Arena - $44.50 By Christian Schaeffer When you name your musical outfit Bassnectar, you'd better have the feel-good vibes (and the low-end) to back up such a ridiculous moniker. Thankfully, the act's DJ, beat-wrangler and all around party-starter Lorin Ashton embraces the sort of musical pantheism that breaks down borders and gets bodies moving. For the indie snobs, he can toss in Beatles licks or Pixies bass lines -- and for the club kids, the sheer amount of bass and squelching synthesizers is enough to trigger visions of glow sticks. Add a few hip-hop verses, continual tempo adjustments -- and the emotional catharsis that happens when a thousand strangers move as one -- and Bassnectar's mass appeal is no mystery at all.
First Aid Kit Sat., 8:00 p.m. October 6 @ The Firebird - $12 By Christian Schaeffer You can't tell the story of First Aid Kit without a few modern conveniences that helped in the process: the Swedish sisters Johanna and Klara Söderberg began posting their songs through MySpace but found international acclaim through a YouTube video of their cover of a Fleet Foxes tune. The medium may be very web 2.0, but the sisters' songs speak to a simpler version of roots music. This year's The Lion's Roar has been winning fans through familial harmonies and a soft touch. That a few Swedes in their early twenties could craft some of this year's best Americana is proof enough that music follows a geography of the soul, not the land. Name-Check: "Emmylou," a stand-out from the new album, charts new love with the models set out by the Söderberg sisters' musical heroes: Emmylou Harris and Gram Parsons, as well as Johnny and June Carter Cash.
The Dodos Sun., 9:00 p.m. October 7 @ The Firebird - $15 By Ryan Wasoba There are two factual nuggets most commonly known about San Francisco's the Dodos: The group consists of two people, and its 2008 jam "Fools" soundtracked a Miller Chill commercial. This information omits crucial details, such as Meric Long's abilities as both an earnest and cocksure vocalist. Long's partner Logan Kroeber is a dexterous drummer who fills out the duo's tunes like a one-man percussion section for a middle school symphonic band. And with a song like "Fools" providing atmosphere for the most mainstream of platforms while recalling noise-pop icons Animal Collective, the Dodos' artistic aspirations and overarching appeal mesh in perfect proportion. Recommended If You Like: American folk, African drumming, multitasking, lime-flavored beers or extinct birds.
---