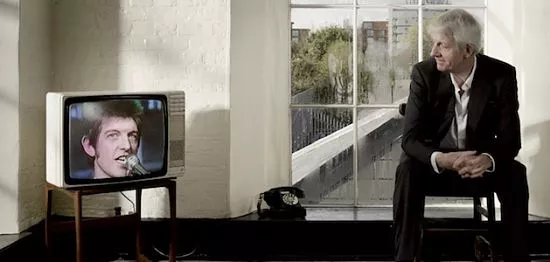 Nick Lowe - Wednesday @ The Sheldon
So there's news about the news in the news this week: We here at the RFT have new owners. Some of you may be aware of Backpage.com and the controversy it has caused for many alt-weeklies across the country -- well, we are no longer affiliated, so that's that. And aside from that, it's business as usual. "I, for one, welcome our new [corporate] overlords."
See also: -Wilco and Nick Lowe at the Peabody Opera House: Review, Photos and Setlist -St. Louis Does Guided by Voices: A Salty Salute -Raekwon's Fiasco at the Gargoyle
There's a lot of people coming to town this week that identify their music-making enterprises with their own names. Two guys named "Nick" are coming to town on Wednesday and Friday (respectively)*, Leo is coming to the Wildey theater (never mind that cancelled Chesterfield Amphitheater show from last week), John is going to be playing multiple sets at Jazz at the Bistro over the weekend, and Marquise will be at the Contemporary Art Museum tonight. If you want last names, you're just going to have to click through -- check out all of our picks below.
* I made my self laugh out loud. I am my own biggest fan.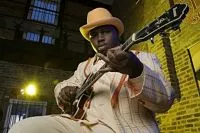 STLDW 2012 - ARTEFFECT Mon., 6:00 p.m. September 24 w/ Marquise Knox, The Vintage Years @ Contemporary Art Museum St. Louis - $5-$50 By Dean C. Minderman Marquise Knox learned the blues at the foot of legendary singer, guitarist and pianist Henry Townsend, and has been impressing audiences with his singing, stage smarts and guitar skills since before he was old enough to have a driver's license. Now just turned 21, Knox already is something of a veteran, with three albums to his credit, including Man Child, which in 2010 won the "Best Debut" award from Living Blues magazine, and his most recent, Here I Am, on the APO label. Knox has toured in Europe and played festivals across the USA, but also continues to work regularly at home, giving local fans a front row seat for his continued growth as a songwriter and performer.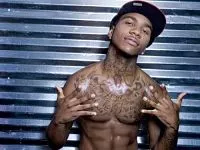 Lil B Tues., 8:30 p.m. September 25 @ The Firebird - $25 By Kiernan Maletsky Lil B is coming to the Firebird. He'll be making his first St. Louis appearance on Tuesday, September 25 -- tickets are $25 and on sale now. The Based God is one of the most prolific rappers of the last few years, in every possible way: He breathes tweets, sweats mixtapes and craps videos. They have all varied greatly -- being a fan of Lil B is about persona and social cues at least as much as it is about actual music.
Nick Lowe Wed., 8:00 p.m. September 26 @ The Sheldon - $30-$35 By Christian Schaeffer It's hard to think of another artist who has settled into middle age as comfortably and admirably as Nick Lowe. The former king of pub rock and byword for smart, sly New Wave and pop music in the '70s and '80s now holds an endowed chair in the singer-songwriters' ivory tower, an éminence grise that befits his stately and avuncular white mane. Last year's The Old Magic finds his voice slinking into a warm lower register, adorned by jazz- and country-flecked arrangements. His pen is sharp as ever -- "Checkout Time" ruminates on a passing time and the road ahead, while "Stoplight Roses" has the lyrical wit and shame-on-you tone of the best country moralizers. Last Time: As if in thanks for allowing the spot-on cover of "I Love My Label," Wilco asked Lowe to open a leg of its last U.S. tour, which found Lowe performing acoustic renditions of his songs last October at the Peabody Opera House.
Leo Kottke Thurs., 8:00 p.m. September 27 @ Wildey Theatre - $45-$65 By Roy Kasten The early work of Leo Kottke is held in such high esteem by anyone who cares about the power of one man playing one acoustic guitar that his late-period work gets short shrift. It's as if the man who spent the '70s redefining the instrument and destroying his right hand in the furious process had nothing left to say. One listen to his recent collaboration with Mike Gordon, one trip through a dizzying '90s album like Peculiaroso or even just one cheap seat in a concert hall can prove his inexhaustible humor and insatiable desire to wreck everything you thought you knew about melody, rhythm and harmony. And then he'll rebuild it all beautifully, on just a six or twelve-string guitar. Listen For: Kottke's abyss-plunged voice and shaggy-dog stories are true secret weapons. You never know what he'll say or play next.
Nick Waterhouse Fri., 8:30 p.m. September 28 @ Plush - $10-$12 By Roy Kasten The soul revival arc, from Sharon Jones to Mayer Hawthorne, takes the mid-'60s as a starting point and the late '70s as an end point. On his debut album Time's All Gone, Nick Waterhouse draws a bead on the earliest geniuses of soul -- Ray Charles and Solomon Burke-- and blasts them with hipster cool, even as he sings like a wiry punk at heart. This California kid can hold his own against a ménage de sexpot backup singers, a sweaty cavern of slap-back reverb and a baritone sax with the tone of a barge honking all the way to New Orleans. There's no turning back when you're this rock 'n' soul gone. Make or Break: Waterhouse recently scored a slot on "Live From Daryl's House," the Daryl Hall-produced broadcast that helped launch the far more polished Fitz and the Tantrums.
John Scofield Trio Fri. and Sat., 7:30 p.m. and 9:30 p.m., September 28 and 29 @ Jazz at the Bistro - $37 By Ryan Wasoba John Scofield Trio's titular guitarist might look like a less crazy John Malkovich, but he plays like nobody else on the planet. After thirty-plus years climbing the jazz ladder, Scofield has forged a soulful yet obtuse approach to melody, like the blues interpreted by Pablo Picasso. His playing is instantly recognizable, but his career is unpredictable, as shown by a discography that effortlessly shifts from jazz standards to New Orleans tributes to collaborations with jam band crossover Medeski, Martin & Wood. One thing to expect from the eclectic guitarist during his run at the Bistro: he will sound like John Scofield, and that's all we need to know. Co-Conspirators: Bill Stewart is an inventive, loose-wristed drummer known for his improvisational interplay and Steve Swallow is one of the most elegant upright bassists of all time.
Detective Sat., 8:00 p.m. September 29 @ Plush - $25-$30 w/ Guided By Voices By Jaime Lees Formed in March of this year, the Los Angeles based Détective is already bursting with talent. Co-fronted by James Greer (former Guided by Voices bassist, rock journalist for SPIN and accomplished screenwriter) and Guylaine Vivarat (ex-Tennis System), Détective often sounds like unpretentious Frenchy shoegaze mixed with Velvet Underground-ish lo-fi goodness. Vivarat's dreamy delivery combines with Greer's sweetly sardonic vocals to balance the beauty of the music with the honesty of the lyrics as drummer Rory Modica (Useless Keys) propels even the most otherwordly songs into pop explosions. The bands debut album, However Strange, is out now on Burger Records. Regrets, I've Had a Few: Yes, Guided by Voices is the headliner on this bill, but don't sleep on this opening band. It might be the headliner soon enough.
The Lettuce Heads Sat., 9:00 p.m. September 29 @ Blueberry Hill - $8 w/ The Heebie Jeebies, The Painkillers By Christian Schaeffer Looking at the collective c.v. of the Lettuce Heads is like looking at a tally of the best St. Louis pop bands from the early and mid '90s. On their own, Mike Burgett, Carl Pandolfi, John Marshall and Jon Ferber have done time in bands like Three Fried Men, the Aviation Club, Lydia's Trumpet and Swing Set. Together, the four men put out a pair of albums back in the day and now reunite a few times a year to play zippy, inventive pop music. It will be a walk down memory lane for those who still bemoan the loss of the old Cicero's, and who still hope that someday old-fashioned 'zines will replace these damn "blogs."
Inspectah Deck Sun., 7:30 p.m. September 30 @ Fubar - $17/$20 w/ The 12-6 Movement By Daniel Hill Inspectah Deck is the Wu-Tang Clan's most under-rated member. While it's true that the rapper has never released a solo album on par with Method Man's Tical or Raekwon's Only Built for Cuban Linx, his dense lyricism and clever wordplay has been featured prominently on some of the Clan's most memorable group outings, including the universally praised first verse of 1997's "Triumph." It was also Mr. Deck who opened "Guillotine (Swordz)" for Rae and even the group's first ever single, the classic "Protect Ya Neck." All told, he has contributed some of the best verses the group has to offer in the way of outright lyrical skill. Like Your Neighborhood Spider Man: The show takes place at Fubar, which is a pretty awesomely intimate setting to see a living legend; don't miss out.