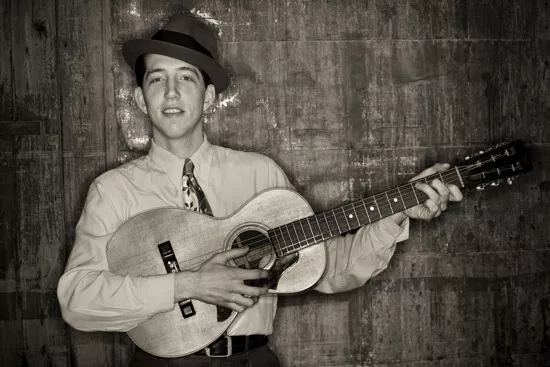 Update: Pokey LaFarge reached out to us this morning to shed some light on the actual source of his inspiration for the recording of "Lovesick Blues" you heard last night on HBO: It was Emmett Miller, who committed the song to tape in 1925. "Just trying to give a nod to a cat who never got his due," says LaFarge. He also pointed out to us an interesting St. Louis tie to the song -- more information about that as well as Miller's recording can be found below.
LaFarge is everywhere lately -- he and the South City Three made an appearance on Jack White's recent solo record, and the four have played everywhere from Red Rocks to Jools Holland's New Year's Eve show. Add to LaFarge's credit an HBO soundtrack appearance. Last night, his rendition of the pop standard "Lovesick Blues" was featured in the last scene and end credits of Boardwalk Empire's most recent episode, called "Spaghetti & Coffee."
See also: -40 Best St. Louis Releases of 2011: Part Eight -Pokey LaFarge & the South City Three to be Featured on Jools Holland's NYE Show -Pokey LaFarge forges his own path through old-time country and blues
"Lovesick Blues" was written by Cliff Friend and Irving Mills in the 1920s, and is most famous rendition was done by Hank Williams a couple decades after that.
Pokey LaFarge recorded his version with Vince Giardano & his Nighthawks. The song and accompanying clip are nowhere to be found online at the moment, but we'll point you in the right direction once there's somewhere to point.
Meanwhile, you can see LaFarge & the South City Three right here in their hometown this Friday at (where else?) Off Broadway (3509 Lemp Avenue). Tickets are $10 in advance and $12 at the door. Everything about this band's St. Louis shows these days is improbable -- we should be paying double that and standing quite a bit further away by now. We won't complain.
Update: Pokey LaFarge reached out to us to explain his thinking in choosing this particular song -- it includes a St. Louis shout out. Learn the details on the next page. "Lovesick Blues" is a song with a storied past and countless recordings on the books. Hank Williams' version remains the most famous and is certainly the most mimicked, but that's not who Pokey was thinking about as he put down his version for Boardwalk Empire.
Instead, he was paying homage to Emmett Miller, who he says is one of his favorite singers. Miller recorded a solo version (above) well before it became a hit, and then he took another crack at it with his band the Georgia Crackers (hell of a group: Tommy Dorsey, Jimmy Dorsey, Eddie Lang and Leo McConville).
Pokey also points out that it was actually a St. Louisan who produced the first major recording of the song -- Cliff Edwards, a.k.a. Ukulele Ike. Edwards was born in Hannibal and moved to St. Louis as a teenager, where he got his start as an entertainer in saloons. Cliff Friend, who co-wrote "Lovesick Blues" with Irving Wells, recalled Edwards' version fondly:
I was a fighter pilot in the First World War at Wright Field, Dayton, Ohio. I was impressed by the lovesick boys who left their young wives and sweethearts for the service, blue. I had been writing songs since I was 12. So I wrote 'Lovesick Blues.' After the war I went to New York City. Cliff Edwards (Ukelele Ike) recorded the song on Perfect Records--a good job, but the song, ahead of its time, was a flop. I took the song back from Jack Mills. Twenty years went by and fate stepped in in the guise of a stranger who met Hank Williams and sold him 'Lovesick Blues' as his song for $100. Fred Rose published it, but I had the copyright. When Williams' record hit the market, I flew to Nashville and took all the money, since I was also the publisher. Meanwhile, Frank Ifield in England had sold 4 million, and altogether, the song had sold 10 million.
Edwards later got into the voice acting business, most famously in Pinocchio , where he played Jiminy Cricket. That's him on the original recording of "When You Wish Upon a Star."
---