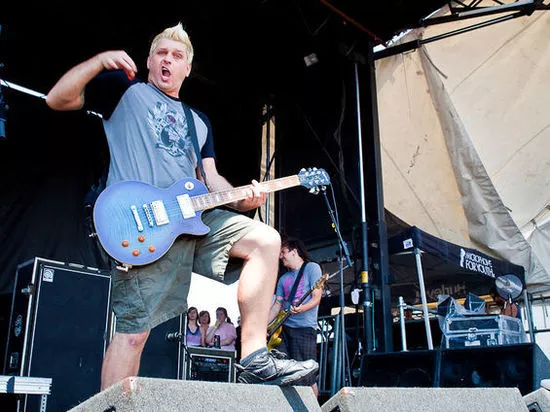 Stew Smith
Less Than Jake at Warped Tour St. Louis 2009
Less Than Jake The Firebird Sept. 19, 2012
Remember when ska enjoyed that revival in the '90s? And remember when Less Than Jake said, "This ska thing is great, but it could use some pop punk, too?" And remember when it combined those things to such great effect that critics said, "This shit will never last."? And remember when Less Than Jake was all, "Fuck you. We'll do what we want."? Yeah, that was awesome.
Twenty years later, Less Than Jake is still doing exactly what it wants in clubs across the country. After years in larger venues, the band brought its energetic, potty-mouthed show to the Firebird last night. The highlights:
1. As the lights went down at 9:58 p.m., Less Than Jake vocalist Chris Demakes and trombonist Buddy Schaub slapped my table as they hurried in from outside to take the stage to "For the Love of Money" by the O'Jays.
2. The band kicked off the show with its usual array of crowd pleasers, including "Gainesville Rock City," "Johnny Quest Thinks We're Sellouts" and "Look What Happened." To a screaming, pogoing crowd, Demakes happily remarked, "We're not in Bloomington, Indiana, anymore. Holy shit!"
3. Demakes had quite a bit to say about St. Louis: -- "I had to walk three miles to take a poop!" he said, lamenting that the Firebird feels like it's near nothing else in the city. bassist Roger Mangenelli replied, "At least we aren't in Sauget this time. We saw more people on drugs in Sauget than we ever did in Florida." [Less Than Jake performed at Pop's in Sauget, Ill., in 2010 and 2011.] -- "Anyone here old enough to have seen us in the Galaxy Club in the '90s? Wait, you weren't even alive in the '90s." -- "We were like, 'What's the crowd going to be like?' But then we were like, 'Fuck, this is ST. LOUIS!'"
4. Less than Jake livestreamed last night's show, telling the crowd, "What you're doing right now will be on the internet in 55 seconds." The band continued to egg on the audience's star power, with Mangenelli imploring, "OK, we're all going to turn turn around and skank for the camera now!" and "Don't let me down, guys! People are watching on the WWW!"
5. Demakes brought up other, uh, online pleasures a number of times: -- "You love the internet, don't you? You love looking for pornography." -- "Do you ever use the internet? Yeah? So you've been to YouPorn, then?" -- "How many of you guys don't look at the internet when jacking off?" [silence] "You motherfuckers are honest in St. Louis!"
6. Demakes and Mangenelli traded off vocal duties throughout the night, which led to the following banter: "If I'm singing this many songs, I want to stand in the middle," Mangenelli said. "I don't want to smell his breath and he doesn't want to smell mine. That's why we're not switching," Demakes informed the crowd. "It's because he had that anchovy pizza today," Mangenelli retorted.
7. The horn section sounded quite strong and even overtook the vocals a bit, despite saxophonist Peter Wasilewski missing the show due to illness. Instead, Schaub was joined by Chris Rhodes of the Mighty Mighty Bosstones, and the two trombones drove the energy for much of the night.
8. LTJ's entourage and opening bands appeared to enjoy the show from the side of the stage, as I caught many of them singing along and smiling.
9. Demakes introducing "Motown Never Sounded So Good" from 2003's "Anthem": "When it came out, people hated it. Ten years later, people fucking love it."
10. I'm always amazed at how clear and unchanging Demakes' and Mangenelli's voices have been. After twenty years of leading LTJ, these two still bring the same nasal skate-punk sound as they did in the "Pezcore" days, completely unmarred by constant touring.
11. LTJ brought Firebird talent buyer Robert McClimans to the stage, with Demakes sharing, "He took me to Walgreens today. He's been following us since he was a kid, and now he's a promoter. This is why we do this, St. Louis!"
12. The band dedicated "Goodbye, Mr. Personality" to "our old friends in [St. Louis ska band] MU330."
13. As LTJ returned to perform "Nervous in the Alley" for its encore, Demakes exclaimed, "We just got great news! It's Chris' birthday, so the club will be staying open so we can drink! And put it all on Chris' credit card!" Rhodes countered with, "You can kiss my black ass."
14. Mangenelli implored the audience to perform one last time for the livestream cameras during "Plastic Cup Politics," the band's final song. "If you're not in the circle pit, you're technically in the fucking way," he said.
15. When I arrived toward the end of A Wilhelm Scream's set at 9:20 p.m., the Firebird was crowded but nowhere near a sellout. As Less Than Jake took the stage at 10 p.m., the floor was packed but the sides were still largely vacant.
16. I couldn't escape politics even at a ska-punk show, as a group near me discussed Mitt Romney's "47%" quite a bit.
17. My pen rolled off of the table and into a puddle of beer. Ew.
Age before beauty: To me, the crowd appeared to average around age 22, which made me feel ungodly old. Firebird photographer Bryan Sutter told me he had the opposite experience at different vantage points in the club, spying many 40-year-old men with their assumed young girlfriends.
Ladies in the crowd: Many appeared to have just gotten "My First Makeup" kits, and one girl was wearing a pair of red plaid pants that resembled the ones I had embarrassingly bought from Avril Lavigne's line at Kohl's three years ago.
Men in the crowd: Hats were a key fashion item, with fedoras, flat caps and even a bedazzled Affliction-esque baseball cap making appearances.
A sea of shirts: Bands represented on attire included the usual suspects -- NOFX, Reel Big Fish, Fishbone, Aquabats, Rancid... and Freelance Whales?
---