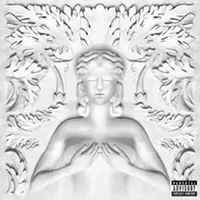 Kanye West is rich. You might think it's easy being rich, but in fact it is often very hard to be rich; sometimes you manipulate people, and other times they manipulate you. Also, rich people have terrible taste in consumer goods, and hang out with each other to talk about how they were the only people on earth who liked Maybachs, which makes them unstoppable.
For a while now I've had to deal with this weird contradiction: Kanye's post-808s output (that is, the songs where he keeps going "Hanh!?" over and over) is really great, and can also be distilled, nearly in its entirety, to those incredibly banal platitudes. His newest song is called "Clique." He and Jay-Z talk about how rich they are in it. (Spoiler alert: They are very rich, still.)
See also: -What Makes a Hip-Hop Classic? -Kanye West's Snub and the Proud History of Grammy Incompetence -Kanye West Is Batshit Crazy: Decoding The Ten Boasts That Prove It -Kanye West Crashes Movie Posters
The weird thing about his increasingly monotonous subject matter is that Kanye West has become more adventurous in almost every other way as his career's progressed. As pop musicians go, he doesn't leave us a lot to complain about; this is, after all, a guy who in the last few years has released an album in which he did nothing but sing over amateur sad-white-guy synths and a movie in which he has sex with a bird. Artistically and technically he's continually pushed pop music forward.
But as one we're-rich-badasses song with a vaguely mournful, spacey beat has replaced the next on iTunes ahead of Cruel Summer, his label's collaborative album, I've started to miss the Kanye West whose raps were not exclusively successful-rapper metafiction. (I've almost started to miss the Kanye West who appears to earnestly believe that Ronald Reagan invented AIDS and crack.)
It's probably impossible, in 2012, for Kanye West to rap about being poor, or working at the Gap, or quitting college without sounding like a tourist. But that Kanye West seemed, whatever his songs were about, to feel things as an individual; this one, in one of My Beautiful Dark Twisted Fantasy's most atypical songs, only gets close enough to his own experience outside fame and fortune to erect a vague, enormous art installation to the Platonic form of douchebagginess. ("All of the Lights," with its off-kilter MJ and Borders references and its characters who don't all appear to be Maybach-driving rappers, is the [outstanding] recent exception to this rule.)
What's made Cruel Summer so underwhelming, though, isn't just the content--it's the tone. There's a listlessness to the boasting now, and the minimalist, spooky beats leave the verbal pyrotechnics protesting too much on everybody's behalf.
In 2004 Kanye West could sound boastful, determined, self-deprecating, engaged, empathetic; the one we have now, surrounded by a litany of mannerisms and tics that would make Dangerous-era Michael Jackson a little embarrassed, can only manage grandiose, stagey triumphalism and grandiose, stagey regret.