Reverend Peyton and his big damn band will be at the Firebird tonight. The last time they rolled through St. Louis there was quite a bit of competition in terms of entertainment; Wilco played at the newly opened Peabody Opera House, President Obama visited our fair city, Arctic Monkeys played to a packed house at the Pageant, and, hell - the Rally Squirrel made his appearance during the Cardinals/Phillies game. Despite all the other events, Cicero's was stuffed full of happy folk donning plaid and goofy smiles plastered to their faces. The chill in the early October air was no match for the humidity created by sweaty bodies dancing and knee-slapping their way through the raucous set. To get the most out of this Reverend Peyton go-round, follow these steps:
6. Get gritty and in the mood by watching a few of their music videos pre-show. The video for "Clap Your Hands" is pretty indicative as to what kind of show you're about to see. If that video doesn't get you excited, watch "Mama's Fried Potatoes". If that doesn't get you fired up, you should rethink this hootenanny altogether.
5. Check out any number of slang websites for "southern colloquialisms" or "southern slang" and see how many times you hear your fellow concert-goers or any member of Reverend Peyton's Big Damn Band uses any of the terms you researched. Hell, make it a game and you'll be fixin' to have good time, y'all!
4. Dress in your finest suspenders, denim overalls or fascinators. Plucked straight out of Brown County, Indiana -- a super rural part of a state that identifies itself as "hoosier" -- singer/guistarist Josh "Reverend" Peyton makes pit-stained undershirts look runway-fashionable. While dressing in plaid and dingy, working-man jeans won't make the music sound any better, it will certainly add to the overall charm of a Big Damn Band show.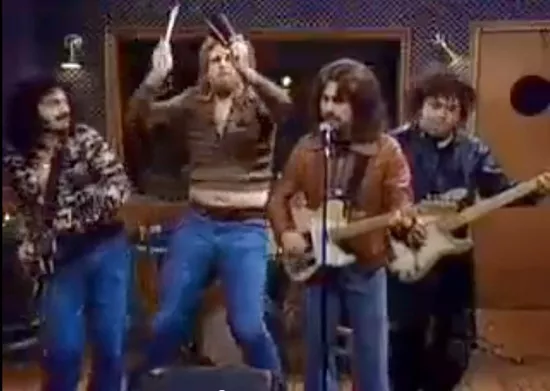 3. When implored to clap along, clap as loud as you possibly can. Clap, hambone, high-five your neighbors, use your thighs as drums, find whatever you can and add some heft to the rhythm section. Rev. Peyton's wife, Breezy, makes the washboard her bitch and adds a rhythmic element to the show like you've never seen. When she looks to the audience for help, be sure to lend her a hand.
2. If given the chance, or when not dancing/taking a break from hooting and/or hollering, take a moment to actually watch all the musicians. Reverend is an absurdly impeccable guitarist who can finger-slide, pluck and twang with the best of them. Because the ironically named Big Damn Band plays with a bare minimum of members, Reverend has to cover both melodic guitar parts as well as bass, but he can do it very well. Drummer and five-gallon bucket-beater Aaron "Cuz" Persinger is fun to watch as he pounds away at his drum set and innocent plastic buckets. And Breezy is an absolute treat to watch as she harasses her washboard with her gloved hands and provides added crazy, scratchy intermittent cadences and patterns.
1. Kick back and have a few - but not too many. Let's face it, this is going to be one fun show with or without booze. Nothing will hit the spot better than a cold PBR or Stag tallboy. Be a champ and drink with the locals, let it loosen you up enough to dance and you're set. No one likes dancing with jerks, though, so watch your intake and make it your goal to just have a damn good time.