Fishbone - Tuesday @ the Firebird
I think I dropped several IQ points over the weekend when I attended / reviewed the Odd Future show at the Pageant on Friday. My headache has subsided, but matters of intelligent thought or focus are still coming slowly and proving difficult. In other words, I can't think of anything to write here, so I'm writing about how I can't think of anything to write here, ya dig? Read that review, by the way; I'm hilarious.
This week kicks ass for shows that will likely not leave you less intelligent than before you attended them. Punk / funk pioneers Fishbone will be at the Firebird on Tuesday; anyone who's caught the band at one of its other great shows in town know that the show is a must-see. Dread Zeppelin will play Blueberry Hill on Friday -- that is a guy in an Elvis costume playing reggae versions of Led Zeppelin songs. Mind-blowing, yes, but not brain-damaging. On Sunday Iron Barley hosts its sixth annual Bayou Bash, with music and food of the cajun variety. Proceeds benefit women veterans returning home from overseas, so your ten bucks will support a good cause too! The rest of our picks follow.
A Death and a Promise Mon., 8:00 p.m. September 17 w/ Axe Ripper, Tropical Storm, Rites of Impiety @ Cusumano's Pizza - $5 By Daniel Hill Local hardcore heroes A Death and a Promise don't play out much anymore, but that's not to say that they are inactive. Recently the NYHC-style group announced on their Facebook page that they "got everything in line and are practicing again"; other info on said Facebook alludes to work on a new release, but the details explained therein make it difficult to tell whether or not the band was being sarcastically facetious (double-gatefold vinyl with scratch and sniff stickers?). In any case, don't miss this now-rare chance to catch a great local band in action.
Fishbone Tues., 8:30 p.m. September 18 @ The Firebird - $18-$20 By RFT Staff It's a sure sign of encroaching middle age when your favorite, formative bands have their own documentary films, full of A-list testimonials and archival footage. The new Fishbone doc, Everyday Sunshine, has plenty of big names (including Ice-T, Gwen Stefani and, in a feat of phonetic brilliance, Laurence Fishburne as narrator), but the story centers on the love-hate brotherhood between founding members Angelo Moore and Norwood Fisher. The two men continue to keep the Fishbone dream alive with endless touring and a fervent belief that the line between black and white music can dissolve in fury of ska, punk, funk, metal and soul.
Less Than Jake Wed., 8:00 p.m. September 19 @ The Firebird - $20-$22 w/ A Wilhelm Scream, Junior Battles By Scott Heisel Ska may never have another true mainstream revival like it did in the mid-'90s, but it's nowhere near the levels of life support it was on a decade ago. Partial credit for the slow, steady resurgence can be given to the hard-touring ska-punk quintet Less Than Jake, a band that probably hasn't taken more than a few months off at a time in nearly fifteen years. Even when the genre fell out of favor with the record-buying public, people could always count on LTJ to come to their city at least once a year -- and typically bring a diverse, usually-ska-friendly bill with it. But even with all that time spent in the dingier rock clubs of America, the band's songwriting has yet to suffer. In fact, 2008's GNV FLA (which is named after the band's hometown of Gainesville, Florida) is a more-than-respectable entry into the ever-growing LTJ canon.
Bryan Adams Thurs., 8:00 p.m. September 20 @ Blanche M Touhill Performing Arts Center - $7/$10 By Annie Zaleski If you're going to get pulled over for drunk driving while on a date, it's actually safe to have it happen outside of a theater where Bryan Adams is playing, because if your date wanders off and falls in love with Bryan Adams while he's singing "Heaven," the acne-scarred Canadian sex bomb will not be able to steal your date after the show because the door to the outside will be chained shut and there will be a blizzard in the alley.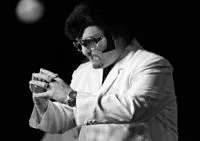 Dread Zeppelin Fri., 8:00 p.m. September 21 @ Blueberry Hill - $17.50 By Bob McMahon Back in 1989, before any of us had heard of mashups, Dread Zeppelin formed to play Led Zeppelin's music as reggae songs sung by an Elvis impersonator. What on paper seems plain ridiculous is in practice sublimely ridiculous. Inventive arrangements, great guitar tones and superior musicianship help the group transcend the novelty of clever combinations like "Heartbreaker (at the End of Lonely Street)." No less of an authority than Robert Plant has said he prefers Dread's version of "Your Time is Gonna Come" to his own band's. Dread Zeppelin has since expanded its repertoire to include original songs and music from other genres (see "Brick Houses of the Holy"), but its original formula is still potent. Show Up Early: Local loop artist Stendek was a smart choice for an opener, as he shares Dread's penchant for mixing and matching riffs and lyrics from disparate songs in hilariously compelling fashion. Not to mention that he's brilliant at every instrument he touches.
Leo Kottke Fri., 9:00 p.m. September 10 @ Chesterfield Amphitheater - $10-$35 By Roy Kasten The early work of Leo Kottke is held in such high esteem by anyone who cares about the power of one man playing one acoustic guitar that his late-period work gets short shrift. It's as if the man who spent the '70s redefining the instrument and destroying his right hand in the furious process had nothing left to say. One listen to his recent collaboration with Mike Gordon, one trip through a dizzying '90s album like Peculiaroso or even just one cheap seat in a concert hall can prove his inexhaustible humor and insatiable desire to wreck everything you thought you knew about melody, rhythm and harmony. And then he'll rebuild it all beautifully, on just a six or twelve-string guitar. Listen For: Kottke's abyss-plunged voice and shaggy-dog stories are true secret weapons. You never know what he'll say or play next.
Matthew Sweet Sat., 9:00 p.m. September 22 @ Blueberry Hill - $20 By Allison Babka Dark clothes. Distinctive glasses. Songs about breakups. Matthew Sweet certainly was a good representative of that oddly named "alternative" genre in the '90s -- still is. Sadly, Sweet's power pop hooks often were overshadowed by Nirvana's grungy distortion and Michael Jackson's scandals. Good for us, then, that Sweet retained his Girlfriend and 100% Fun vibe on 2011's Modern Art. While Sweet celebrated the twentieth anniversary of Girlfriend by playing the album straight through during his last visit to St. Louis, he's sure to mix new favorites into the show this time. Scooby Snacks: Sweet is known for recording two stellar albums of cover songs with Susanna Hoffs, but '90s kids will remember his version of the Scooby-Doo theme song on the Saturday Morning Cartoons' Greatest Hits CD. Sweet went on to compose music for Scooby-Doo! Mystery Incorporated in 2010.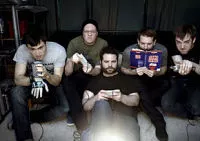 The Humanoids Sat., 11:55 p.m. September 22 w/ Black for a Second, Bricklayer @ Lemmons - $5 By Michael Dauphin A few years ago, I was interviewing the ever-notorious Paddy Costello of Minnesota's famed Dillinger Four. Costello was still drunk from the night before, hanging on a balcony in Toronto in between gigs with NOFX. As I was wrapping up our conversation, Paddy did something that caught me off-guard: He turned the tables and started interrogating me. "So you're from St. Louis? What do you know about the Humanoids? Dude, they are my favorite fucking band." Such is the excitement the Humanoids has slowly built over the last half-decade. And Costello isn't the only card-carrying member of the Humanoids Fan Club-Twin Cities Chapter. The band's Year of the Snake seven-inch, released in 2009, was pressed under the seal of Minneapolis' Rock Bottom Records. Label head Phil Schwarz remembers exactly what he liked upon first hearing them while on the road with Off With Their Heads in 2007: "I was pretty blown away by them. In general, I am not really into bands that get labeled 'pop-punk,' so I was pretty skeptical.... But that show [with the Humanoids] was a breath of fresh air.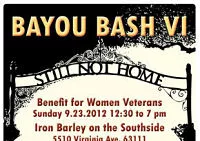 Bayou Bash VI Sun., 12:00 p.m. September 23 w/ Miss Jubilee & The Humdingers, Margarette Bianchetta with Boss Hall, Sharon Foehner, Sara & Brian Curran, Adam Andrews, Jan Marra, Kimmie V, Sadie Hawkens Day, The Lonesome Threesome @ Iron Barley - $10 By RFT Staff The bad news: Female Veterans, upon returning home, often face hurdles their male counterparts would not. The good news: People haven't forgotten about them. To show how much you care while spending a day partying like you're in the Big Easy, head over to Iron Barley (5510 Virginia Avenue; 314-351-4500 or www.ironbarley.com) for the Bayou Bash. This benefit for the Women's Veteran Advocacy Project features Cajun music, Cajun dancing, Cajun food and many other Cajun-style goings-on.