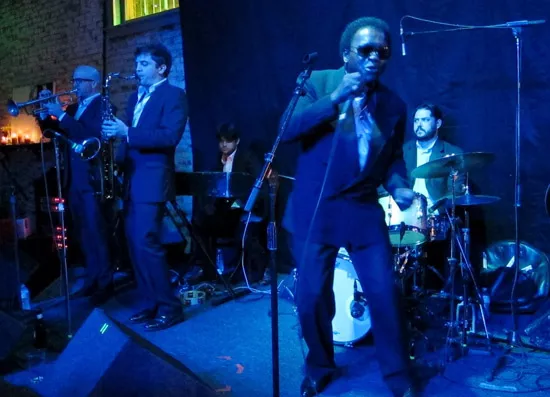 Roy Kasten
Lee Fields and the Expressions at Lola
Lee Fields and the Expressions
Lola
September 16, 2012
Bathed in blue, like the hottest point of the flame, Lee Fields took to the row of subwoofers as the front row scrambled to clear off the empties. He went there again and again, rearing back with a clenched fist to give one long, majestic, guttural soul-scream.
He's drenched in sweat, but you could have guessed that.
Last night at Lola Lee Fields and the Expressions held a respectable crowd of mostly young - at my and Fields' age, 30-somethings count - funk and soul aficionados rapt. The club might have wished for another 50 bodies to press in towards the stage, but Fields and his band played it cool and hot as the songs - fourteen of them, largely drawn from Fields' recent albums My World and Faithful Man - demanded. By the end of the night they had a hundred hands waving in the air and a hundred hips hugging their groove.
It's worth pausing over that band, the Expressions, featuring Vincent John (guitar), Jake Silver (bass), Toby Pazner (keys), Evan Pazner (drums) and Jason Colby and Michael Buckley (horns). Sharply-dressed -- as you'd expect from a band on a label, Truth and Soul, that's been giving Daptone a run for its revivalism - they took their time with an instrumental warm up, with Silver standing on one foot to cradle his bass as the strap slipped away. He could set a groove standing on his head if he wanted, a task made easier by Pazner's crisp, no-frills-save-the-fills-for-later clockwork, and the quick stabs and jabs of the horns. All business, in other words, the kind of band a master soul singer deserves.
The man once nicknamed "Little J.B." - as if James Brown were any taller - took the stage just after 9:30 p.m., shades on, suit pressed, voice fully alive and growling through "Two Timer," a slice of '70s Northern soul by Little Carl Carlton. The suit wouldn't last long. "My World" served as an early reminder of what distinguishes Fields' music: a knack for delivering songs that never stay too long in that too-easy, get-your-groove-on-while-I-sing-the-phonebook place. "Brought up by a mother and tricked by a brother," he wailed. "Destroyed by the poison inside." And then the song really got heavy. The night was a party but Fields is a deep soul singer, as deep as any still on the circuit, and so it serves him and the audience right to suffer, suffer in the sweet anguish of "Wish You Were Here," an O.V. Wright-esque, lost-lover ballad. Fields confessed he knew not what it could mean until his father passed away shortly before recording it. The horns spiraled around him; he tapped into something that passes understanding.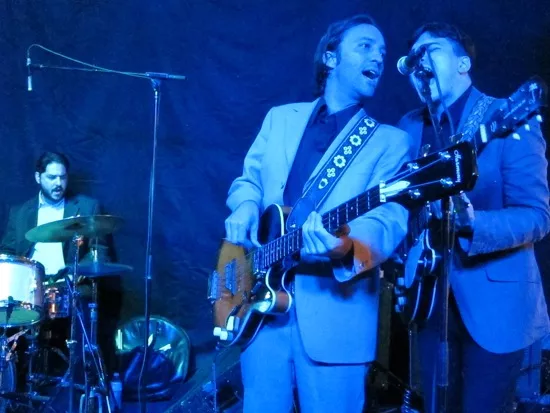 Roy Kasten
The Expressions at Lola
And just like that he spun around and kicked off "Money Is King," with a dark and angry Curtis Mayfield-esque rhythm, ending with the skittering and sliding footwork of a welterweight looking for an opening, finding it and landing a jaw-cracker. Fields let the band take a smoke break for "Could Have Been," a dusty Daptone single backed only by John on guitar, and then into the sweet belly meat of the set: "Love Comes and Goes," "Here Today, Gone Tomorrow" and the "true story" of "Faithful Man." I hoped the band would venture its brilliant, slow-burning cover of the Stones' "Moonlight Mile" but, an hour in, it was time for the end - "Honey Dove," which built from glistening slink to gospel jubilation - and a riotous, curveball of an encore: Bobby Hebb's "Sunny." Fields strode the speaker row, slapping and clasping hands, and howling one last time on a song you never knew could be so euphoric. On this night, he wasn't "Little J.B." He was a tower of power.
Personal bias: None to speak of, though I saw Fields for the first time this past March in Austin at a Carson Daley SXSW showcase. Last night made even that strong, high-profile set seem phoned in.
Overheard: "Dude, I can't even tell you the last time I paid $20 for a show," said a college-age fan outside Lola after the gig. "Maybe five years ago or something." He sounded like he would have paid twice that.
Openers: No band, but two DJs, Hal Greens and Papa Ray, set the tone for the night with choice soul 45s and heavy funk, with the bass ramped up to a marrow-melting 12.
Setlist:
Two Timer
My World
Still Hanging On
Ladies
I Still Got It
Wish You Were Here
Money Is King
Could Have Been
You're the Kind of Girl
Love Comes and Goes
Here Today, Gone Tomorrow
Faithful Man
Honey Dove

Encore:
Sunny