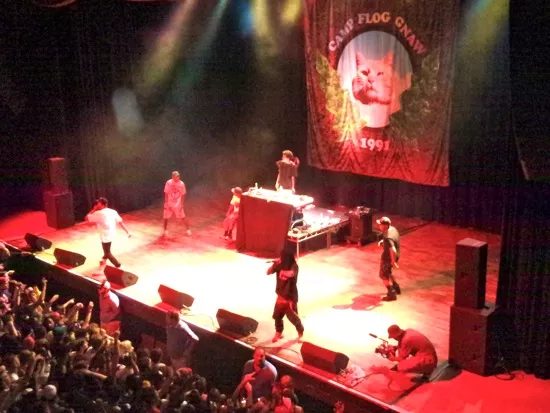 Odd Future The Pageant September 14, 2012
NEWSFLASH: Man leaves Odd Future show with headache.
I never get headaches, but holy shit. I think my brain is rebelling against my body. I just left the Pageant, where I've had a pack of loud, rambunctious teenagers screaming at me for the last hour and a half, and my wise decision to lose my wallet somewhere before the show left me standing with an "under 21" stamp on my hand, without access to the life saving distraction of alcohol.
See also: -The Top Six Lyrics by Earl Sweatshirt of Odd Future - Earl Sweatshirt of Odd Future will not be at the Pageant tonight -Odd Future's "Camp Flog Gnaw" Tour is Coming to the Pageant -Earl Sweatshirt Comes Home, Releases New Song, Gets 50,000 Twitter Followers
It should be said that, oh, I don't know, 95 percent of the attendees were clearly actually under 21, and for the most part white as the pure driven snow. I'd guess the median age at maybe seventeen -- the few older folks (such as myself) who did populate the place were offset by the (no shit) ten and eleven year olds. It seemed like at any minute, the principal was going to take the stage and make an announcement about next week's big homecoming game.
Fancy cell phones abounded, with kids snapping photos of themselves to upload to Facebook before the show even started. All of the tables and chairs had been removed from the venue, presumably because large groups of wild teenagers pretty categorically cannot be trusted with furniture.
The show started with Odd Future member Taco taking to the stage and stepping up to a laptop setup in the middle. That's how they're starting every show on this tour: Taco gets up there to "play songs to get the crowd fired up before the show," in the words of a previous review. Cue DMX's "Party Up," and the crowd, barely older than the song, went wild. In total Taco played about ten songs, including tracks by St. Louis' well known hip-hop artists (Chingy, Nelly, Murphy Lee, J-Kwon). Tyler, who has referenced the latter in song, was later heard to say "J-Kwon is from here? Aw, that is so tight. I did not know that."
It was during this DJ set run-up that two disturbingly thin teenaged girls climbed up on the countertop in front of me, which I had been using as a table, and began gyrating and air-humping (maybe somebody would call it dancing?) and singing along to a Lil Jon song. Ever the gentleman, I did my best to avert my gaze from the distracting, barely-post-jailbait duo, but I wound up getting sucked in, staring at the one on the right's distinct protruding spinal column. I referred to this girl in my notes, which were now far less decipherable thanks to the loss of my writing surface, as "stegosaurus" and noted that she needs to eat a fucking cheeseburger. Let's take a moment and remember how awesome this was.
Odd Future finally took the stage with Domo Genesis' track "Bitches." In the building was Domo, Tyler the Creator, Hodgy Beats, Left Brain, Jasper, Mike G and Taco. The group was rambunctious onstage, pushing each other around and throwing things throughout the night. Tyler, sporting a Trash Talk shirt, was repeatedly confrontational with members of the crowd - at one point between songs he said, "Hey dude in the blue shirt, shut the fuck up. I'm trying to tell you something." Later he singled out another guy in the audience, commenting that he was distracted because the fan was "just leaning there looking mad as fuck."
The group played a healthy mix of songs by all members in attendance - Jasper, who self-admittedly is not a rapper but an actor on the group's Loiter Squad TV show, spent much of the evening between his sparse verses handing water bottles out to people in the crowd. He would also take their cellphones, set to video mode, and run all around the stage before returning them. The level of energy by the members of Odd Future was comparable to little I've seen outside of a hardcore punk show - Tyler in particular spent much of the night screaming his lines into the mic rather than rapping in the deep-voiced, smooth style he uses on record.
Earl Sweatshirt's absence was addressed, albeit briefly. Early press releases alleged that the prodigy would be in attendance on the tour, but Earl tweeted this week that he wasn't coming.
Tyler sounded annoyed when he answered a question shouted by a member of the crowd, one he's undoubtedly heard a thousand times in the last two years: "What was that? Where's Earl? I don't fucking know. He's at home handling some personal issues." It was a little unclear whether the annoyed tone was in reference to the question or the absence itself. In any case, Tyler followed it by launching into Earl's verse from "Orange Juice."
Stage banter was otherwise pretty sparse and generally of little substance. Domo Genesis, for example, at one point in time said, "AHHH! Everyone go like this: AHHHH! AHHHH!!! AAHHHHH! AAAHHH!" continuing for a while until the crowd joined him, after which he remarked "That was cool." Oh my aching head.
The group closed with fan favorite "Sandwitches," after Tyler told a crowd member "Fuck you. Since you're a dick, this is the last song." I'm pretty sure it was the last one anyway. They stopped it in the middle. Tyler said, "I feel bad, security was fucking some kid up. I don't like that shit," to which Hodgy replied "Yo, don't fuck up our fans. We pay your fucking paycheck; leave our fans alone." The exchange continued and Tyler said "Security can't kick all ya'll out. Let's start that over - everyone wild the fuck out," before re-starting the track.
The song ended and members of the group stuck around, high-fiving fans from the stage and throwing out t-shirts, and I left, my head throbbing and my whole self anxious to stop living inside an MTV show.
Notes and setlist are on the next page.
Critic's Notebook:
Personal Bias: I like Odd Future, despite what this review / my headache may have led you to believe. I think there's a lot of talent in the ranks and some true gems if one is able to wade through all the hype and nonsense. That said, Earl is easily my favorite member and his absence was a buzzkill.
Overheard: "There are waaaay too many white people here." - Some White Dude
"I have blood in my hair. Somebody bled in my hair!" - Stegosaurus, before the show even started (as in, she ARRIVED with blood in her hair. WTF?)
Notebook dump: "Swag, swag, punch a bitch!" In order to get the setlist down I was scribbling lyrics messily throughout the night. It occurred to me later that if I had accidentally left my notebook lying around, anybody that found it without context would have assumed me to be a deranged sociopathic serial killer.
SetList (with artist info): Domo Genesis - "Bitches" Tyler the Creator - "Check My French" Domo Genesis - "Rolling Papers" Mike G - "Forest Green" Mellowhype - "50" Tyler the Creator - "Sam is Dead" Vince Staples ft. Mike G - "Swiss Army" Mellowhype - "Timbs" Tyler the Creator - "Transylvania" Mellowhype - "Gun Sounds" Domo Genesis - "Elimination chamber" Odd Future - "NY (Ned Flander)" Odd Future - "Rella" Mike G - Everything That's Yours Mellowhype - "La Bonita" Earlwolf - "Orange Juice" Hodgy Beats - "Lean" Mellowhype - "64" New Unreleased Tyler the Creator Song Tyler the Creator - "Yonkers" Domo Genesis - "Benediction" over Mobb Deep beat Mellowhype - "Go" Tyler the Creator - "Burger" Domo Genesis - "Super Market" Domo Genesis - "Double Cheeseburger" Hodgy Beats - "Turnt Down" Tyler the Creator - "Bitch Suck Dick" Mike G - "King" Tyler the Creator - "Seven" Domo Genesis - "HCAPD" Mellowhype - "Fuck the Police" Tyler the Creator - "Sandwitches"