Yob. Photo by Rick Giordano.
Yob | Norska | Fister Fubar September 13, 2012
When you first walk in, you may find yourself slightly bored with the pace of the music. A song or two in, you're not sure if it's the bourbon or the heaviness of the band thinning your bloodstream. Before you know it, something's got your head banging, your chest pounding and your equilibrium riding the Screamin' Eagle. This isn't your typical metal show, this is that sub-genre known as "stoner" or "doom" metal; a label far too limited and narrow to describe the power and intensity of Yob, Norska and Fister.
This is the very first time in its sixteen years of existence that Yob has made the trek from its hometown of Eugene, Oregon to St. Louis. And while the turnout wasn't as impressive as the band's history (including tours with Tool, Isis and the Accused), each of the 50 or so people who did decide to take a sick day Friday for this late Thursday night set was all ears, all attention, and -- more than likely -- high as a motherfucker.
Opening the show was local doom metal regular Fister, which manages to get better every single time I see the band. Its sound was thick and gigantic, a crushing wall of misanthropy and anger, the sound of the whole world slowly crumbling to dust. The respect owed to these three St. Louis heshers was evident not only by the audience's undivided attention, but by the front and center presence of Yob singer/guitarist/founder Mike Scheidt, who stood at the stage bobbing his head to the band's entire set. It was an act that set the tone: this was not a show about egos and rock stars -- there was a refreshing sense of community and common interest and love of good music.
Next up was Norska, which shares both a home state and a bass player with Yob. Its singer looked like a heavier, post-psychotic-breakdown Zach Galifianakis and that only made me like the band even more. The slow pace of the songs caused the drummer to move like he was underwater as the four played every note and every chord like it was their last. "Items" were passed back and forth, and a sweet smelling smoke filled the air.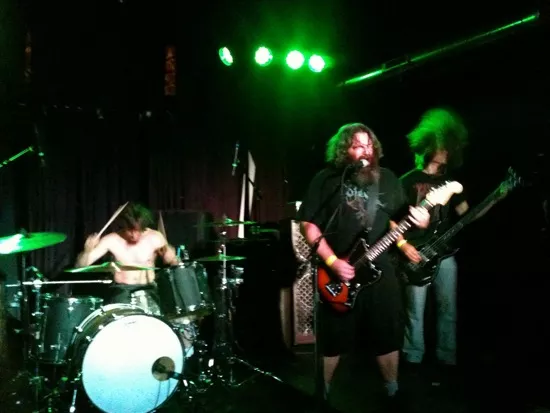 Norska. Photo by Rick Giordano
Finally, around 11 p.m., Yob began the slow/steady earthquake of a set. This kind of music is not for everyone. Most people are used to the kind of metal that you listen to the way you'd view a slideshow -- quickly jumping from riff to riff, the bands afraid of losing your attention.
This is the sort of heavy music that you enjoy the way you would a singular painting; soaking up all it has to offer with patience and a deep, meaningful interest. Or again, maybe you're just high as a motherfucker.
Either way, not an ass in the house went unkicked as Yob ripped through psychedelic juggernauts from its latest album Atma as well as some older stoner-epics. This three-piece band created massive waves of distortion and rhythm that drowned the audience like Swayze at the end of Point Break, every huge riff grabbing you by the throat and holding you under. By the set's conclusion, every single person was standing in the exact same spot he was an hour and a half ago when the band began.
For three bands that convey such doom and gloom, the show was full of good vibes and friendly people. To be clear: Not in a shitty, hippie kind of way -- just a small group of people getting together to enjoy some good, heavy Sabbath-worshipping metal. It's okay if some people find this music boring or too slow, but if you can open your ears and imagination enough to enjoy its weight and it's depth, you'll find that there's no reason to hurry. They call it "stoner" metal, but you don't have to be wasted to enjoy it. It just makes it a lot more fun.