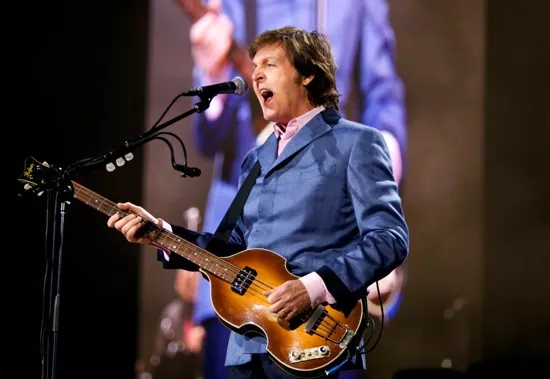 Courtesy of AEG Live
Paul McCartney in Stockholm
Paul McCartney has just announced a St. Louis show -- it's on November 11 at the Scottrade Center. Tickets go on sale to the general public on Friday at 10 a.m. via Ticketmaster, BUT the presale started at 10 a.m. this morning! Show some hustle!
Update: 9/13/12, 10:30 a.m. We've done some cursory browsing to see what's still available -- there are still presale tickets on sale via Ticketmaster (so don't resort to the scalpers just yet). What we found ranged from 19 rows from the stage on the floor for a whooping $267.30 to $69.90 for a seat in section 324, way in the back off stage right. The listed total range of ticket prices includes one for $27 (plus $12 in fees) but nothing in that department is still available in the presale. More as we figure it out.
See also: -Paul McCartney's Six Best Moustaches -Five Deeply Inappropriate Beatles Songs For Paul McCartney To Sing At The London Olympics Opening Ceremony -Paul McCartney's Ram: An Appreciation of the Album that Made Him a Pariah
You can sign up for information on the presale here, and you should do that if you're looking to get more info from the Macca camp as the show gets closer. But if you just want that sweet, sweet ticket in your hands, we can hook you up: The password for the St. Louis show is PMC4STL. Use it at the same link as above, or:
Buy Paul McCartney St. Louis Presale Tickets Password for Internet Presale: PMC4STL
Enjoy. This will be the Knight's first appearance in St. Louis in ten years and fourth total. For the second time in a row, he'll be at the Blues' home rink -- both times previously (once solo and once with the Beatles) he played at Busch.