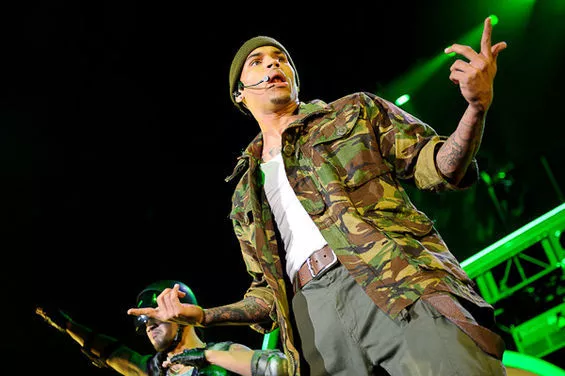 Todd Owyoung
Chris Brown asks, "Why me?" last year at the Verizon Wireless Amphitheater.
As a reader of music blogs, you have by no doubt by now heard that violent idiot Chris Brown has done (another) stupid thing by getting a tattoo on his neck that looks suspiciously like a battered woman. Like, you know, the woman he battered in 2009. He claims it's actually a sugar skull -- an icon of the Mexican Dia de los Muertos. Let's not get bogged down here: Either he knew what it vaguely looked like and he is a sinister sociopath or he honestly wasn't thinking about it and he is a colossally tone-deaf idiot who beats women. Take your pick.
So what are we doing here? Well, fair reader, this whole thing has left us sad and upset -- the vindication of Brown in general pop culture is depressing. We enjoy the music of more than a few felons around these parts, so we struggle with using this as an excuse to dismiss the man's music (there are plenty of other reasons to do that). But Chris Brown has actually managed to act victimized again and again in the last few years, and that is thoroughly perverted. In the service of exposing this hypocrisy:
March 2009: Chris Brown is charged with felony assault and making criminal threats. He pleads not guilty and accepts a plea that involves no jail time.
July 2009: He releases a video on his YouTube channel apologizing to fans and Rihanna -- the only time he does so directly. We have no comment at this point, really.
September 2009: In his first public appearance since the charges, he appears with his lawyer and mother (oh, come on) on Larry King Live to talk about the abuse he witnessed as a child. Mommy says he isn't a violent person. The photo evidence published by TMZ of Rihanna's mangled face very much suggests otherwise. In perhaps his most appalling failure to accept responsibility, he blames the media for driving the two of them apart and says he doesn't remember the assault. Yes, he was clearly possessed by The Media.
June 2010: At the BET Awards, Brown tearfully performs "Man in the Mirror" and later in the ceremony says, "I let y'all down before, but I won't do it again...I promise." Contrition: Good, obviously. But it's hard to see the whole thing as anything other than performative. The general defense of his continued career takes the approach that his personal life and professional ones are separate things, but here he is plying his personal "struggle" for sympathies he (or his handlers) must have known would be professional boons.
September 2010: He announces that his fourth studio album (and first wholly created since the charges) will be called F.A.M.E., which he says means both "Forgiving All My Enemies" and "Fans Are My Everything." Here begins the stance he has maintained to this day, which is basically, "I have been unfairly demonized and I will rise above." Bullshit.
March 2011: Robin Roberts asks Brown about Rihanna on Good Morning America and our felonious villian flips out, throwing something at a window and storming out of the building shirtless. He then Tweets, ""I'm so over people bring this past s**t up!! Yet we praise Charlie Sheen and other celebs for there bullshit." A failure of logic, of grammar and of even the most basic semblance of a grip on any kind of moral compass.
June 14 2012: American hero Drake (who I realize is Canadian) and his entourage get into an altercation with Brown and his at a nightclub (allegedly over Rihanna), where Brown gets a cut to the chin. He posts a photo of his "wound" to Instagram and records a diss track. Now, we are not condoning violence of any kind (obviously), but it's Brown's reaction, again, that's unsettling. It's further exploitation of the court of public opinion, in all its total lack of wisdom, to throw his hands up and say, "Why me???"
September 2012: On roughly the three year anniversary of his Larry King Interview, Chris Brown displays a tattoo on his damn neck that eerily resembles photos taken of Rihanna in the hospital after he beat her. Initially Brown's camp simply claims it's "just some random woman," before heading down that dubious Dia de los Muertos route.
Again, we are not willing to dismiss artists out of hand simply because of their criminal records, even when those criminal records involve something as objectively horrifying as domestic abuse. We will of course condemn the actions, but the matter of the music is a much trickier issue. We still play our Phil Spector records, and it's not fair to say Chris Brown's music is shitty because he is an appalling criminal. (We can say it's shitty for other reasons, of course.)
What we object to here is the way Brown has behaved -- he genuinely appears to believe he is being crucified, and as a culture we have generally let him believe that.