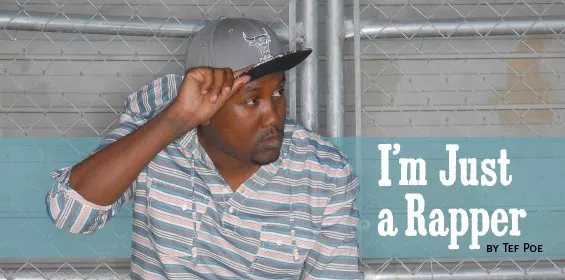 Editor: Tef Poe is an artist from St. Louis City. Through powerful imagery and complicated honesty, he has earned a reputation as one of the best rappers telling the story of St. Louis, which is about much more than one place. Poe has been featured in music publications such as XXL and Urb Magazine. His next project War Machine 2 was released this Tuesday, June 5th and will be followed up by a full-length with DJ Burn One entitled Cheer For The Villain. Follow him on twitter @tefpoe. Get War Machine 2 here.
Every week in I'm Just A Rapper Tef discusses modern life, hip-hop, and the deep connection between them.
I wonder what the statistics are for local music videos. How many artists shoot videos in one day? Some are higher in quality than others, which has made the idea of having a music video more accessible to the general public. Every day I log onto Facebook and find myself watching random music videos from a surplus of rappers. Recently, WhiteOut and I released a new video directed by Rotting Peach Films. I had so much fun filming this video and the quality is extremely high. I hate being on camera, so I really dislike filming videos and taking photos. But it's something you can't live without in this industry. I wanted to do a blog highlighting a few videos that have stood out in my mind.
It would be really amazing if we had a public access show that featured local music videos. This is not a best-of list, and if you get pissed off because your video isn't featured in this blog, I really don't care. This current generation of hip-hop is too damn sensitive sometimes. I think the greater good here is that we are all introduced to new music from a few artists we may not be completely familiar with. If you know any videos that are dope and deserve to be checked out, feel free to post a YouTube link or two or more in the comments section for everyone to peep.
I want to now give you the opportunity to view the newest video from me and my comrade WhiteOut entitled "Feel Like I Do" produced by iKlevah. Be sure to check out the other music videos on included in this blog as well.
WhiteOut feat Tef Poe Feel Like I DO prod by iKlevah
Nato Caliph -- Physics 720 (and the Universal laws of . . ) Remix This is a video for the remix version of St. Louis Hip Hop artist Nato Caliph's "Physics 720 (and the Universal Laws of. . . )" from the Cipher Inside remix album on F5 Records. I remember when Nato showed me the incomplete version of this video. At the time I had never seen a local music video with this type of production value. Kenautis Smith blessed us with the track and Nato handled the rhyme. The video is directed by Kenny K. and is truly a dope idea.
The Union -- (Gritz Hoffa, Sosa, MVP) STREET KINGS I think this is one of the best local videos I've seen, mainly because it runs like a movie. Hoffa is one of my favorite local MCs and Sosa always holds it down lyrically like none other. Remrod did a marvelous job directing this piece. If you do a song titled "Street Kings," the video should look like this. The music production was handled by none other than the Band Camp. This is a high quality video, so enjoy it if you've never seen it before.
Snipes x BC x 19 -- In My Nina Overwater Entertainment CEO SNIPES gives you this Rick Ross-sampled song featuring fellow Overwater Entertainment artist BC of the Crown Holdaz providing vocals on the first and second verses. Snipes is from Memphis, but in my book he might as well be from Saint Louis because my circle supports him as if he were born and raised here. This track is dope but the video is really impressive in terms of quality. I've seen him perform this song live with his band backing him up and each time he's touched the stage I've been very impressed. This video is directed by Isaiah Conyers.
Rob Gullatte -- Trill Hip Hop I saw this video via Trackstar the DJ conversing with me over Google chat. Rob is from Houston, and to be real about you just don't expect to hear a cat from the H Town rapping like this. I think his entire ATP project is dope, and he's even been on the stage of the Gramophone here in St. Louis. This video really does a great job of capturing the song and showingcasing the characteristics of Rob as a person and rapper. It sort of feels like you're watching the Wu-Tang "Cash Rules" video, yet this is the southern version. Directed by Be El Be. Zado -- Kingdom Reigns I think Zado is one of the most interesting up-and-comers in the St. Louis scene. His delivery is very original, and his lyrics aren't cookie-cutter, fake-baby-boy lyricism posing like it's big-dog lyricism. I say all that to say this: the dude can actually rap. I'm not sure how I originally ran across this video. The concept of this video is off the wall and kind of reminds me of something Luda or Eminem would do. This video is brought to you in part by the good people over at BlueFlamesz. I like the video and you can't deny the talent -- once Zado fully develops he'll be one of the cities shining stars in terms of bars and well put-together rhymes.
Indiana Rome -- Dreams This was Rome's first video, if I'm not mistaken. Directed by Travis from Grae Media it still stands as one of my favorites. Plus in middle of the video I have a crazy unexpected cameo, so how could I not love it. Theresa Payne is on the hook and Rome produced the track. This is a win all the way across the board.
Swordz -- Let The Beat Drop Rodney P. from Average Jo productions (Human AK and God's Boxing Gloves Pt2. from War Machine 2) has been telling me about this guy for quite some time now. When I put the word out that I was writing this blog, Rodney originally sent me the "I Don't Like" freestyle video, which I started to post. Then I ran across this, and it's just the ultimate southern club rap record. The video works, yet has enough raw grit to it to make you know where Swordz is coming from. This joint was filmed and edited by Adolfo for Adolfo Graphics and videos.
Allen Gates -- On Me I like this guy's presentation, period. He doesn't sound like the typical St. Louis rapper, which helps give this song life. This is the debut single from Allen Gates' music project entitled THE PROOF. The video is also directed by Kazia Steele. I am not sure who produced the track, but it's a scorcher as well. The video is simple yet shot well and very effective. I can see this one as the trailer to a movie soundtrack. This video is dope to me because it shows you precisely why Allen Gates is a marketable artist.
Doorway -- Out There RT-FaQ, WhiteOut, L-Gifted, SD TheDizzleMan, Veo (Produced By the Great Joint Commission) This might be the only music video featuring the entire Doorway crew. The concept is dope and this is a good way to become a Doorway fan. Directed by my favorite camera guy -- Joseph Lombardi -- for Aztech Productions. Profits feat 5ive Star and Cyn Seer -- Clothes Off My east side FootKlan rider homie introduced me to Profits' music a few months ago. This video is basically for the song that could be the last of the night in the club. The lights are about to come on, and you need to find that special someone to have a one-night stand with [laughs]. The hook is really infectious, and 5ive Star is the perfect eye candy for this situation. The video is directed by the Dana Christian, who is pretty much a genius, putting together quality videos that have been featured on national television.
Devious and Reno This video is bold as hell, marijuana smoke flowing heavy. This sounds like something Bone Thugs N Harmony fans would love. The video was shot by Beat Up Films and gives you a taste of the music coming in the upcoming album from this pairing.
Stebo Kerosiff - Live Our Lives Crazy Stebo is a character to say the least, and this video with Dutch Jackson showcases exactly how abnormal his approach to the mic is. This joint is off of the Bo Klarity Project. The video is directed by Dutch Jackson. I don't think I've ever heard anything quite like this; the delivery and the mannerisms he make demand you to keep your eyes glued to the screen.
Ruka Puff -- Trust Nobody The homie Ruka Puff filmed this primarily in L.A., as you can see from the back drop. I dig this video because most people don't give Ruka Puff enough credit as a lyricist. But I actually remember his days as a battle emcee. Directed by Hookz and shot by Shoot to Thrill -- shoutout to Bigga Brown.
Doughboy -- Soul Music Directed by Rotting Peach Films. I started checking for Doughboy mainly because his visuals were so clean I couldn't help but give the songs a few listens. I chose this video simply because I like realism and vulnerability combined. The beat is insane and the video makes you want to know more about him as an artist. He honestly has a few videos that are better than this, but I dig this one. His visual campaign is one of the cleanest. Check the "Stress Relief" video also. Erick Richardson -- What We Could've Been This is a really amazing song. Video filmed and edited by Doni Ross of New Beginning. I've always wanted to do a video similar to this. It just feels good, makes you wonder about life. This is what California looks like through the eyes of a guy that moved there from St. Louis. I love this song and video period. This is probably my favorite video and song on this blog.
Corey Black -- When You See Me Corey Black is the best poet alive to me. I listened to this at least a thousand times. The video is really simplistic, but it's creative in its own right. The words he penned in this poem really are astonishing. I know him on a personal level, so I know this poem was written when he was in the midst of a personal transformation.
Rockwell Knuckles Sorta Invincible The fact that I was shot at the end of this video doesn't bother me. It all happens so quickly you probably didn't realize it was me. So watch it a few times and see if you catch it. This video is brought to you by Flying Fish Productions. Rockwell Knuckles at his finest.
Saint Orleans -- The Special You expected me to choose "We Don't Love 'Em," but since I'm a real fan I chose this one. Directed by Remrod, this video is hilarious. Saint Orleans is currently working on his next project, which is rumored to be a double CD. Saint O is going to be one of the forerunners of the city's hip-hop movement in the future. His single "We Don't Love 'Em" is on its way to becoming a local classic in the same veins as Keem's "Thick wit It" and Da Hol 9's "Urbody in the Club."
Aurellius The Saint feat WhiteOut and RT Faq -- That Note This beat is really dope and has a very soulful vibe, which actually helps the listener get into the video. Every rapper dreams of doing a video like this, walking around your room at home or your natural environment, flowing. Aurellius has a very distinct style -- the video is simple yet entertaining. Fresco Kane feat Murphy Lee -- Loud Pack Murphy Lee is nice lyrically and always has been. He can pretty much get on any kind of record and make it work. Fresco Kane is my dawg. We did a jamming record together last year. He used to go by the name Gena and recently signed with So So Def under the tutelage of Jermaine Dupri. I don't smoke weed, but this song is a beautiful jam of good vibes. This is one of those joints that could possibly influence a person to smoke even if they do live the drug free lifestyle. Directed by Besharp Images. Enjoy.
Keem- Aw Yeah Classic club banger in the making from Keem right here. The video offers us some comedic relief and an inside look at those faking it 'til they make it. This single is from the street album Made In America, hosted by DJ Scream & Cory B. . produced by Rob Green. . . download M.I.A here. The video is directed & edited by Marlon Jackson and co-directed by Keem. This man is a staple in the St. Louis music scene, so support his endeavors at all costs.
Hardface feat Gritz Hoffa and MVP -- Think Again Hardface drops visuals for the collaboration "Think Again." Gritz and MVP came along for the ride on this one. The mixtape Salute The General is solid from front to back. His name is Hardface, so obviously this is not for the weak-hearted. If you like music that needs a strong parental advisory attached to it, then you will certainly enjoy this. So many people attempt to make this kind of music and fail horribly at it. Rappers take notes. Shot and Edited by 1080.
Scripts N Screwz- Brick These guys are always trying to do something different. I shouldn't use the word "try" because they actually do a great job of executing original ideas and concepts. It's refreshing to see a group like this repping East STL. The video for "Brick" is basically a short animated film. Every time I watch this video I watch it at least three times. This is certainly one of my favorite local music videos. I don't want to give the storyline away so check it out for yourself. The song itself is soaked in heavy-hearted subject matter, so it's really intriguing that they decided to create a cartoon universe for the video.
Ebony Eyez feat Trina -- In My Face I was scrolling through these videos and realize this compilation of videos was lacking estrogen. So I decided to take it there with Ebony Eyez and Trina. The song is an STL classic at this point, and the video is an oldie but goodie. I love Ebony -- she's gorgeous and can actually rap. I love Trina for all the right and wrong reasons. This song had the clubs on smash when it was released. Every dude I know had some type of joke about the hook. If your answer to the question she presents there isn't "yes" then you have mental issues. Despite the provocative nature of the song, the video is actually pretty clean. Damonie Yung Dame -- Be With You Directed by RichVisionMedia. Rich is my homie. He's directed a video of mind. Damonie is the young homie with a lot of potential. As a director, Rich is great at taking a little bit of something and using natural elements in certain enviroments to expand upon a few basic ideas.
Da Hol '9 (Big Sexxxy Kool Kaos and Kemo)-Urbody In The Club Up Real Talk, I'm not doing a write up for this video. OK, OK, I will but I shouldn't have to. We all know this song. If you don't, then you're not really from Saint Louis. This is a classic, released many moons ago and still being played in the club every weekend without fail. In the universe of Saint Louis hip-hop this might be our version of "Nothin' But a G Thang."
I know it doesn't sound anything like that record, but this song is one of the most important and most notorious St. Louis rap songs of all time. This record will be played here forever, period. This video is dope because it just screams north Saint Louis and west Saint Louis like no other music video besides "Country Grammar." I think I should end this blog with this video because it's only right. This is the definition of a St. Louis club classic record.
This video helped give birth to a dance craze that temporarily took over the nation. I remember walking by traffic and hearing people blast this record out of their car windows. This video just shows you why people loved this song so much. Kemo was actually a beast lyrically, on the low.
Naturally I am limited in the amount of videos I can include in this blog, but I hope you at least enjoyed the ones we mentioned. In the future I'll do another column like this and write blurbs about more awesome local music videos. With some videos, you just like the song. With others, you actually enjoy the video but hate the song. And then there are those videos that are solid on both ends; the song is dope and the video is dope. I used to watch Worldstar hip-hop behind my bosses backs at work, knowing damn well I was on the verge of being fired if I ever got caught. This blog is dedicated to all of those out there fighting the good fight to watch videos at work and not get caught by the man.
I'm all about giving everyone a shot on one level or another. People often criticize the RFT Music department for only showing love to a certain demographic. I believe the in the short time I've spent writing this column, we've tried our best to create an all inclusive hip-hop environment.
It's bigger than our city though, and I salute the people that understand this. If there are any music videos you wish to promote, feel free to use the comments section below and drop the links. Artists seem to spam their work on social networks twenty-four-seven, yet when they are given a platform to openly discuss their music in a positive light and present the links very few actually do it.
When I did the list of STL emcee's I've encountered or listened to, a few people flooded the comment section with overwhelmingly negative things. That's not what this is about -- if we can't push the next artists and do so without malice in our hearts then we're in the wrong business. I'm here to shine light, and if I'm not the one the light is shining upon for whatever reason then I am perfectly OK with that, as long as someone from the city is shining. God bless us all, and I hope I see you guys at the finish line soon.
Positive energy and good vibrations do more for us on an individual level than negativity will ever do. There are tons more videos I could have thrown in this blog and we'll touch on those another date and time...trust me.