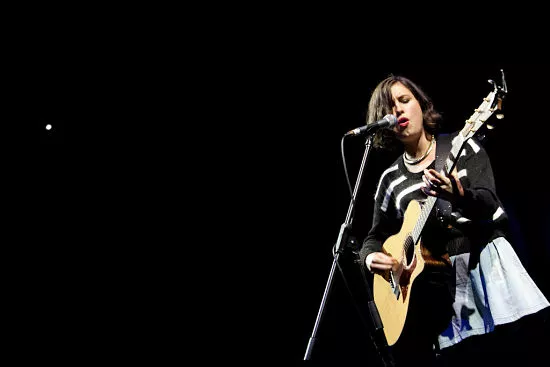 Missy Higgins - Sunday @ Old Rock House
Under normal circumstances I despise inane small talk and "how's the weather" chatter, but for the purposes of filling these show-pick-posts' opening paragraphs with content, its a consistent fallback. That said, I wore a jacket outside this weekend! WHOA HOLY SHIT.
Sometimes I think I could write damn near anything here. Elvis found alive, ironically doing Andy Kaufman impersonations in Vegas! Nirvana reforms, names Justin Bieber as new frontman! Snoop Dogg quits rap, becomes Bob Marley! You get the idea.
Anyway, there's a couple paragraphs up there now, so here's where I use the rule of threes and tell you about some of the shows. Hip-hop collective Odd Future comes to the Pageant on Friday; standout lyricist Earl Sweatshirt will be with them on this tour. Aussie indie-pop songstress Missy Higgins will perform at Old Rock House on Sunday, and on Wednesday hardcore thrashers Early Graves will play with Everything Went Black at Fubar. That's, one, two, three! Ok, say it with me now: "The rest of our picks follow."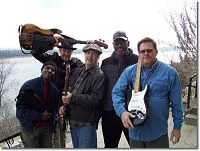 Soulard Blues Band Mon., 9:00 p.m. September 10 @ Broadway Oyster Bar - $5 By RFT Staff The Soulard Blues Band has had a remarkable run as one of St. Louis' most durable and popular blues acts. Fans have stuck with them through many personnel changes and stylistic shifts, and their continued patronage has always been rewarded by a fine crew of singers and players assembled by bassist, bandleader and sole founding member Art Dwyer. The current edition of the band more than lives up to its hard-earned reputation.
Heartless Bastards Tues., 8:00 p.m. September 11 @ The Firebird - $15/$17 By Roy Kasten From this 2010 show preview: The heart of the Heartless Bastards is Erika Wennerstrom, a Dayton, Ohio, native, transplanted to Austin, Texas, where she fits in like a lioness in a taco bar. On last year's career record, The Mountain, Wennerstrom and the Bastards stalk a core of minimalist electric blues and martial garage punk with all the gorgeously overdriven guitars and shambolic rhythms of Zuma-era Crazy Horse. Even when the band adds quasi-rootsy touches of fiddle and pedal steel, it still sounds like an engine fueled by principled anger and unjaded wonder. "I've been living underground trying to get my spirits up," Wennerstrom sings wildly but precisely. "There's more than one direction to get to the same end." And if you care about honest, unadulterated rock & roll, you'll go there with her.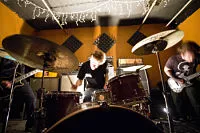 Everything Went Black Wed., 8:30 p.m. September 12 @ Fubar - $8/$10 w/ Cathedral Fever. Early Graves By Daniel Hill Everything Went Black has had quite a year - in January it released its debut LP Cycles of Light on LA's Prosthetic Records to massive critical acclaim. Later that same month the band hit the road for its first tour - a nine date run through the Midwest - and most recently played Chicago's "The Rumble" fest alongside some of the biggest names in hardcore. Add to that an opening slot on Ringworm's upcoming tour and it becomes quite clear that the blackened metallic hardcore outfit is quite the force to be reckoned with. The tragic 2011 passing of bassist Shagy Kennedy was a major blow to the band and St. Louis scene, but much of the music on Cycles was written with Kennedy and Everything Went Black's continuing success serves as an appropriate legacy for the much-missed local hero.
The Pines Thurs., 8:00 p.m. September 13 @ Off Broadway - $7/$10 By Roy Kasten Young Minneapolis band the Pines starts off its ethereal 2012 album Dark So Gold with a sinister synth drone and a guitar that seems to be trying to talk-box it's way out of the misty reverb. To be sure, the forests wandered by founders Benson Ramsey and David Huckfelt are thick with gothic ghosts but also with adroit finger-picking (on banjo and guitar) and songs that owe as much to the black humor of John Prine as the dark sensuality of Nick Cave. The sound of the Pines may be sweetly scented with twang but it's as prickly and evergreen as its name. Don't Miss: If the Pines have a St. Louis analog, it would be the Poorhouse Says, an underrated post-Americana band with a brooding sense of melody and dynamics. Get to Off Broadway early for the band's opening set.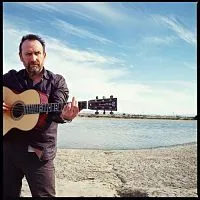 Colin Hay Fri., 8:00 p.m. September 14 @ Old Rock House - $22-$38 By Allison Babka The '80s were rife with Australians on the radio dial. In those days, it was a given that you would hear Midnight Oil, INXS and -- gulp -- Air Supply while driving your trusty VW Rabbit to the Hi-Pointe Theatre. But it was Men at Work that made the United States ask, "What the hell is 'Vegemite?'" Fortunately for us, former lead vocalist Colin Hay still doesn't consider it overkill to answer the question. A solo artist for more than 25 years, Hay has released eleven thoughtful, moody albums (His latest: Gathering Mercury) and appeared in countless TV shows, becoming a reliable Trivial Pursuit answer and a captivating storyteller. Hippy Hippy Shake: Though Hay's 1994 solo album Topanga was released just as Boy Meets World was finding its TGIF groove, the record was not named for Cory's bohemian girlfriend whose boobs eventually became stars on the Style Network.
Odd Future Fri., 8:00 p.m. September 14 @ The Pageant - $25-$27.50 By Daniel Hill LA's underground new-west hip hop collective Odd Future Wolf Gang Kill Them All (OFWGKTA for short) has made quite a splash since first arriving on the scene in 2007, owing in large part to the intelligent direction of its leader, Tyler the Creator. As somewhat of a social media genius, Tyler had the clunkily-worded name of the group on the tip of every music critic's tongue before he and his teenage cohorts even played a single show outside of their hometown. This is the group's second full U.S. tour and its first stop in St. Louis. It is also the first tour to include member Earl Sweatshirt, the lyrical prodigy whose wordplay has drawn comparisons to heavyweights like Nas and Eminem since he was only fifteen. Haters Gonna Hate: OFWGKTA has reached that tipping point for every hype-laden group wherein popularity laps itself and the underground starts complaining, which is generally the surest sign that full-on mainstream success is imminent. Catch them now so you can brag about it to your loser friends later.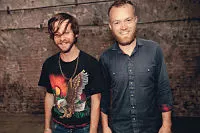 Two Gallants Sat., 7:00 p.m. September 15 @ Plush - $12 By Scott Faingold Two Gallants (accent on the second syllable, thank you very much) have a serious problem: Their live show is so real, so visceral, spellbinding, exhausting, hilarious and riddled with crazed pathos that no recording could possibly do it justice. Tyson Vogel's relationship to his drum kit is among the most fraught we've ever witnessed, stick connecting with snare with such inhuman force that it looks like he's trying to punch straight through to the floor with every beat. On top of that, Vogel and guitarist-vocalist Adam Stephens are so tight onstage that they seem telepathically connected, performing hairpin tempo shifts with military-style precision that somehow bolsters the reckless soul of their weirdly accessible blues-and-country-derived thrash.
The Vondrukes Sat., 9:00 p.m. September 15 w/ Empty Hill & The Distortions, Prairie Rehab @ 2720 Cherokee - $7 By RFT Staff A manic DIY ethos powers the Vondrukes. That and a whole lot of Uncle Tupelo -- or at least the earliest, proto-punk version of the legendary Belleville band. It's a reference the Vondrukes will have to live with, even as these ill-mannered rockers slash and booze and wallow in gloriously over-the-top classic rockisms -- in a single song like "RDP" it throws in Triumph head-banging, a Led Zep drum solo, Beatles-ish harmonic teases and Night Ranger-ready guitar wanking -- and weird bouts of lyrical paranoia. That's not just the weed talking; punkabillies really are an endangered species. So we're lucky to still have rock & twang animals like the Vondrukes around.
Missy Higgins Sun., 8:00 p.m. September 16 @ Old Rock House - $20-$23 By Cole Haddon At age seventeen, sprightly Missy Higgins won Australian radio station JJJ's prestigious "Unearthed" demo contest with the first song she ever wrote. Years later, her jazzy folk-pop has earned her pending Aussie icon status up there with Kylie. While her work as a songwriter leans toward the melodramatic, the familiar stories of love, hope and heartache she weaves find uniqueness in the wide vowels of her Melbourne accent, lyrics as complicated and charming as her smile, and plenty of Aussie bluntness.