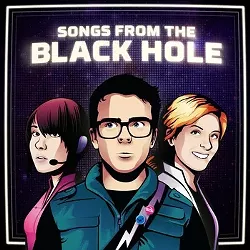 Twenty years ago, the people who yesterday released a complete, remarkably full-sounding version of Songs from the Black Hole, the lost Weezer rock opera begun and abandoned before Pinkerton, probably would have just started a zine or something.
The internet's amplified a lot of things--celebrity snark, MPreg fanfiction (don't Google that), the entirety of the world's collected knowledge of philosophy and webcomic backstories--but nothing's gotten so big a boost as the very concept of fandom. Since the late 90s message boards have brought lonely cult fans of bands and TV shows and videogames together and given them enough infighting, cliquishness, and deeply conditional love to feel like they're part of a real community that just so happens to be devoted to Final Fantasy VI, or the American version of Coupling, or Weezer.
With Tumblr, now, there's even less buy-in--you just follow the fuck-yeah-something-you-like blog of your choice and every day a few images, quotes, and memes related to your favorite things are thrown directly at your phone. But it was a traditional message board--one with roots dating back to Usenet--where a few musically inclined fans got together and formed "Operation Space Opera," a group dedicated to nothing more or less than performing a fully-cast version of Songs from the Black Hole--which wasn't even completely written yet. The results--available for download on Bandcamp--are, if nothing else, somewhat cooler than a zine. But if the words "Superfriend key change" mean anything to you, this is the culmination of ten years of concentrated fandom.
The end result is weird, for reasons beyond its very existence or the fact that it was recorded in peoples' houses on multiple continents. The plot--Jonas is sent into space with two douchey friends (to be played, in the original, by Matt Sharp and Brian Bell), pines after one girl and then another--is as thin as the words "unfinished rock opera" might lead you to expect, and offers little explanation for both girls' apparent pining after Jonas.
Oh, and it hinges on the Act 3 discovery of an "extra-huge" used condom. Anyone who's done a careful reading of the "Across the Sea" lyrics is probably inured to the Pinkerton songs' oddly precise sexual taxonomy, but Chekhov's Big Dick is probably worth a warning.
But it's a good weird, for the most part, and its unhinged melodies, argumentative harmonies, and crashing guitars--recreated and arranged from Rivers Cuomo demos and pages of notes from the recently released Pinkerton Diaries--sound great, for a no-budget internet project or anything else. (If you're not sure about committing to the whole thing, I'd recommend starting with "You Won't Get With Me Tonight.")
Finally it just sounds like Weezer, or at least how the members of All Things Weezer thinks Weezer sounds--it's honest to the collective fandom idea of Songs from the Black Hole, which six albums later still looms large over the band and its intense, manic-depressive fanbase.
That's the often creepy but occasionally amazing thing about fandom on the internet. Get enough people together who are intensely devoted to a piece of pop culture and eventually you'll get--in response to their unmet desires, no matter how specific--more pop culture.
Sometimes the world gets unlucky and it's Harry Potter MPreg (still don't Google that.) Sometimes, though, a band attracts enough talented, devoted fans that, after a year of work, a thousand harried forum posts, and some frantic recasting, you get something like this.