Kholood Eid
And many more to come.
Well, the white trousers are back in storage and the river flotation seat with tall-boy sized cup-holders is deflated. We may have a few warm days ahead still, but summer is behind us. Lest it all fade into a haze of sweating (maybe you recall that it was hot...), we here at RFT Music have preserved the biggest gems in a crowded concert season. These are totally objective picks based on the collective experience (obviously), but if for some strange reason you were into something different, please let us know in the comments. We're going for big picture here, but there were thousands of shows in the last few months and many of them did not suck.
10. Tenacious D at the Pageant Tenacious D has the biggest dick in rock and roll. Not that I've seen too many rock band dicks -- I can't think of any offhand, actually -- but still I think it's safe to say Tenacious D's looming twenty foot dick easily towers above them all.
Allow me to explain. Inspired by the cover of the new record Rize of the Fenix, the lone set piece serving as a backdrop for the self-proclaimed "Greatest Band in the World" is a giant inflatable phoenix (or "Fenix") that looks, well, like a gigantic dick -- replete with gigantic balls. The album even comes with a sticker covering the bulk of the offensive piece of male anatomy - suffice it to say that subtlety is not Tenacious D's specialty. Dick jokes and juvenile humor are, however, and the capacity crowd at the Pageant Monday night couldn't get enough of it. --Daniel Hill Review and Setlist Slideshow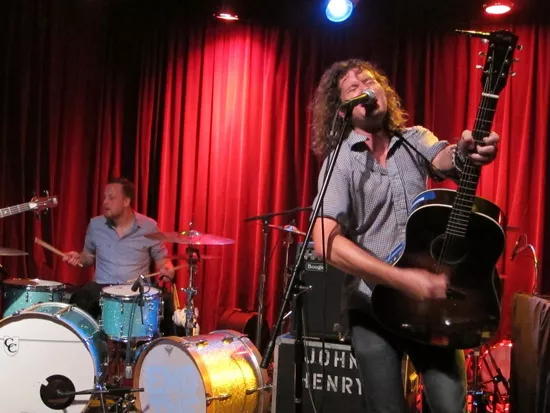 Roy Kasten
Jon Henry & the Engine
9. Open Highway Music Festival at Off Broadway A block away from Off Broadway at sundown, you could see the glint of light on pearl snaps and smell the macaroni and cheese, bacon and apple butter melting on Texas toast. It was the final night of the first Open Highway Music Festival and the Cheese Shack food truck was cooking. Looking for jam bands and veggie wraps? Try another ZIP code.
The brainchild of club owner Steve Pohlman and booking agent/songwriter John Henry (who was a late add to an already flush bill), the quasi-Twangfest featured acts like the Turnpike Troubadours, the John D. Hale Band, Will Hoge, William Elliott Whitmore and, on this night, Ben Nichols of Lucero and headliners the Bottle Rockets. You can't kill roots rock with a deep-fried, heart-attack sandwich and you can't build an altar for alt-country Valhalla on empty Stag half-quarts, but you can try. --Roy Kasten Review
8. Fiona Apple at the Peabody Opera House Fiona Apple is not afraid of silence -- but at least a few of her St. Louis fans might be. At Apple's concert Saturday at the Peabody Opera House there were more than a few moments when hootin' and hollerin' from a few rowdy audience members seemed to threaten not only the experience of enjoying the singer's gripping live performance, but also maybe the singer herself. To Apple's credit, her performance wasn't at all deterred, despite the obnoxious lady sitting in the mezzanine who punctuated every other song by yelling, "Rock it out, Fiona!"
If it seems unfair to criticize vociferous fans at a concert, I submit that Fiona Apple isn't that kind of musician. There is already a skittishness to her stage presence, a feeling that too much of anything will throw off the precarious balance that her talents demand. Upon entering the Peabody, multiple ushers urgently informed me to remember that, "There's no flash photography allowed at tonight's show. If the artist sees one flash go off she'll exit the stage." Effuse praise all you like, St. Louis, but please don't send her walking off stage. --Liz Miller Review Slideshow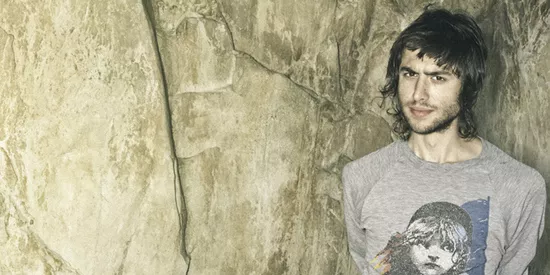 7. Pujol at Off Broadway The two most purely enjoyable things I've done in the last couple weeks I did back-to-back yesterday, when I went from a showing of The Amazing Spider-Man at the Moolah to the Pujol show at Off Broadway. The show was better. It was a kinetic celebration of riffs and people to share them with - the front three rows of the (good sized for a Sunday but still pretty paltry) crowd melted at the end into a sweaty roar of contact.
Daniel Pujol, from Nashville, knows plenty about the good in people and the celebration of life's pleasures. He is, like much of his young generation, highly educated and disillusioned with the straight-and-narrow path to the white picket fence in the 'burbs. Maybe that all worked out for a while, but it's hard to imagine the trajectory that gets us from debt and anxiety-laden kids to stable country club members. --Kiernan Maletsky Review
6. Snoop Dogg at Pop's Nightclub If you hadn't already assumed that Snoop Dogg would be playing to a full house at Pop's last night, the line of people stretching across the parking lot -- hours before his performance -- would be a good indication. Half-naked women, old-school players, frat boys, hooligans, and weed smokers of all ages came out to spend the evening with one of the most legendary entertainers in the history of rap, along with a few other familiar faces.
The excitement never diminished as Snoop played songs from every different era of his twenty year career. Some of the choices were surprising, and many were shortened by a single verse (or less) to squeeze more into the hour-long set, but the fans loved every minute of it. Before the finale, Snoop passed along his message of "peace, love and soul" to the crowd before ending the show with Young, Wild and Free. --Calvin Cox Review Slideshow
5. LouFest in Forest Park "This next song goes out the the Flaming Lips who kept us up till 7 a.m. with a homemade Ouija board and way too much alcohol," says Cults guitarist and vocalist Brian Oblivion (real name: Ryan Mattos) before leading the band into "Most Wanted." Lips frontman Wayne Coyne stops by the stageside VIP perch to show support and snap a pic of the youngsters on his iPhone during their last song. Cults formed in 2010.
Mattos later laughed and admitted to us that he couldn't even remember any of the questions they asked of the fortune-telling board. "It was the night that time forgot. No one remembers anything. The only evidence we have that it happened at all is that Wayne is wearing one of Madeline's [Cults' lead singer] socks today." --Brian Heffernan The Ten Best Dancers at LouFest: GIFs The Best and Worst of LouFest 2012, According to the Fans The 18 Best Fans, Musical Moments and Trends at LouFest 2012: Day Two The Flaming Lips at LouFest, 8/26/12: Review, Photos and Setlist LouFest Rainout Live Blog Dinosaur Jr at LouFest, 8/25/12: Review, Photos and Setlist The 17 Best Fans, Musical Moments and Trends at LouFest 2012: Day One Good Times Aboard the Golf Cart Valet at LouFest 2012
4. The Walkmen at Plush The Walkmen's latest album, Heaven, is adorned with family photos -- on every panel of the album artwork except the front you can find some combination of the neatly dressed members of a perpetually neatly dressed band standing with one or more of their progeny.
It's tempting to find the symbolism there. The Walkmen has survived more than a decade of the rock and roll roller coaster, big successes followed by bigger failures. But in the last three years, the band has found something of an even keel -- three consistently excellent albums and slowly expanding crowds. All five men are married and, last night anyway, keeping booze off the stage. So the photos with the kids might be seen as a conscious projection of maturity, and the record they cover a specifically grown-up affair. Heaven is the product of men with children, men who know better than to believe their salvation will come from songs. But man, the songs can take you pretty close. --Kiernan Maletsky Review Slideshow
3. Big Muddy Blues Festival on Laclede's Landing You could see it coming down the street. The wall of downpour that swept through the Big Muddy Blues Festival around 4:30 p.m. yesterday didn't last long, but few stayed outside to weather the last rainy remnants of Hurricane Isaac.
Instead of sprawling out on the grassy slope near the cross of First Street and Lucas Avenue or on Second Street's cobblestones, Saturday's crowd squeezed into a patchwork lineup of seven bars and restaurants to catch the fifteen national and locally based acts slated for Saturday's schedule including Joe Louis Walker, Marsha Evans & The Coalition and the Royal Southern Brotherhood.
The result was a far smaller crowd than past years, but an intimate display of showmanship and blues-scale swagger by the performers, like Miss Jubilee's birthday-gift swing dance with a man at the the Lodge behind the Morgan Street Brewery as her stageless Humdingers wailed on. --Brian Heffernan The Big Muddy Blues Festival Survived its Most Ambitious Year with a Little Voodoo and a Lot of Scrambling Big Muddy Blues Festival, According to the Fans: "Better than LouFest" Big Muddy Blues Festival Moves Outside for Sunday After a Soggy Saturday Slideshow: 2012 Big Muddy Blues Festival Day 2
2. Big Muddy Chili Cookoff at Off Broadway Big Muddy Records has always postured itself as more of a family than a profit-driven business venture, so when Big Muddy daddy Chris Baricevic rounded up label kinfolk and friends for a music-packed cookout over Memorial Day weekend, it seemed more like a family reunion (especially with all the acts that shared musicians) than a record label showcase.
Despite record-tying heat on Sunday, more than 200 people came out to the Off Broadway patio to slurp seven rival chilies and watch twelve local and local-ish bands and artists play. The event, which was sponsored by Stag, PBR, KDHX (88.1 FM) and a host of other local businesses, boasted performances by the Rum Drum Ramblers, the Hooten Hallers, Bob Reuter's Alley Ghost, the Griddle Kids, the Trio Project, Lonesome Cowboy Ryan & Banjo Kellie, Jack Grelle and Chris Baricevic himself. --Brian Heffernan Photo Essay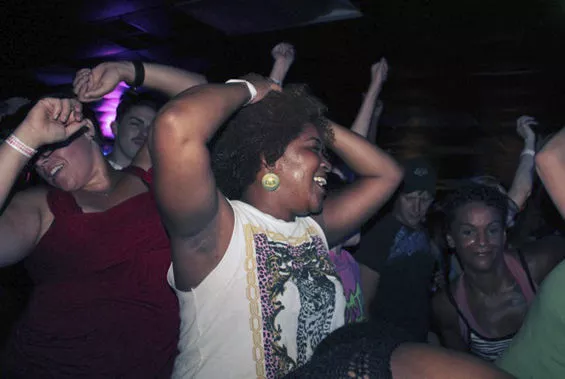 1. Big Freedia at the Firebird Big Freedia and her Divas came wiggling into the Firebird on Saturday. It was an unusual show. Unusual how? Let's cut straight to the end of a four-minute, logic-defying a capella freestyle from Freedia herself, half drum-line precise flow and half church choir wailing. That's when she started up one of her many trademark call-and-responses.
For full impact, let's turn to the crowd for a second. Somewhere not too far south of a hundred, from all walks: High-schoolers to people who could be (actually were, in some cases) their parents, hip kids and jocks, black, white, gay, straight... So Freedia - who is transgendered, not incidentally - has this whole mess in the palm of her hand, and she gets unanimous response when she yells:
BIG FREEDIA! QUEEN DIVA! DICK EATER!
It was an euphoric moment, whether you like sucking dick or not, whether you have one or not, because those sorts of minor distinctions had been so brazenly, thoroughly trivialized by the hour-plus of Big Freedia using her substantial charisma and will to get everyone to shake everything. It's Kumbaya with louder bass and more sweating. --Kiernan Maletsky Review Slideshow