Langhorne Slim - Friday @ Plush
Well I don't know about you, but I was certainly not impressed by so-called "Tropical Storm" Isaac. Yeah, it rained a little, but the way people were talking about it made it seem like we would all be awash over the weekend -- my neighbor even asked me on Friday if I had enough groceries and batteries and such. Meanwhile when all is said and done I'm sitting here with a sunburn. Meh.
Some great shows this week - guitar superhero Mike Keneally will play the Gramophone on Saturday, twang troubadour Langhorne Slim returns to town on Friday at Plush, and this weekend is the sixth annual Under Cover Weekend at the Firebird, wherein local acts take on the personas of their favorite bands. The rest of our picks follow.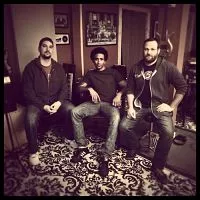 Alan Evans Trio Tues., 9:00 p.m. September 4 @ Old Rock House - $10-$12 By Christian Schaeffer When Soulive drummer Alan Evans decided to strike out on his own, he didn't stray too far from the sound that made his main gig so beloved of jazz hounds and jam-band connoisseurs. Like Soulive, the Alan Evans Trio mines the rich territory of the organ trio, with Beau Sasser manning the Hammond B3 and Danny Mayer on guitar. On the trio's debut Drop Hop, Mayer's quick-wristed style evokes Bobby Womack's fluid style and John Scofield's tonal colorings. Sasser has studied the B3 gods, from Jimmy Smith to Richard 'Groove' Holmes and beyond, and can make the console scream and percolate. Evans stays on top of it all, his effortless cool leaving room for the soloists with kinetic grace. Check the Tape: The trio was in town in early May, making at stop at KDHX (88.1 FM)'s studios for an in-studio, video of which is worth studying via the station's YouTube channel.
DJ Mahf Wed., 9:00 p.m. September 5 @ The Firebird - $5/$7 w/ Farout, Matthew Sawicki By RFT Staff First things first: DJ Mahf is not "just another DJ." He proved himself a bona fide turntablist when he went head-to-head with some of the nation's best DJs for the 2010 Red Bull Thre3style Competition -- where he took the St. Louis title. He's also shown that he's a capable producer with his mixtape series Homemade Junk and Press Play at Night. And when he's not out touring with Earthworms or Steddy P, he makes time to spin records all over town, most famously at one of the area's longest-running weeklies, Mass Appeal at Atomic Cowboy.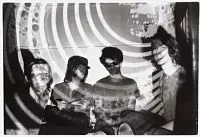 Troubadour Dali Thurs., 8:30 p.m. September 6 @ Off Broadway - $7/$10 By Josh Levi Attracted equally to the fuzzed out psych-pop of the late-'80s and the unfolding walls of early-'90s shoegaze, Troubadour Dali remains one of the premiere psychedelic bands in the city. Filtered through a wall of reverb and fog, the band's music readily redefines the birth of cool with its lackadaisical melody-driven rock and the unwavering songwriting of Ben Hinn and Kevin Bachmann. Although the influence of bands like the Jesus and Mary Chain, Brian Jonestown Massacre, and Dandy Warhols is apparent, Troubadour Dali sets itself apart with a tasteful mix of radiating guitar solos, swashes of white noise and bewildering acoustic instrumentation. Drifting in and out of consciousness, its songs ease into the ether with a lackadaisical strut, never slipping into silence or lacking intensity.
Langhorne Slim & the Law Fri., 8:00 p.m. September 7 @ Plush - $12 By Roy Kasten From this 2010 show preview: Our hero made his first impression on St. Louis while opening for Clem Snide at the Duck Room in the spring of 2005. Derby-wearing Sean Scolnick (a.k.a. Langhorne Slim) beat on an acoustic guitar and, drunk off his skinny white ass, rambled and meandered and refused to get off the stage. (Our indie-rock kingdom for a rail, dreamt a polite audience, just to run him out of town and back to Brooklyn.) Since then, Slim has redeemed himself with a killer, Dylan-as-rockabilly self-titled album in 2008, and last year's bubbly, gospel-conscious, folk-pop suite, Be Set Free. It's the kind of record so many scruffy songster punks aspire to make -- but one that's out of reach for most because they lack the native charisma, charm and tunes that make life worth living and affirming. All things, naturally, our hero believes and communicates so well.
An Under Cover Weekend Fri. AND Sat., 8:00 p.m. September 7 AND 8 @ The Firebird - $10 By Kiernan Maletsky In case, after five years, you are coming into this unprepared: Ten St. Louis bands each don the guise of a different group it is inspired in some way by. Costumes, sing-alongs, and balls-to-wall-ing ensues. This year's lineup includes newcomers like Arthur & the Librarian (doing Simon & Garfunkel) as well as veterans like perennial AUCW favorites Via Dove (Aerosmith) and last year's biggest surprise Dots Not Feathers (Stevie Wonder last year, Michael Jackson this weekend). Take the Party Home: Each year, AUCW expands into a new corner of the Internet - this year keep your eye out for videos of the bands explaining their choices and what they have planned.
Mike Keneally Sat., 7:00 p.m. September 8 @ The Gramophone - $20 By Christian Schaeffer Say the word "Zappa" in polite company and watch people either foam at the mouth about their favorite Mothers of Invention album or mumble about the man's perceived inscrutability. But few will deny the instrumental dexterity that Zappa espoused and demanded of his players, and Mike Keneally, his former "stunt guitarist" (so called for his superhuman ability), has made his name as a go-to sideman for the likes of Steve Vai and Metalocolypse's cartoon band Dethklok. But his latest solo record shows little of the psych-rock excursions that made him an underground legend -- Wing Beat Fantastic was written with XTC's Andy Partridge, and that bittersweet melodic rock that made Partridge's name is now broadcast through Keneally's own formidable chops. Just the Two of Us: Keneally will be performing songs from the new album with Rick Musallam, a fellow Zappa devotee who has recorded with the Roots, Gwen Stefani and more.
The Tripdaddys Sat., 9:00 p.m. September 8 w/ Matt Hill & The Deep Fried Two @ Off Broadway - Free By Roy Kasten From this 2008 review: Whether you call it punk-infused rockabilly, rock infused-country or swing-tinged blues, the Trip Daddys channel everything that is pure and nostalgic about rock & roll. The trio has survived several lineup changes and other hardships over its nearly thirteen year history but has always remained an ambassador of the classic style of hillbilly blues championed by St. Louis' own Chuck Berry in the '50s. A 'daddy's live show is always a spectacle; singer/guitarist Craig Straubinger manages to pull off big guitar solos and over-the-top, high energy theatrics without pandering to the audience or coming off as some sort of novelty act.
Toxie Sun., 8:00 p.m. September 9 w/ Bruiser Queen, Brainstems @ The Firebird - Free By Joseph Hess Toxie stirs up genres of garage rock and dream pop, birthing a style that's both distinct and flavorful. The vocals keep on the straight and narrow, while meandering guitar riffs spice up the proceedings with airy tone. The whole affair sounds effortless, and how could it not with members from Magic Kids and Coasting on the front lines? The songs all sport palpable hooks that stay in line with beats both direct and simple. Toxie injects a modern psychedelia into its decidedly Memphis indie rock. The sound that results comes across as warm, hospitable and unabashedly charming. First to Show, Last to Go: Brainstems might be just as good a reason as any to attend. The band has broken out in recent months with unapologetic guitar rock that harkens back to the genre's glory days in a big way. Bruiser Queen hits hard with femme fronted fervor.