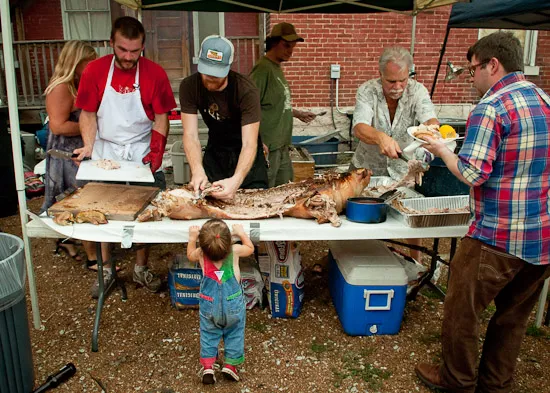 Brian Heffernan
Brad "Mort" Munger (left) and John Joern (right) carve the first of two roasted pigs at the Off Broadway Pig Roast on Sunday.
"You know how a slug feels in your hand?" asks John Kraatz. "It's slimier than that."
Kraatz is, of course, referring to the brain and brainstem of "Norm," the first of two pigs that will be consumed at the Off Broadway Pig Roast on Sunday night. As for how to reach those slimy, succulent morsels, he demonstrates his technique by lifting an imaginary skull, tilting it upright and saying, "There's a hole going up, and you just start sucking. When you can't suck any more, you use a knife." After loosening the stubborn bits with a blade, he says to just start shaking the head and the rest will slide out. Now, reader, you try.
The KSHE (94.7 FM) Pig Roast is also on Sunday. Boston and Kansas will perform; there may or may not be actual pigs roasted (you see, the classic rock station's mascot is a sunglasses-wearing hog). This is not the same kind of event.
When guests begin wandering into the playground-gravel patio of Off Broadway around 6 p.m., there is still a gutted, dead pig splayed out on butcher paper on the table. After the first pig is pulled from the grill, the meat is handed out in ribs before the rest of it is cut, chopped and yanked off the carcass. A whole shin, tender meat nearly falling off, goes to someone in line.
This event, and to some extent each of Off Broadway's summer food-plus-music events (including the Fourth Annual Crawfish Boil and Big Muddy Records Chili Cook-Off) convey a certain spirit of the music scene in South City. "Grit" would be the wrong word in this context, because no one enjoys gritty food. "Transparent," maybe. There is little effort in hiding how everything works or dressing it up to look uniformly slick and smooth-running.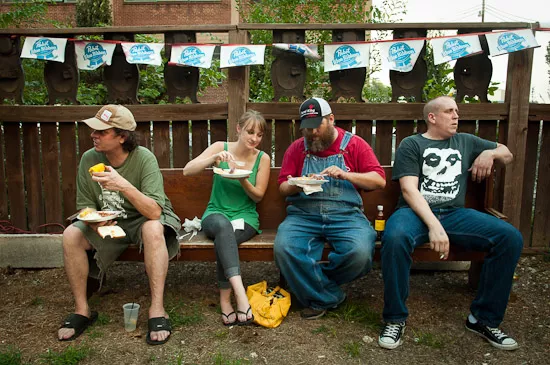 Brian Heffernan
Attendees of the Off Broadway Pig Roast eat their plates of Indonesian-roasted pork and sides.
The main lubricants for this event are tall-boy cans of PBR and Stag and the grease on your fingers from the pork. When Bo and the Locomotive's bass player isn't able to make it to the band's opening set, multi-instrumentalist Evan O'Neal switches between bass, guitar and keyboard to best fill the sound. There is no lipstick on the pig, nor sunglasses. This is not the KSHE show. Everything is on display, including Norm's various bits and pieces. Katie Jones tastes them all. She says the eye, plucked right from the pig's head, is the best of the three head organs she tries. "It tasted the most like bacon."
By the end of the night, four bands: a shorthanded Bo and the Locomotive, a four-electric-guitar-wielding rendition of Bob Reuter's Alley Ghost, Old Lights and Hobo Knife (from Carbondale, Illinois) have performed and both of the hogs -- 120-pound "Norm" and 100 pound "Norma -- have been injected with a mojo criollo marinade, roasted Indonesian-style for about four-and-a-half hours each, then completely consumed by the 250-or-so attendees. All that's left is a small pan of reserve cuts (ears, Norma's head, undercooked bits of shoulder) set aside for cooks-in-chief John Joern (drummer of Old Lights) and Brad "Mort" Munger.
Around midnight, Joern sits in the far corner of the patio, right after his set with Old Lights, reflecting on the event. "You know, on Labor Day Weekend, when there is a lot going on, I can't help but say this was a success." A success indeed, even if not necessarily a pretty one. But who likes slick pig roasts? They play Boston at those.