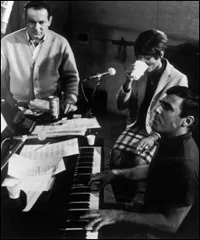 Songwriter Hal David passed away this weekend at the age of 91 from complications resulting from a stroke he suffered four days earlier. Best known for his collaboration with composer Burt Bacharach, David penned hits for Dionne Warwick, Dusty Springfield, Tom Jones and countless other crooners and pop singers in the 1960s and 1970s; those same songs passed into the realm of the Pop Standard almost upon release and have been covered countless times since.
The collected songs of Bacharach and David told tales that could be sweet and treacly - raindrops that fall on your head, birds that long to be close to you - but the pair's best, most enduring songs struck a chord of romantic hopefulness and personal perseverance that turned Brill Building songwriting from a work-a-day profession into high art.
Due to his novel orchestrations and other-worldly ear for harmony and melody, Bacharach became a byword for classy, complex pop songs; David, always less flashy and less eager for fame, was never as celebrated as his partner for his contributions. Search for "Hal David" on Amazon and you'll find one CD and one DVD in honor of the Bacharach and David songbook; Burt Bacharach has no fewer than 10 such collections under just his name, though most are stuffed with gems from the Bacharach/David era.
The truth is that, even if Burt Bacharach's music was a kind of three-minute pop symphony, it was the words of Hal David that broke your heart or helped to heal it. Few true musical partnerships have been as storied as theirs.
Below are five Bacharach/David exemplars -- songs that show the depth of their partnership and true synergy of two master craftsmen. You could easily pick five, or 25, more.
"Walk on By," Dionne Warwick (1964)
Heartbreak never sounded so real on the radio as when Dionne sang "Walk on By," those staccato guitar strokes slashing like razors. Even the swooping strings and forlorn trumpet spurts don't cover up the pain. Almost 60 years after its release, the song remains a marvel and the summit of the partnership of Bacharach, David and Warwick.
"Made in Paris," Trini Lopez (1966) Consider, for a moment, how challenging it must have been to write lyrics around Bacharach's perpetual-motion music. "Made in Paris" is something of a trifle in an overstuffed songbook, but it's a fine example of David's lyrical dexterity. That descending, stair-stepping melody at the start of each verse necessitates quick, monosyllabic words -- as does the rapidity of the pre-chorus ("if you don't know how to speak French, she'll understand") -- and David is still able to craft a little narrative in two and a half minutes.
"I Just Don't Know What to Do With Myself," Elvis Costello (1998, originally released 1962)
Protagonists in Hal David songs are akin to the Suffering Servant in the Book of Isaiah -- they suffer the hazards of love but never resort to bitterness or loss of faith, either in love itself or in their former lovers. "I Just Don't Know..." is the best of this stripe of song, and everyone from Dusty Springfield to the White Stripes have taken a swing at it. Here Elvis Costello treats it tenderly until a gut-busting final verse. (Costello and the Attractions recorded a live version in 1978 -- picture the Angry Young Man digging back into the Bacharach/David catalogue -- but this version dates from the time of his Bacharach collaboration, Painted from Memory.)
Lou Johnson, "There's Always Something There to Remind Me" (1964)
And this is how these two songwriters can toy with your expectations -- Johnson's recording is funky (relatively speaking) and jaunty at the outset, with a mellow trombone and tremolo guitar guiding the singer past his particular boulevard of broken dreams. But the chorus is a knock-out, both in orchestration and emotion; the song is not as maudlin as others in the collection, but damn if those memories of lost love feel haunting and palpable, even as Johnson ad-libs his way through the fade out with those turgid strings nipping at his heels. Dionne Warwick, "Promises, Promises" (1968)
We open and close with Dionne Warwick since the success of Bacharach and David would be unthinkable without her. "Promises, Promises," from the musical of the same name, may be her most technically impressive moment from her time as songbird-in-residence - that shifting tempo doesn't leave much room for error, and again we see David's ability to write strong, meaningful songs in tight corners.
Further Listening: If you're reading this far, it is assumed that you have at least one Dionne Warwick greatest hits collection. Many singers have done wonders with the Bacharach/David material, but Dionne is rightly enshrined all by herself. Rhino's Very Best of Dionne Warwick is a good start and contains her big singles from the era.
As mentioned above, there is no shortage of Bacharach comps. Always Something There: A Burt Bacharach Collector's Anthology 1952-1969 is a great collection of early and rare sides from the likes of Del Shannon, Gene Pitney and Jackie DeShannon. 20 of the 26 tracks were co-written with Hal David. Blue Bacharach is an early-2000s cash grab from Blue Note Records' corporate overlords, but it's a worthy collection. Lou Rawls' "They Don't Give Medals (To Yesterday's Heroes)" is a standout.
If you can track down the 3-CD boxed set The Look of Love: The Burt Bacharach Collection, snag it. It's as comprehensive as these multi-artist comps get. And, literally, where else can you own Bobby Goldsboro's culturally sensitive "Me Japanese Boy I Love You"?