Brian Heffernan
A crowd gathers after the rain outside Heartbreakers Rock-n-Roll Saloon at the Big Muddy Blues Festival on Saturday.
You could see it coming down the street. The wall of downpour that swept through the Big Muddy Blues Festival around 4:30 p.m. yesterday didn't last long, but few stayed outside to weather the last rainy remnants of Hurricane Isaac.
See also: Saturday's Big Muddy Blues Festival's Isaac-Updated Schedule and Venue Information Ten Best Shows in St. Louis this weekend.
Instead of sprawling out on the grassy slope near the cross of First Street and Lucas Avenue or on Second Street's cobblestones, Saturday's crowd squeezed into a patchwork lineup of seven bars and restaurants to catch the fifteen national and locally based acts slated for Saturday's schedule including Joe Louis Walker, Marsha Evans & The Coalition and the Royal Southern Brotherhood.
The result was a far smaller crowd than past years, but an intimate display of showmanship and blues-scale swagger by the performers, like Miss Jubilee's birthday-gift swing dance with a man at the The Lodge behind the Morgan Street Brewery as her stageless Humdingers wailed on.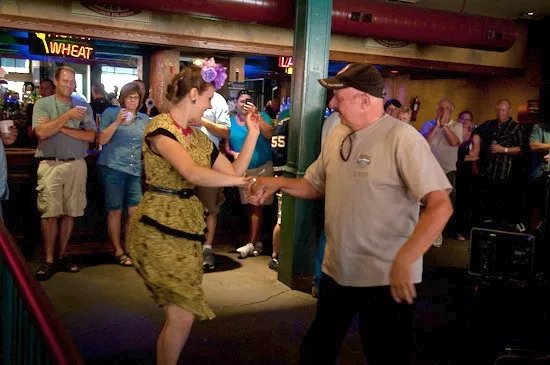 Brian Heffernan
Miss Jubilee and the birthday boy.
But if any festival lineup could pull off suddenly hustling into a handful of pubs, clubs and restaurants, it's this one. Second to coverbands, no genre of band is more practiced in hauling their gear into an array of non-traditional venues. These musicians make their living on knowing how to work a crowd, regardless of room dimensions.
By 6 o'clock the sun pokes through the overcast sky and street merchants hawk sausages, beers and mixed-drink buckets. A crowd spills outside Heartbreakers Rock-n-Roll Saloon and listening to Roll Over Big Muddy, A Tribute To The Father of Rock N' Roll (Chuck Berry) through the large opened storefront windows while girls throw Mardi Gras beads from smaller windows overhead and people start second-guessing the festival's decision to move all of the day's acts inside. By 7:30, it's raining again. So it goes. If blues music had a universal symbol, it might be a stick person with a rain cloud overhead.
As for today's festivities, all Sunday acts will perform outside and according to the original schedule. That can be found on the next page.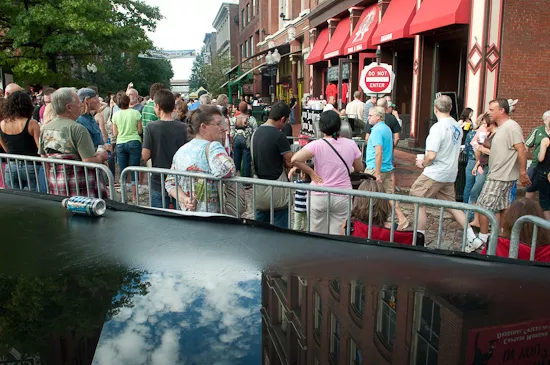 Budweiser Main Stage 1pm: Funky Butt Brass Band 3pm: Aaron Kamm & The One Drops 5pm: At Last, A Tribute to Etta, featuring Kim Massiewith special guest artists, Marsha Evans &Renee Smith 7pm: Ana Popovic 9pm: Dr. John
Pepsi Music Stage 1pm: Scott Kay & The Continentals 3pm: Billy Barnett Band 5pm: Mississippi Fever 7pm: Charles "Skeet" Rodgers & The InnerCity Blues Band featuring the Lovely Miss Hi-C 9pm: Marquise Knox
Morgan Street Stage 1:30pm: The Renee Smith Band 3:30pm: The Soul Reunion Band 5:30pm: Bible Belt Sinners 7:30pm: Soulard Blues Band 9:30pm: Eric "Guitar" Davis & The Troublemakers