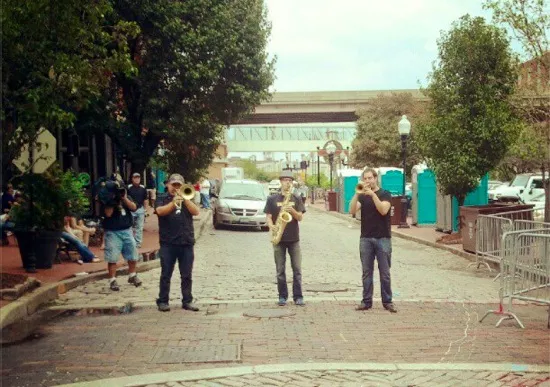 A horn section (the Blue City All-Stars?) plays on Second Street on Saturday afternoon.
Isaac has arrived, bringing with it the threat of several tornadoes last night, torrential rain and some more rain. The weather has caused an update in the Big Muddy Blues Festival schedule. First of all, it's still happening and so far there are no cancellations or changes to the lineup -- Joe Louis Walker will still headline tonight. The shows will, however, be moved indoors to seven bars and restaurants in Laclede's Landing (though in an act of exemplary dedication and faith, all three outdoor stages are up and ready in case they can be used). Today's detailed schedule information, freshly announced, is below.
See also: SUNDAY SCHEDULE -- Big Muddy Blues Festival will be Outdoors: A Little Rain Can't Stop the Blues Ten Best Shows in St. Louis this weekend.
Moved to HEARTBREAKERS (@ 2nd Street and Lucas)
1pm: Anita Rosamond & Rich McDonough & The Big Bad Blues Boys
3pm: Roland Johnson & the VooDoo Blues Band
5pm: Roll Over Big Muddy, A Tribute to the Father of Rock N' Roll, featuring Billy Peek
7pm: Royal Southern Brotherhood
9pm: Joe Louis Walker
Lucas Street Stage
1pm: Lucky Old Sons (Moved to SHOW-ME's)
3pm: Miss Jubilee & The Humdingers (Moved to MORGAN STREET BREWERY)
5pm: David Dee & The Hot Tracks (Moved to TIF's UGLY MUG)
7pm: Melissa Neels Band (Moved to BIG DADDY)
9pm: Jimmy Lee Kennett Band (Moved to MORGAN STREET BREWERY)
Morgan Street Stage
1:30pm: Marcell Strong & The Apostles (Moved to BIG DADDY'S)
3:30pm: Big Mike Aguirre & the Blue City All-Stars (Moved to BIG BANG)
5:30pm: Gypsy Jones (Moved to BIG BANG)
7:30pm: Vince Martin & Friends (Moved to JAKE'S STEAKS)
9:30pm: Marsha Evans & The Coalition (Moved to JAKE'S STEAKS)