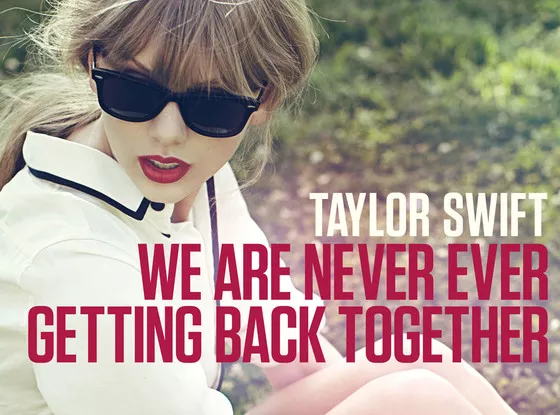 I am reaching the age at which one begins spontaneously to complain about pop music. It's not something I can apologize about, exactly, so much as a change my body is going through--at some point copies of Astro Lounge just started appearing in strange places.
So I don't think I'll ever be able to get dubstep, and Odd Future just seems kind of goofy and dumb, and my favorite Kanye West albums are the ones before he turned into the hip-hop equivalent of John Barth.
See also: Taylor Swift Just Took Her Pop Queen Throne. All Hail! Taylor Swift Is Saving America Taylor Swift Is Destroying America
One thing that does not get me barking about my lawn: The trend, years, now, in the making, toward weirdly colloquial song titles. I'm indifferent about the song itself, but I'll forgive Taylor Swift a lot now that her biggest hit is called "We Are Never, Ever Getting Back Together."
I'm sure there are examples of this going back twenty years, but the one that made me realize just how much I enjoyed it--how much I'd be willing to forgive--was Kelly Clarkson's "My Life Would Suck Without You," which sounds like someone writing a more conventional Max Martin title through a teenage-Raymond-Carver filter (b/w "Would You Please Keep Dancing Up On Me, Please.") As a song it's probably not the equal of "Since U Been Gone," and the verses, which are basically about liking someone on account of how terrible they are for you, are P!nk-level awful.
But the title. There's something about combining a chorus that's meant to be shouted with such gawky, unpoetic language that brushes past the "Say It Ain't So" sensors in my brain on the way to being completely forgettable. For me that remains the canonical example, but history, if 2012 is any indication, will remember "Call Me Maybe" as the most pervasive example of this trend.
Where "My Life Would Suck Without You" dipped into song-ese for the rest of its chorus (You will not be able to convince me that "Forever united here somehow" didn't go into the studio as "Something united something something"), Call Me Maybe's chorus was accessible and direct enough all the way through to spawn the most popular poetic meme since everyone was obsessed with the man from Nantucket's enormous penis.
The verses remain a little song-y, though, which suggests that this trend has further to go--even past "We Are Never Ever Getting Back Together"--before it peters out. I've got to admit I'm worried, and not just as an old man--this is coming more directly from the part of me that kind of enjoyed all the play autotune was getting immediately after 808s and Heartbreak came out.
But we haven't hit overexposure yet. So before I go, for any aspiring songwriters or colloquial divas out there, three free ones: "I'm Kind Of Super Into You"; "That's A Cool Face You're Making, But Also Weird"; "Stop Texting Me That Picture, Already."