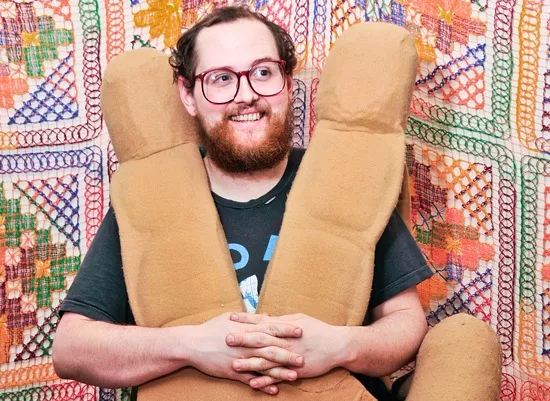 Josh Sisk
Dan Deacon: Sunday at the Firebird
Apparently some dude named Isaac is coming to town this weekend and he's expected to raise all sorts of hell all over the place, causing for the unexpected implementation of emergency plans for two big festivals. The Del Yeah! festival at Old Rock House has cancelled its outdoor acts and expanded the indoor show; the Big Muddy Blues Fest will go on with all the acts planned but the bands will be playing in various venues throughout the landing rather than outdoors. We're not sure who this "Isaac" guy thinks he is, but we think he's a dick.
Speaking of outdoors, KSHE's Pig Roast is this weekend, with Boston and Kansas headlining. It is not listed here (KSHE's seen plenty of promotion already compared to some of our picks below) but we just wondered, do they actually roast pigs at that thing, or is it just a reference to the station's mascot? Either way, Off Broadway is having their own roast on Sunday, and the pig will be in attendance -- along with Old Lights, Bob Reuter's Alley Ghost, and Hobo Knife. The rest of our picks follow.
Friday:
Brian Owens Album Release @ Old Rock House 8:00 p.m. | $15-$20 Smooth and polished, Brian Owens has found fans across the nation, partly thanks to appearances on several late night shows. Come celebrate the home town man's success. (KM)
Tok @ Lemmons w/ Soma 8:00 p.m. | $5 Consider this the "Wayback Weekend" pick this week. Both Tok and Soma play rock of the "alt" variety that would have played very well on the radio in the mid-90s, back when the radio was still worth listening to. (DH)
Saturday:
Del Yeah! Bluegrass Festival @ Old Rock House w/ The Infamous Stringdusters, Emmitt-Nershi Band, Mountain Sprout 6:00 p.m. | $20 The show goes on, thanks to some lineup reconfiguration and a postponement of the outdoor portion of the festival. The good news is that the nighttime lineup has been expanded and should still be more than worth the venture into the rain. (KM)
Carrion Decay @ Lemp Neighborhood Arts Center w/ The Ultraviolents, Anodes 8:00 p.m. | $5 Austin's Carrion Decay plays d-beat style hardcore punk. Its grimy and dark and tight as fuck, and the Lemp Arts Center is still one of the better spots in town to see this kind of show. Anodes opens, and rules as well. (DH)
Lil Wyte @ Fubar 8:00 p.m. | $15 Lil Wyte got an unexpected publicity boost this week when it was reported that he was arrested in Tennessee on DUI charges, but the rumor was proven to be false. The lightning-quick southern rapper didn't hesitate to plug his latest CD Still Doubted in an official statement, quipping "Thanks for the promo." (DH)
Dan Deacon - Sunday @ the Firebird
Kelley Hunt Band @ BB's Jazz, Blues & Soups 7:00 p.m. | $15 Kansas City's Kelley Hunt is a musical force to be reckoned with, playing roots R&B and Americana with a fresh feel, a compelling voice and an impressive command of the keys. (DH)
Nite Owl @ Blueberry Hill w/ Nikko Smith, Collalbo Queens, Syna So Pro, DJ K'nine 9:00 p.m. | $7 This show is said to be the last of the year for both Nite Owl and Syna So Pro; don't miss your last chance in 2012 to see two of St. Louis' finest in action. (DH)
Big Muddy Blues Festival @ Laclede's Landing On Saturday and Sunday 1:00 p.m. | $10/$25 It will, in fact, be muddy, but the exceptionally strong lineup will still play, with contingency plans in place to move the shows into a variety of bars and clubs in Laclede's Landing, Beale Street style. (KM)
Sunday:
Off Broadway Pig Roast @ Off Broadway w/ Old Lights, Bob Reuter's Alley Ghost, Hobo Knife 7:00 p.m. | $10-$12 Sure, you could go to that other pig roast. But this one features an actual pig being roasted, and you get a night of music as finger-lickin' as the food. (KM)
Dan Deacon @ The Firebird 9:00 p.m. | $12 Dan Deacon's latest release, America, is his most heady, challenging release to date. But that will not mean a think piece of a concert -- Dan Deacon is famous for leading his crowds like an aerobics instructor. Wear sweat bands if you've got 'em. (KM)