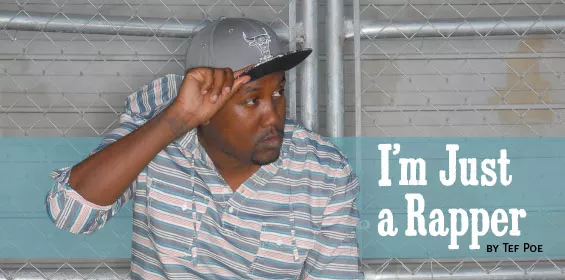 Editor: Tef Poe is an artist from St. Louis City. Through powerful imagery and complicated honesty, he has earned a reputation as one of the best rappers telling the story of St. Louis, which is about much more than one place. Poe has been featured in music publications such as XXL and Urb Magazine. His next project War Machine 2 was released this Tuesday, June 5th and will be followed up by a full-length with DJ Burn One entitled Cheer For The Villain. Follow him on twitter @tefpoe. Get War Machine 2 here.
Every week in I'm Just A Rapper Tef discusses modern life, hip-hop, and the deep connection between them.
Shattered dreams are among the hardest things most people will deal with in this lifetime. I think this is something that fuels me to work harder.
Tonight I saw an old associate at Corey Black's Poetic Justice open mic night. He was an emcee I was familiar with back in the MySpace era and he wasn't really that bad of a rapper. When I think back about it he was really talented and had a few songs I enjoyed a lot. I don't know the story of his entire life but he always seemed like one of those rappers who was constantly in process of trying to balance real life issues and creative issues all at once.
I want this guy to win because he's talented so I'm going to try to do what I can to work with him when the proper time arises.
In the current music era I haven't seen this guy in years, and he hasn't been as active as I'd like to hope. But it's all good. We all have our own plight - that's just the way life works. My story is different than your story and so on. Today I talked to the homie Saint Orleans for a spell while at a photoshoot with Octavius (Made Monarchs) and Tech Supreme. Saint O. is always a good conversationalist when it comes to anything music related, mainly because I can understand and feel the hunger in his voice/spirit.
He's from New Orleans but he lives in St. Louis -- hence the creation of the name Saint Orleans. I don't know much about his personal life besides what he has chosen to share on record, but his story has the overtone of survival and perseverance.
Last week I was in L.A. filming a music video, and I was humbled. I don't believe in using the word dream in reference to my goals as an artist. But in some sort of strange way I am in the process of fulfilling my dreams. I work hard and I'm always stressed out beyond compare. There's nothing I can do about it right now, but when I'm 80 yrs old I'm sure I'll have something to think about.
Rome wasn't built overnight so it just takes time and elbow grease to get where you desire to be in life. I just managed to always find a way to place myself in the pocket for the right plays at the right time. I've been blessed and I'm very fortunate, but I have a ton of more work to do and the struggle has really just started.
I wish I could tell you it gets easier but it doesn't and now I'm at a point in life where the story is more complicated than it's ever been. So I find myself thinking about the artists I know that are jeopardy of not fulfilling their dreams and it hurts my heart to some degree. I just want to jump inside of their brain with a bullhorn and yell to the top my lungs "keep going don't stop"!!
We all have to find a way to make it work for us if we're really serious about our destiny. All I honestly know is I'd give one of my lungs to become what I know I am destined to be. We all are blessed with the gift of opportunity despite the life we've been forced to live.
I'm not the most talented person alive but I just believe in pushing until you can't push anymore. I mean can you honestly stomach knowing you didn't live the life you desired. My lack of selfishness causes me to think about the other talented musicians I know not reaching their full potential or stumbling upon hard times and giving up.
I'm sitting here currently listening to Kush N Kung Fu from my homeboy Whiteout and this album just makes a million things run through my mind. I'm friends with a few of his friends and family and if his dreams are shattered, then on some level so are mine. If Rockwell Knuckles doesn't get the credit he deserves musically then it affects me. If Tech Supreme, Average Jo , and the Urban Legendz don't break through then I probably won't know happiness in this life. Naturally I think about the people I'm affiliated with all day everyday but I also wish the best for people like Screwz N Scriptz and the entire FarFetched collective.
I just want to see everyone doing what they were designed to do. Our city is overflowing with good people and they all deserve a shot. I find myself thinking about life and the places I'm trying to go daily. I'm a peculiar person so most of my thoughts about life may come off as abnormal to other people.
I think about stuff like how does the person that pushed the button on the Atomic Bomb view morality within our society. I mean he dropped the most deadly bomb ever on an entire country and killed thousands if not millions of people in the blink of an eye. So stealing a piece of gum or telling a small white lie to a loved one may not move him like it does you.
Life primarily functions off of perspectives. We all see things differently yet most of the time we're blind to the next person's perspective. Most of us are drastically uneducated and we're all conditioned to think the entire world believes in exactly the same things we believe in.
So very few of us actually use our brains to examine the world and it's inhabitants from an objectionable standpoint. I want to know what my mother felt like when she discovered she was pregnant with me. I want to be in tune with the universe on a level I never knew was possible. This is really the only way one can change the world in the manor I'm hoping is possible. Changing the world via my music is my greatest goal. I exist to make you think about things you typically wouldn't think about. How fast did Conrad Murray's heart start beating when he found Michael Jackson dead in his bedroom? Did Neil Armstrong really walk on the moon or was it the world's greatest hoax? I'm starting to ramble but this is the type of world I want to design for you through my music. This is my dream and if I can't accomplish this I'll live a very unhappy life. I don't know what your personal goals and aspirations are but I hope you find a way to make them reality. I believe we live in a world of uncertainty and the universe is constantly shape shifting and changing as it grows. There are new dimensions and perspectives some of us will never discover. Our worldview can either push us closer to our goals or begin to limit us and our ability to grow. The term "one life to live" means more than most of us really comprehend. There is no reset button once the game is over, you're done. I find myself thinking about the mechanics of "time" and exactly how it works.
If there is a God then the ability to manipulate, control, ignore and create, time is the main reason this being is so powerful. Death is powerful simply because time has gifted death the ultimate power to stop any living being on this planet whenever it chooses to. I actually think life and death are the arms of God and "time" is pretty much the alias of the supernatural. It's the one thing you can't discredit even though you technically can't see it. As an artist "time" either works with you or against you.
Everyday of your life it's doing one or the other. There are few other things arguably as powerful as the mechanism of time but I honestly don't believe they can match its fire power. I mean one could argue that the notion of fear works against you more so than anything but I think fear is only as powerful as we make it. It pretty much doesn't exist until you say it does.
My favorite rappers died before they could fully unravel their plans for total complete global domination through musical bliss. It seems like the most innovative ideas are the ones that seldom see the light of day. It also seems like the most innovative minds are the least motivated people. I don't think it's completely their fault because the more unplugged to the machine you are, the harder your life becomes. I often wish I could live a life consumed by ignorance and a lack of knowledge.
When I say ignorance I don't mean the racist, sexist, homophobic type of ignorance. I'm referring to the peaceful nothing really matters in the world type of ignorance. I've recently found myself toying with the fact that almost everything we know about the world we live in is a lie. I find myself being normalized by just embracing the face value of certain things. If the history book says Neil Armstrong walked on the moon then so be it. If you think George Bush honestly won both of his presidential terms then so be it. Dr Dre said it best: "And it is what it is" (my fav rap line this here). A statement such as the aforementioned one is so powerful yet so simplistic. It calms my nerves when I apply this type of thinking towards issues I have deemed too large for me to figure out.
Let's move on to something I can do something about. I can spend that type of time focusing on my own life. We all have dreams rather we refer to them by this title or not. We all want to become the zenith of what we envision for ourselves. So when I see a person with talent somewhere defeated by the world and the pressures of the industry it hurts apart of me. It's important that those of us considered the shining lights of our society keep pushing.
I don't have any magic words to throw out there. Just keep pushing and stay focused however you have to do it.
We all go through things in life, the way we respond to these things primarily dictates what we learn from the situation. I'm consumed by the allure of what I want to become. I hope I stay this way for the rest of my life. Even after success comes I hope I find a way to stay hungry.
Steve Jobs has a powerful quote: "Stay hungry and stay foolish". Staying foolish will give you ability to remain fearless and neglectful and oblivious towards what many may claim is impossible for you to accomplish. I hope this gives you something to think about.
We all don't deserve as much of a break as we believe we do. We're spoiled and that's just how life functions for us. Chances are you're completely healthy and reading this from the comforts of a room that isn't being raided by the military. You woke up this morning and didn't have bombs dropping on your head. I was raised in an amazingly troublesome neighborhood, yet even though I grew up in an urban war zone I am somewhat privileged. I have a brain that is open to examining how things really work. I have a spirit inside of that yearns to see things in this world I've yet to see. I am alive and I have the opportunity to create opportunity for myself.
Anything is possible. The world will do as we tell it to as long as we have the proper understanding of who we really are. Bill Nye the Science Guy is dead (unconfirmed rumor but I use it as daily motivation to push the ball as far as I can), Heavy D is also dead. James Brown and Whitney Houston have both transformed into the next stage of energy in the afterlife. These people changed the world and it wasn't easy. We lost Mr. Rogers few years ago, Captain Kangaroo is also gone. The world is in serious need of new mentors and leaders. I intend on answering the call, I hope you join me.
Picks Of The Week
Stalley- Hell's Angels feat Rick Ross Journii Walker -Scared Epiphany- Respect Part 3- The Wait LP Ace Hood- Rosaries Corey Black- New Good Flow freestyle Nato Caliph feat Ali- Original Almighty