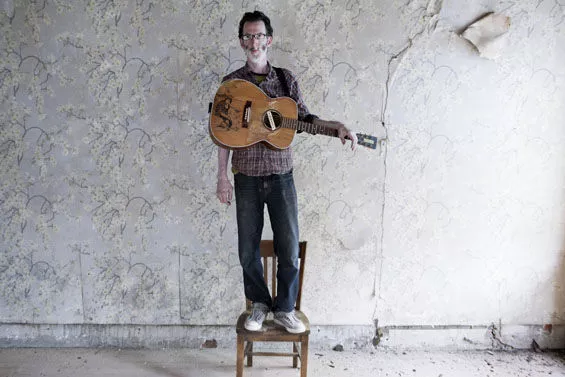 Courtesy of Tim Gebauer
Tim's preferred stage setup.
This week's music feature is about Tim Gebauer, the proprietor of commercial sound company Electropolis and former member of such bands at Bellyfeel and Private Sector. These days he reserves his own music for impromptu, unplugged performances at open mic nights, but he's preparing an EP with Sleepy Kitty's Paige Brubeck. He's got just one song recorded for it so far -- "Dream of You," which we originally brought to you in our RFT Music Showcase coverage. You can listen to it below, as well.
Back in our Showcase coverage, Bob McMahon gave his account of Gebauer's songwriting project:
Tim Gebauer has never met a stage and microphone that he won't abandon in favor of a chair on a venue's floor. What he lacks in amplification, Gebauer makes up for in big-hearted ballads that are played on an epic scope. He only needs a guitar and his dynamic voice to bring to life his evocative lyrics about falling in love with genies and dreaming of love. Unlike many other singer/songwriters, who also traffic in folk ballads, Gebauer uses words sparingly but makes sure each one counts. Unfortunately, Gebauer doesn't play out often because he doesn't want to make his personal music too much like work, an understandable sentiment given that his day job is composing music for radio commercials. Your best bet is to catch him at Foam's Wednesday night open-mic.
This week's feature deals with the relationship between Gebauer's personal music and his professional music -- the way he has found a symbiotic interaction between art and craft.