RIP Unnamed St. Louis Punk Guy
Before Pinterest, Google Plus, Facebook, Myspace, Friendster, Qapacity, Quechup, Wakoopa (can you believe these made up words? Also yes, I found a weird list on the internet of social networking websites) there was STLPunk.com, founded and operated by local artist / punk Jerome Gaynor. And before STLPunk.com ever resembled anything close to those sites, it was a hub for St. Louis punk bands to anonymously shit-talk each other. In these early days (1998?) one would merely sign their band up and then have a little white page with a message board requiring no login. It was simple and goofy and fun, and an incredible resource for finding out about local punk bands and shows. It wasn't until the introduction of personal profiles (early 2000-ish?) that things got out of hand, and by out of hand I mean the site was the most hilarious destination on the internet.
At its peak (2005) STLPunk had over 80,000 registered users, and on any given day you could check the "Punx Online" column on the front page and note that you were currently in the company of some 500 or so of your presently-online co-patriots. Band pages still existed, now in suped-up form with MP3 and image hosting, but truly the personal profiles had taken over. Users were no longer exclusively punks and were no longer exclusively from St. Louis. In the years before online social media's massive rise to power STLPunk was essentially Myspace before Myspace was. In many ways it was superior, even, though the rise of the 'space is what ultimately culminated in the site's downfall.
Recently some saintly nostalgic do-gooders have begun utilizing the Internet Wayback Machine to crawl through cached copies of old STLPunk pages, mining hilarious diamonds from the rough and posting them on their tumblr account at http://fuckyeahstlpunk.tumblr.com. For the uninitiated, the Wayback Machine allows users to view content from websites that are no longer online, by archiving tons and tons of screenshots and cache grabs and presenting them for the user by date. Since STLPunk was so hugely successful, the Wayback Machine has thousands of captures from the site, spanning from October 2000 to July 2011.
Okay, we know why you are here, and so now we're going to try to help you find your old STLPunk profile.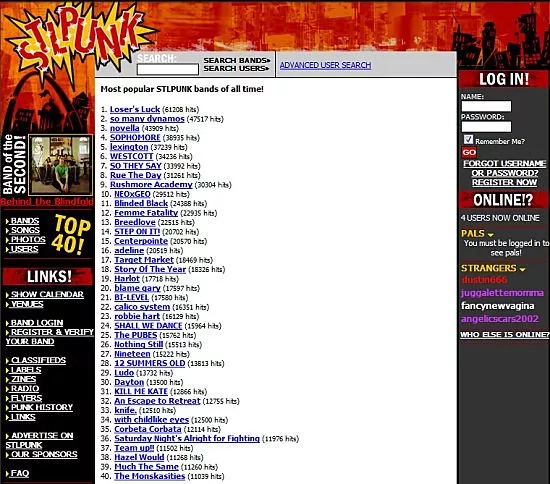 STLPunk's "Most Popular Bands of All Time", as of November 12, 2006
First, understand that many of the links and pictures and such will no longer function -- such is the nature of the Wayback Machine -- so you'll have to get creative. If you remember your user ID number, this will be a very quick process. Simply go to the Wayback Machine and put in this address: http://www.stlpunk.com/u_profile.asp?userID= <---- with your user ID number at the end. If you see results, voila. If not, you probably didn't get very many hits on your page, thereby resulting in few cached screen grabs. It's probably because you were a fat nerd dork loser in high school, with no friends. Unradsville - Population: You. (Sorry, but we're talking about STLPunk here....old habits die hard.)
Anyway, we're going to use Greg Stinson of the Humanoids as our example here, mostly because throughout the site's existence Greg was constantly listed as one of the "Top Profiles" on the front page (likely owing to his ripped physique and stylishly coifed hair) but even more mostly because Greg is a friend and this seems a good opportunity to embarrass him without fear of reprisal (suck it, Stinson). So when one inputs Greg's user id number into the url above and enters it in the Wayback Machine, one gets this page as a result. At the top you'll see that it says "http://www.stlpunk.com/u_profile.asp?userID=286 has been crawled 15 times going all the way back to September 24, 2002." Directly beneath is a timeline with some bar graphs in it. Those graphs represent the points in history that Greg's page was cached, and clicking on the year will bring up a month by month calendar with dates circled. These are Greg's cached STLPunk profile pages, sorted by date and intact as they were when indicated. Duplicate this process with your own user ID.
If you do NOT know your user id, this is going to be trickier.
Sweet hobbies, dude. (Found by fuckyeahstlpunk.tumblr.com)
Some investigative journalism by a colleague, one Liz Miller, dug up this page. It is the "search by school" page, dated November 2007. The "search" function and the drop down menu no longer work, so don't waste your time. You should see a list of 28,000 names though -- surely a good starting point. If the 2007 version of this page is not helpful, navigate through the timeline ofthis page in the same way discussed before in regards to Greg's page.
If you still can't find your name, try to find a friend that may have had you listed, but be aware that as you click through the site you are going to be pulling up results from all over the timeline, which can seem confusing. If you look at the very top, in the Wayback Machine toolbar, you'll see again where it indicates the number of captures that the Wayback Machine has for that particular page. Clicking on that number will bring up a page just like the one we saw before for Greg's profile, allowing you to pull up pages in different points in time. Do not waste your time with the search function on these cached versions of STLPunk; it is no longer functional. A good place to look is on the right hand side of some of the later pages, where it lists "Online Punx" or "Users Online". Those lists would display online users randomly throughout the day, and perhaps one will be a name you recognize.
If you are still coming up empty, I don't know, try starting on one of Greg's pages (no, seriously). If you start with a later one you'll see that Greg has like a bajillion friends listed on his page. Maybe you'll recognize one; from there it's just a six-degrees-of-separation type game (if only Kevin Bacon was on STLPunk; this would be easier for everyone). Even if you cannot find your personal profile, the site is still a goldmine of hilarity -- as proven by the aforementioned Fuck Yeah STLPunk tumblr. STLPunk eventually went the way of the dodo, done in by the rise of Myspace. Jerome Gaynor sold the site in late 2006 to local promoter John Mancuso, but by then it was all downhill as more and more social networking sites started filling the internets. Currently the address yields a blank white page. Many times I have longed for its return -- I genuinely think it could serve a useful purpose again, if used as before to specialize in St. Louis bands -- but according to Gaynor the cost of rebuilding would be astronomical. In any case, happy nostalgia day everyone -- sorry for suddenly grinding your workday to a complete halt.