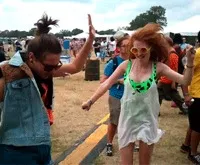 There was some kick-ass stuff happening on stages this weekend at LouFest. But the stars of the show were in the crowd. This is a particularly relaxed music festival, and plenty of people camp out with blankets and folding chairs. That is not what the booty-shakers and head-bangers below were doing.
See Also: Good Times Aboard the Golf Cart Valet at LouFest 2012 The Best and Worst of LouFest 2012, According to the Fans The 18 Best Fans, Musical Moments and Trends at LouFest 2012: Day Two The Flaming Lips at LouFest, 8/26/12: Review, Photos and Setlist LouFest Rainout Live Blog Dinosaur Jr at LouFest, 8/25/12: Review, Photos and Setlist The 17 Best Fans, Musical Moments and Trends at LouFest 2012: Day One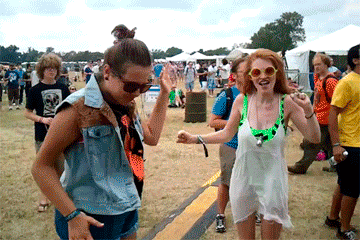 10. Find Your Inner Neanderthal
The clip here was taken during the cave man rock of King Tuff. The world may be heading toward bass drops for its dance needs, but guitars can still put a spring in your step.
9. Who needs a drummer?
Seriously, this guy is playing an actual fill: Notice the placement of two cymbals, three toms and the snare, right in place.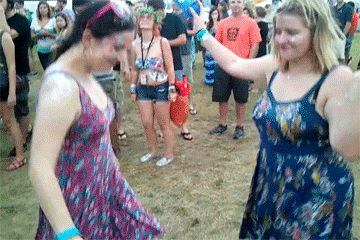 8. Let's do the time warp again.
There was admittedly plenty of face paint at LouFest and these ladies were far from the biggest hippies in attendance. But they've got the flower dresses and the free spirits to bring us back a half century or so.
7. Ghost Rider
What do you get when you combine the Flaming Lips with skeleton lips? Happiness, that's what.
6. Anti-Somthing, Pro Rain
Not sure exactly what these shirts were about, but these dudes know a little rain is no reason to seek cover.
5. Trend Piece
Stripes are in! Maybe. We don't really know anything about fashion.
4. Fly Away
Fairy wings and smooth moves -- enough for the fourth place spot on this list. She'd have been one higher if it weren't for her LouFest companion, who you can find at number two...
3. Conga Line
We like to see it: A little crowd participation, a little grabbing onto a stranger. Good times.
2. The Devil's Music
See?
1. The Magic of the Flaming Lips
We have attempted to write about the Flaming Lips on many, many occasions. But we will never come as close to the look on this man's face to describing why this band's live shows are what they are.