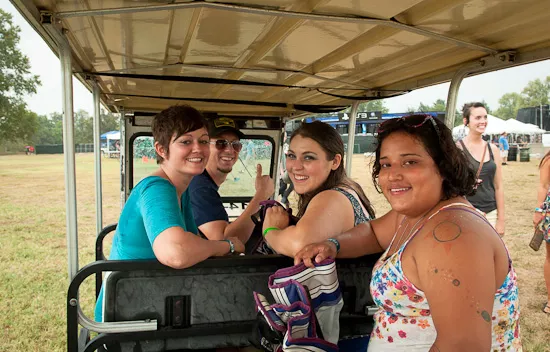 Brian Heffernan
Call-A-Cart driver Mark Minden with Jen and her friends.
When much of LouFest's Saturday crowd was heading for shelter under the tents, the Stagners are making a break for their black sedan parked probably 500 yards away. If getting rain-soaked was lethal, this would certainly be a suicide run.
See Also: The Ten Best Dancers at LouFest: GIFs The Best and Worst of LouFest 2012, According to the Fans The 18 Best Fans, Musical Moments and Trends at LouFest 2012: Day Two The Flaming Lips at LouFest, 8/26/12: Review, Photos and Setlist LouFest Rainout Live Blog Dinosaur Jr at LouFest, 8/25/12: Review, Photos and Setlist The 17 Best Fans, Musical Moments and Trends at LouFest 2012: Day One
"Want a ride? Only costs a tip!" calls Mark Minden as he swerves his eight passenger golf cart alongside the family of three. Derek, Rhea and their blonde-haired son Logan jump into the second and third rows of seats and Minden speeds to the end of the Jewel Box fields. There's a roof but hardly a dry seat as the rain blows into the open left side of the cart and onto Rhea's legs.
"Now this is more like it!" cries Logan, thrilled, though his whole day sounds pretty great for a five-year-old boy: mask making, science center activities, playing video games in Playstation 3 bus, a snow cone from Kona Ice and a couple attempts at the Upper Limits Rock Climbing wall.
"I climbed to the top of the easy side, and I rang the bell at the top, and I tried climbing the hard side, but I couldn't make it all the way." He says he's coming back tomorrow with his dad to try to scale it again. "I'm going to practice everyday I'm here. And then, I'm going to climb a real mountain." A kid with ambition -- now that's more like it.
After dropping the Stagners off, Minden motors up a hill to the upper parking lot behind the Jewel Box. He makes dozens of these trips today, shortening the treks of festival goers: like Jen, who drove straight here from the Carnival of Madness festival Detroit to see the Flaming Lips with her two best friends from high school, and Dustin from California, who's briefly leaving the festival to pick up his "lady friend" from a bridal shower.
Minden hands his Call-A-Cart business card to the passengers as they hop off and tells him to call for a ride later for a pick-up. He wears aviator sunglasses, a chin goatee and speaks with a tone that makes you imagine him smiling while he faces forward and drives. He's got the charm and gift of gab of a good salesman. During my interviews, he often asks the riders follow-up questions before I can.
When I ask Jen what she likes most about LouFest, she, like many other out-of-town attendees, mentions the general air of hospitality and friendliness of people here. Whether Minden takes pride in that or not, he, like the folks at Mike's Bikes who refilled tires, tightened chains and even drove a guy to their shop at midnight to fix his severe flat for free, along with many others at the festival, deserve to.