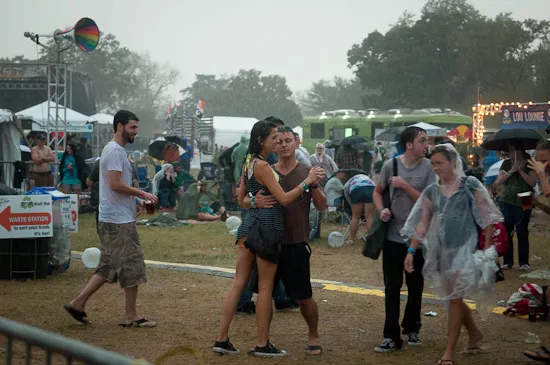 18. We Remembered to Check The Weather Forecast Soak us once, shame on you, Mother Nature. But soak us twice, and we better be either 1) drunk enough not to care and/or 2) having an intimate slow dance in the rain. Umbrella or not, the diagonal downpour that cut Dawes' set short and delayed Dr. Dog was tough to completely escape, but many people at least came prepared to fight the elements this time, ponchos overhead and galoshes underfoot. --Brian Heffernan
17. Best Overheard Comment "That last band was good. What was their name? Someone Still Loves You Yadier Molina?"
Yes. --BH
See Also: The Flaming Lips at LouFest, 8/26/12: Review, Photos and Setlist LouFest Rainout Live Blog Dinosaur Jr at LouFest, 8/25/12: Review, Photos and Setlist The 17 Best Fans, Musical Moments and Trends at LouFest 2012: Day One Flaming Lips Bingo Cards The 29 Best Songs You Might Hear at LouFest: Listen to the Playlist
16. The Ten Most Requested Songs at the Spotify Bus The bright green Spotify bus made a LouFest stop on its cross country tour. Its biggest function is as a big jukebox, where people can make any request in a variety of ways including from their phones. So what did we want to hear the most? The (very odd) hits, in no particular order: Tanlines "Abby" Metric "Youth Without Youth" Phantogram "When I'm Small" R. Kelly "Ignition (Remix)" Porcelain Black "This is What Rock & Roll Looks Like" (Explicit Version) Ed Sheeran "You Need Me, I Don't Need You" Marina and the Diamonds "Primadonna" Kanye West "All of the Lights" Ellie Goulding "Lights" Dawes "My Girl to Me" --Kiernan Maletsky
15. A Revelation: Gingers Aren't Meant to Play Daytime Sets at Outdoor Music Festivals "I'm not going to lie, I just keep thinking about how sunburnt I'll be. I'm too pale for the outdoors," says Jack Tatum, frontman of Wild Nothing, during the beginning of the band's 4 p.m set. Perhaps it was the hue of the stage lights, but by the set's last reverbed-snare hit, Tatum was looking a bit pink in the face. Sunblock, bro. --BH
14. Best View of LouFest The view from atop the Upper Limits Rock Climbing Wall. At left is Wild Nothings onstage. --BH
13. Very Important Volunteers As many of this city's scene folk will tell you, ain't just anybody getting into LouFest VIP. But you know who is? The festival's volunteers, who refill your water bottles, clean your mess, find your ticket and then kick back in the comforts of the lounge. That is not a courtesy extended at all music festivals, but it should be. --KM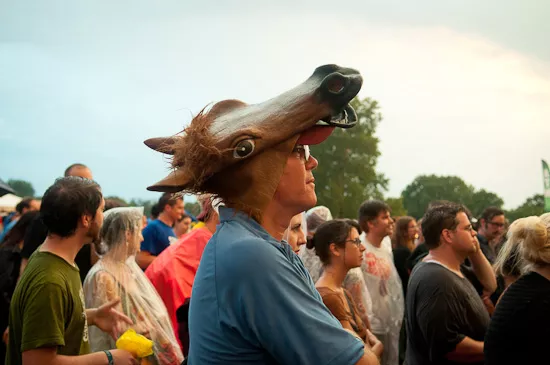 12. Animal Masks and Hats We saw a skunk hat, horse mask and full-body rabbit costume. We also saw Wayne Coyne of the Flaming Lips shoot lasers out of two giant prosthetic hands tonight. So, "weird" and "strange" are all relative terms here. --BH
11. They're Hits for a Reason Dawes' "When My Time Comes" may be the band's biggest song, thoroughly expended in those great modern music benchmarks: the car commercial and the TV drama soundtrack. But that chorus is for everyone, the diehards and the passersby alike. Here, I'll teach you: It's the song's title, then "Whoa-Ohhh." Simple yet effective, and as the rain started leaking, the true believers in the front were screaming it like the Holy Spirit of Rock & Roll had found them. By the last go-round, the band dropped out, leaving the thousands to a triumphant a capella. --KM
10. Nothing Brings People Together Like a Downpour The deluge literally brought people together under any overhang available. Those who didn't make a break for their cars were left to cram into the vendor tents, (very sporadic) shelters and large umbrellas, where the moods remained festive. And this was an equal opportunity time-out -- many of the LouFest band members were jammed in with the fans. If you took refuge in the Euclid tent, you spent an hour hanging out with Cults. --KM
9. Best Food Option This year, the food all came from brick-and-mortar establishments rather than food trucks. The results were generally good with a few duds (yes to Plush's fries in a waffle cone; no to their chicken-fried bacon). But the way to go for both value and flavor was Local Harvest -- the vegan chili in particular, which put much of the nearby meat to shame. --KM
8. Muddy Conditions, Crisp Vocals Thirty minutes after Dr. Dog's 7 p.m. scheduled start time, the thunderstorm has passed overhead and after a live, on-stage soundcheck, and guitarist and co-frontman Scott McMicken sings in his Daniel Johnston-esque tenor "The rain is falling; it's after dark," the opening lines of "Shadow People," to a soggy audience squishing muddy ground. A moment later, it's all worth the wait as the refrain bursts in with soaring three-part vocal harmonies that the group is best known for followed by a display of Running-Man-style dance moves they may unfortunately also be known for. --BH
7. Shoddy Soviet Workmanship Are you tired of puns about Someone Still Loves You Boris Yeltsin's name? I know the members of the band are. Sorry, then, about that headline. Anyway: the heroes of Springfield worked through some technical issues to deliver an hour of unassuming pop perfection. Among those technical issues was a drum rig not ready to take a beating, and all three of SSLYBY's rotating drummers managed to do things like send the kick precariously toward the edge of the riser, while the stage tech frantically tried to MacGyver an effective backstop. None of that hampered the set -- this is a band that thrives on all the little chaos beyond our control. --KM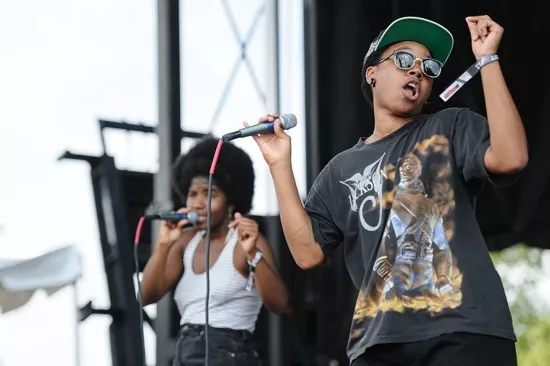 6. Don't Fight the Rhythm Patchwork duo THEESatisfaction was an outlier on the LouFest lineup and the biggest unknown. That didn't last -- Stasia Irons and Catherine Harris-White mesmerized the early crowd. Their music is brazenly disjointed; guitar melodies lie on break beats while the two vocalists trade off suddenly and strangely. But the overall effect is not at all unsettling. This is head bopping, dance music. The movers were led by Irons and Harris-White, who shook and swayed in sync -- it was elaborate enough to be choreography, but that doesn't do justice to how organic it was. They seemed to be simply following the commands of their songs. --KM
5. Best Parking Spot Cruise right up the LouFest entrance on your bike. Drop it off at the Trailnet booth on your way in. They valet park it for free, and you walk inside with a ticket. Hand them the ticket back when you want to leave, and they'll retrieve your bike. It's simple, convenient, encourages exercise and should be at every festival in town.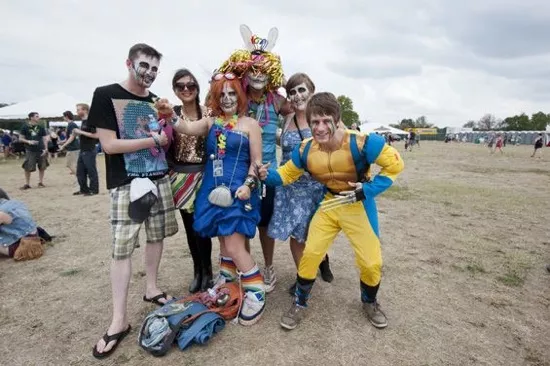 4. Everybody Dance Now. Flaming Lips fans are the best. They showed up early, in high spirits and costume and ready to party, which is why a conga line broke out in front of chill bros Wild Nothing. --KM 3. Best Instruments of LouFest J Mascis' guitar Phantogram's double chaos pads King Tuff's Jazijoo Wayne Coyne's bubble guitar Pernikoff Brother's slide bass Sleepy Kitty's (ahem) veiny maracas, wielded by Bailiff's Ren Mathew Phil Dickey's cowbell Girl Talk's toilet paper cannons THEESatisfaction's Stasia Irons and Catherine Harris-White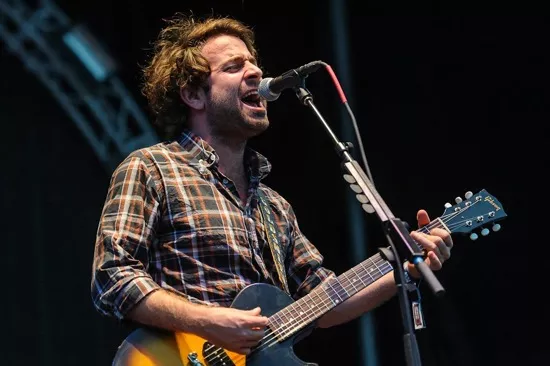 2. Dawes Mops Up Guitar Solos Water does bad things to most musical instruments, especially live electrified guitars, so we expected Dawes to be quick with the towels once the rain clouds started to spill. But frontman/guitarist Taylor Goldsmith backed up the band's flannel-and-denim brand of Americana rock with a flannel-and-denim brand of ingenuity and showmanship by sopping up his fretboard with a few grating slides up and down the strings with a white towel mid-song and in perfect time. --BH
Kholood Eid
Cults' Madeline Follin: Down one sock.
1. The Veterans Teach the Rookies How To Party "This next song goes out the the Flaming Lips who kept us up till 7 a.m. with a homemade Ouija board and way too much alcohol," says Cults guitarist and vocalist Brian Oblivion (real name: Ryan Mattos) before leading the band into "Most Wanted." Lips frontman Wayne Coyne stops by the stageside VIP perch to show support and snap a pic of the youngsters on his iPhone during their last song. Cults formed in 2010.
Mattos later laughed and admitted to us that he couldn't even remember any of the questions they asked of the fortune-telling board. "It was the night that time forgot. No one remembers anything. The only evidence we have that it happened at all is that Wayne is wearing one of Madeline's [Cults' lead singer] socks today." --BH