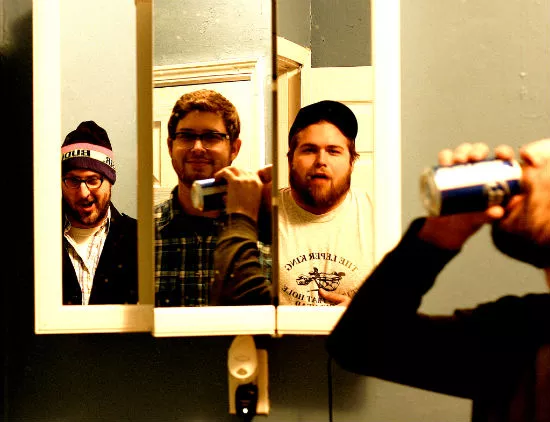 Bo & the Locomotive - Thursday @ the Firebird
Did everyone survive LouFest? Surrounding this post is our extensive coverage; be sure to read up. Rain be damned, the whole thing seemed to go off without a hitch.
More big outdoors shows populate this week's post, for those of you that didn't get enough over the weekend. Tonight Verizon Wireless Amphitheater will play host to KISS and Motley Crue, Tuesday brings an appearance by Phish at the Chaifetz, and this Saturday Old Rock House will host Del Yeah!: A Bluegrass Festival featuring the The Del McCoury Band and others, taking place on both indoor and outdoor stages. The rest of our picks follow.
KISS and Motley Crue Mon., 7:00 p.m. August 27 @ Verizon Wireless Amphitheater St. Louis - $36-$157 By Matthew Jackson From this 2009 show review: This summer's Crue Fest attracted the same black-leather audience, from hawt chicks to motorcycle mamas and all the men who love them, that Motley Crue has been pulling for over thirty years. On a stage lavishly adorned with medical paraphernalia, the Crue performed the entirety of Dr. Feelgood in celebration of its 20th anniversary (yes, it's been two decades). All the usual suspects were rehashed, of course: the wrack-and-ruin of the title track, "Kickstart My Heart," and the roadhouse raunch of "Same Ol' Situation (S.O.S)." Even those songs rarely (if ever) played live were met with rapturous applause from the packed crowd. What the Crue has always lacked in imagination they have made up for in swagger and flash, and it was just that confidence which propelled them through even the dry-humpingest ballads. "Without You," already a candied crooner, went gooey in the summer air. Some of their output over the years may exhaust negative superlatives, but you can't argue (too much) with an album that gets groins going and fists flying as easily as Feelgood does.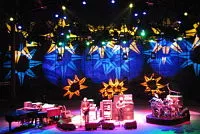 Phish Tues., 6:00 p.m. August 28 @ Chaifetz Arena - $60 By Cassie Kohler Phish is bound to pull a trick or two from under its sleeves on the jam band's first visit to St. Louis since its 2009 reunion tour. Expect surprises; this tour features rarities and covers not played since the '90s and early '00s. The band has honed its set list arrangements to pack a punch and keep energy high, while sporadically slowing the pace for the psychedelic crowd to catch a breath. Jams are structurally sound and primed with more funk, blues and rock & roll than in years past. Know Your Scene: Jam bands feed off the crowd to create those historical improvisational sets. So elicit the most positive energy you can muster. You don't want to give anyone bad vibes.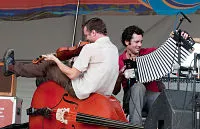 Lost Bayou Ramblers Wed., 8:00 p.m. August 29 @ Off Broadway - $12 By Roy Kasten Boogie-woogie isn't a French term, but try telling the Lost Bayou Ramblers that. The five young Cajun ass-kickers from Lafayette, Louisiana, put the bow to the fiddle and the pedal to the guitar metal -- as well as the rhythm to a section of American music that's more important to the roots of rock & roll and R&B than usually remembered. The Ramblers may rock the bayou, but they're not punks. Fiddler Louis Michot is a world-class player, and brother Andre pumps the accordion with finesse and frenzy. Their minds are as open as their tunings, so you'll hear honky-tonk, surf, rockabilly and twisted spaghetti-Westernisms in their sound. Its music isn't a finely prepared gumbo; it's a vast, murky, muddy swamp teeming with life.
Bo and the Locomotive Thurs., 7:00 p.m. August 30 @ The Firebird - $8 By Christian Schaeffer Don't judge a book by its cover, and don't judge an album by its title. If you picked up On My Way, the debut LP from Bo & the Locomotive, you'd be forgiven if the title had you fearing some navel-gazing introspection. (And really, the naked-lady swimmers on the cover should have been your first clue that another kind of navel-gazing was awaiting you.) Bo Bulawsky channeled years spent as a sideman and hours of bedroom recordings into his debut, and it sounds as fully formed and purposeful as the most seasoned bandleaders. He favors the hazy depths of reverb, and that obfuscation smears his words but makes the cumulative effect of his songs crash like muddy waves around your ears. Bo & the Locomotive is a band built from simple parts but constructed with an architect's vision.
Brian Owens Album Release Fri., 8:00 p.m. August 31 @ Old Rock House - $15-$20 By Jason Rosenbaum From this 2012 article: Even though he's getting a chance to shine on a major label, don't call Brian Owens an overnight success. The Ferguson native has been making music on his own and with others for nearly ten years. And more recently, he was a lead male vocalist of Sidewinder, a U.S. Air Force band that effectively blew up the Internet last year. The group appeared on a number prominent television shows, including Entertainment Tonight and The Ellen Show. Owens has since pursued a solo career after Sidewinder was decommissioned, efforts that paid off this week with the release of his song "I Just Want to Feel Alright" as a single. The song -- which is now for sale on iTunes -- was released on St. Louis-based Destin2B1 Records. It was distributed through New York-based BDG RED, a division of Sony Music Entertainment.
Tok Fri., 8:00 p.m. August 31 w/ Soma @ Lemmons - $5 By Bob McMahon In a world where rock radio trends more and more toward angry metal, it's great to see that alt-rock bands like Tok still exist. The Festus trio has muscle, speed and feedback to spare, but it balances its power with singable melodies. Guitarist Bryan Basler's slightly watery distortion and gravelly vocals echo Nirvana, but he shreds in a way Cobain never did. His brother Matt takes a more vulnerable approach to his vocals that lend Tok's slower songs a welcome bluesy feel, all while dialing in bass lines that go beyond following the guitar's root note to compliment the song. Drummer Mike Chrismer keeps it all together with driving beats and fills that impress but never overwhelm. If you think the Point (105.7 FM) is only worth listening to on Wayback Weekends, Tok is for you.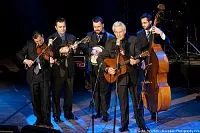 Del Yeah! Bluegrass Festival Sat., 4:00 p.m. September 1 w/ The Del McCoury Band, Emmitt-Nershi Band (featuring Drew Emmitt of Leftover Salmon & Billy Nershi of the String Cheese Incident), the Infamous Stringdusters, Mountain Sprout, the Hatrick, Cumberland Gap, Elemental Shakedown @ Old Rock House - $30 By Roy Kasten Pole star for the constellation of bluegrass bands -- progressive, transgressive and otherwise -- rotating across the Del Yeah! festival is, of course, Delano Floyd McCoury, arguably the genre's finest tenor singer this side of Jimmy Martin, RIP. McCoury and his band, anchored by sons Ronnie and Robbie, play bluegrass fast, hard, high and lonesome, with insane fiddling from Jason Carter and mind-bending mandolin from Ronnie. But it's Del, a patriarch who delivers gospel hymns and secular hits by the likes of Richard Thompson and Bob Dylan, who makes the band the keeper of the blue flame it is. Don't Miss: Del Yeah! features no fewer than eight bands, and along with McCoury and evening headliners the Infamous Stringdusters, some local bluegrassers, notably the Hatrick and Cumberland Gap, will pick up a storm.
Carrion Decay Sat., 8:00 p.m. September 1 w/ The Ultraviolents, Anodes @ Lemp Neighborhood Arts Center - $5 By Joseph Hess Carrion Decay feels tightly wound within punk and hardcore. The guitars hold a keen sense for dingy tone, while shredding shines light on the band's rock & roll leanings. Carrion Decay deals with the mundane middle class, dead end jobs and being ushered to the sidelines. The style sounds reactionary, with quick tempos amid grimy sounds and guttural yells coming from an upset stomach. Google search nets you little for Carrion Decay, which uses its Facebook and Bandcamp as little more than sideshows, showing disdain for self-promotion. Colonia is also on the bill -- it merges speed with melody in a desperate howl of modern screamo. Don't confuse this with Mall-rock counterparts. St. Louis Represents: Anodes continues to usher in post-hardcore and screamo groups through tireless booking and promotion, and the Ultraviolents return from a two year hiatus as a trio with their quasi-punk meets noise rock.
Bluefish Sun., 5:00 p.m. September 2 @ Cicero's - $10/$12 By Jaime Lees The band describes its own sound as comparable to Coldplay, Third Eye Blind and John Mayer. All three of these are true, but only the best parts of each. Coldplay's big presence is there, with Third Eye Blind's sing-along qualities and John Mayer's interesting sense of beat, but Bluefish takes that mixture and adds something absolutely essential: harmonies. Though the band members are just young college students, their sense of harmony just finished grad school. This element combined with a lovable attitude onstage makes the band both impossible to ignore and easy to follow, even in a loud, crowded room. Let's Break it Down: This is sensitive boy Grey's Anatomy-type music, but it's good. Very good.