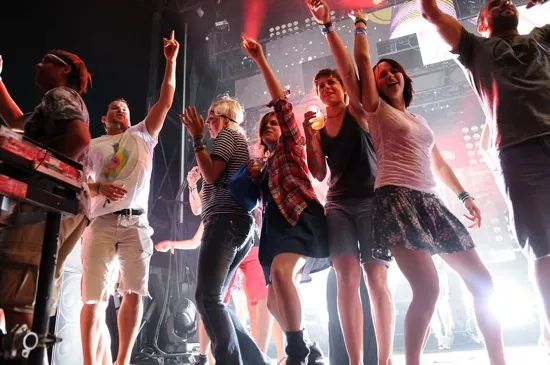 17. Twenty-Five Percent of the Girl Talk Crowd Girl Talk only makes sense -- and I do mean only -- if you are dancing. Otherwise it's just your very pop-savvy friend's iTunes playlist on schizophrenic overdrive. So kudos to those bumping various body parts and whipping around beach balls -- there were heady times to be had front and center. --Kiernan Maletsky
16. Most Valuable Instrument: Electric Guitar LouFest has been, in its first two years, a fairly demure music festival. Acoustic instruments and elegant singers abounded. Not today: Five of the eight bands are shredders, led -- of course -- by Dinosaur Jr. and its legendary assault. --KM
Follow RFT Music on Twitter @rftmusic for live updates from LouFest.
See Also: Dinosaur Jr at LouFest, 8/25/12: Review, Photos and Setlist Flaming Lips Bingo Cards The 29 Best Songs You Might Hear at LouFest: Listen to the Playlist LouFest 2011: The Complete Rundown LouFest Lineup Announcement and Guide 2012
15. Learning What Kind of Friend Phantogram's Sarah Barthel Would Be A conversation overheard during the Phantogram set: "I just want to be that girl's friend." "Yeah, she does seem like she'd be a good friend." "She'd be that one that's real artsy, but, you know, also kind of flakey." "Totally." --Brian Heffernan
14. Jay Farrar's Banter " ," says Jay Farrar, the local alt-country legend. --BH
13. The Life of the LouFest Party Music festivals are about endurance, and when we saw these two giving headliner-quality enthusiasm to the day's second band we were sure they'd be done by dusk. Not so -- we last noticed them a full six hours later, dancing with energy to spare. --KM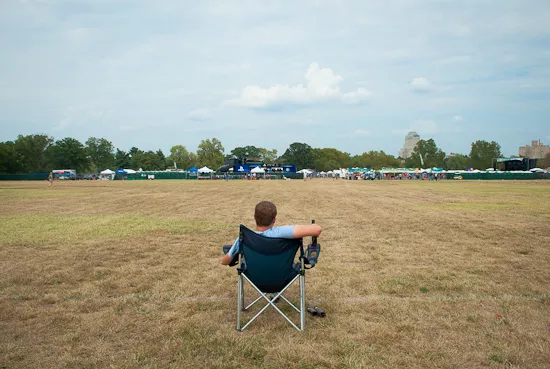 12. The BYOB View Chris sits in a folding chair and listens to the music from just inches behind a faded white chalk line belonging to one of the athletic fields about 150 yards from LouFest's entrance gate. There are two empty beer bottles on the ground, a third in his hand. This is where he can drink it. He tried sitting under the tree near the southeast corner of the festival wall. "They said, 'No, you gotta go past that line.'" --BH
11. Lou Barlow Don't Need No Education King Tuff is the biggest slacker every place he goes. Except when he goes places where Dinosaur Jr is also bumming around, in which case the King must bow to his old Witch bandmate J Mascis and the rest of the Dinos. Lou Barlow in particular is preaching the gospel of drop out, pledging a lifelong commitment to not getting degrees. "Fuck college," he says. Though he will hedge that sentiment after one song, offering that school's a good thing. He's not here to argue; he just wants to rock & roll. --KM
10. King Tuff's Royal Court How Kyle Thomas a.k.a. King Tuff managed to employ both Dazed and Confused-era Matthew McConaughey on bass and Kurt Cobain on second guitar, we'll never know. Nice work, your highness.
Also, it may have been a good thing that his 2 p.m. audience was so young and sober; "Baby Just Break" could have broken the festival into an all-out frenzy if it was two hours later. --BH
9. John Ottenlips' Count Off "A-ONE, TWO, THREE, FOUR!" John Ottenlips screams with rock'n'goddamn'roll abandon. For those four beats, this warning call is the only sound audible within a 100-yard range of the Area K Stage. His band of fellow high school seniors, Avalon Cinema, torch through the song they wrote just yesterday. They wear cargo shorts and no shoes while they do it. --BH
8. Cotton Mather's Odd, Specific Love for St. Louis We don't know why the long-dormant power-pop gem Cotton Mather chose to make St. Louis a key starting point for its reunited life, but we're incredibly glad it did. After a pre-party show last night at Off Broadway, front man Robert Harrison and his bandmates treat the LouFest crowd to some melodic bliss. Harrison makes sure to let us know they haven't arrived by accident, calling St. Louis their second favorite place to play after their Austin hometown and declaring our city the most like Japan of anyplace in America (?). He assures us this is meant as a compliment. --KM
7. Rock & Rollers Living Among Us! A (doubtless incomplete) list of St. Louis bands with members present today: Old Lights, Peach, the Potomac Accord, Troubadour Dali, Maximum Effort, Union Tree Review, Bear Hive, Dots Not Feathers, Illphonics, the Brainstems, Cassie Morgan & the Lonely Pine, Middle Class Fashion, the Spot-Ons, Acorns to Oaks, the Chill Dawgs and Nee. --KM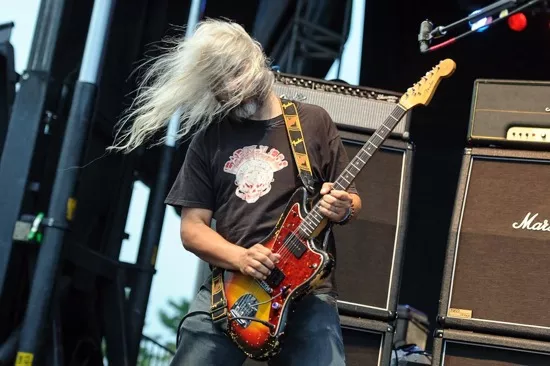 6. J Mascis's Triple Double Dinosaur Jr's guitarist and singer, J Mascis, plays with three full Marshall Stacks in a semi-circle behind him. Four speakers atop four more, next to four atop four more, next to eight more arranged the same way; 24 speaker cones. Yes, Dinosaur Jr. is offensively loud, but you should've known that by the stage rig. --BH
5. The Guy Playing Air Pedal-Steel Guitar Son Volt plays "Windfall," the crowd squeezes in the tighter than they have all day, mouths the lyrics to Jay Farrar's refrain, and BAM, that pedal-steel solo hits. And from our view, the guy standing on the blanket fucking nailed it, note for note. --BH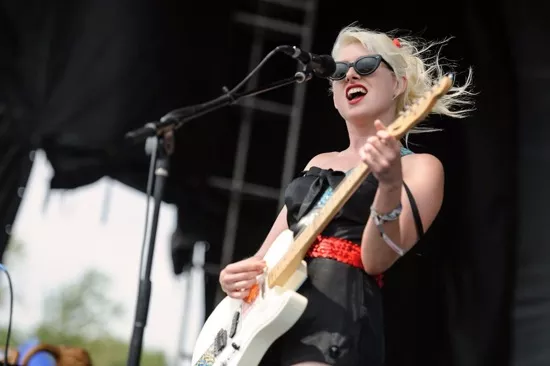 4. Sleepy Kitty's Festival Opening Paige Brubeck oohs and oohs four looped-and-layered tracks deep as the wind gusts (they get looped, too) and blows over recycling bins. She swells into a haunting a cappella of George Gershwin's "Summertime" as drummer Evan Sult sits at stage right in an bright red chair, the same shade as Brubeck's sequined belt and lipstick and hair tie. Sleepy Kitty -- always an audio and visual display.
She hoists up her Telecaster guitar, he jumps on the drumset, and the local duo starts "Speaking Politely" in full-boar overdrive. The set also includes: 1) musical guests Ren Mathew (Bailiff) on testicle-shaped maracas, Jenn Malzone (Middle Class Fashion, Tight Pants Syndrome) on vocals and keys and Gabe Dorion on vocals and guitar 2) two songs off the seven-inch record Sleepy Kitty released via Euclid Records for sale just that day and 3) between fifteen and twenty handmade shakers tossed into the crowd for us to use. --BH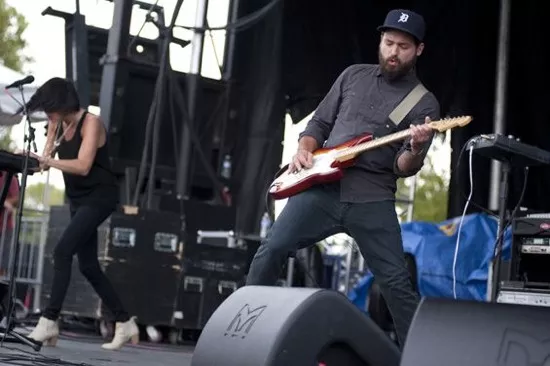 3. Phantogram's Perfect Storm If you weren't able to yesterday, the next time a rain storm rolls through, haul your stereo outside, blast a Phantogram record as loudly as you can and get wet. It's hard to imagine more conducive setting for the shoegazing dream-hop duo (plus a touring drummer). Phantogram last came to town three years ago. Guitarist/vocalist Josh Carter said ten people showed up. He and keyboardist/vocalist Sarah Barthel signed autographs for almost 30 minutes at the Euclid Records booth after this set. --BH
2. Dudes: Get Back The lineup of LouFest, like the world of music in general, is a bit of a sausage fest. In fact, there are a whopping three women on stage at any point during the day, compared with some twenty-three men. But the day's two front women (Sleepy Kitty's Paige Brubeck and Phantogram's Sarah Barthel) are also by far the most charismatic musicians. --KM
1. The Rain The rain will be the single most indelible conversation piece about LouFest's first day, which is a bit misleading. After all, it only does more than spit twice, and in both cases only for a few minutes. And by the time Dinosaur Jr. takes the stage, the clouds have mostly moved on, leaving Forest Park pleasantly cool. Meanwhile, the mini storms lend a bit of highly welcome chaos to the proceedings -- Cotton Mather's slicked-up "My Before and After," the thunderous new sound of Phantogram and Little Barrie delivering the salvo of the weekend at the only moment that really qualified as a downpour: "I don't know about you but fuck the rain! I ain't stopping." --KM