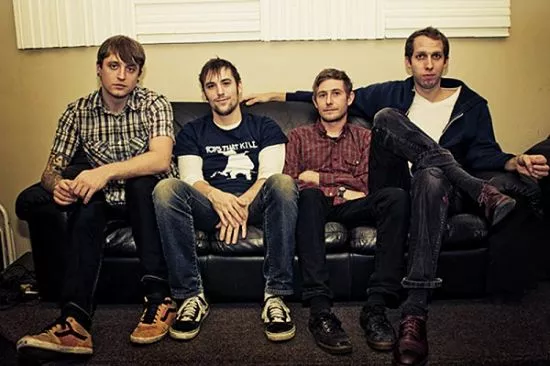 Dear Landlord - Friday @ the Firebird
LouFest is this weekend! We're sure you are aware of the huge outdoor event, with headliners Flaming Lips and Girl Talk, not to mention Dinosaur Jr. and Sun Volt. We've already worn out plenty of computer keyboards writing it up this year, so the contents of this post are decidedly LouFest-free.
The local rockers in Hathead Jones release their debut CD this weekend, alongside local mainstays Ded Bugs; the show is Saturday at Jefferson Warehouse and is only $5. Blues-rocker Lyle Lovett returns to town, also on Saturday; that show will be at the Peabody Opera House. Finally, NYHC legends Murphy's Law play Fubar on Saturday. See if you can match frontman Jimmy Gestapo's onstage alcohol intake without ending up in the hospital. The rest of our picks follow.
Friday:
Official LouFest Pre-Party @ Off Broadway w/ Dressy Bessy, Cotton Mather, Middle Class Fashion 8:30 p.m. | $8-$11 The most surprising entrant on this year's LouFest lineup joins local pop mainstay Middle Class Fashion and Denver's buoyant Dressy Bessy. Whether this is your pre-anything, it will certainly be a party. (KM)
Dear Landlord @ The Firebird w/ The Murderburgers, The Haddonfields, Sink The Bismark 8:00 p.m. | $10 The membership of Carbondale's Dear Landlord is two parts the Copyrights and two parts Rivethead, culminating in some damned catchy, anthemic pop-punk in the Screeching Weasel tradition. (DH)
Midway Music Festival @ Midway Expo Center (Columbia, MO) feat. Pretty Lights, Curren$y, Coyote Kisses, Keys N Krates, Paul Basic, Spankalicious 5:00 p.m. | $36 Yeah, its in Columbia, we know, but look at the line-up. Jet life your way through Curren$y's set, and don't miss Ft. Collins' Pretty Lights. (DH)
Ocean Rivals @ Blueberry Hill w/ Great Isaac, The Great Grandfathers 9:00 p.m. | $7 An exceptional bill of locals includes our new favorite band (the Great Grandfathers) and one we're always glad to see (Ocean Rivals). (KM)
Saturday:
Lyle Lovett @ Peabody Opera House 8:00 p.m. | $52-$72 Do we really need to tell you? He's one of the country's songwriting treasures, playing the acoustic hallowed ground of the Sheldon. Worth every penny of the steep admission price. (KM) Cotton Mather - Friday @ Off Broadway
X Marks the Spot Benefit Show @ The Heavy Anchor w/ Magic City, the Jungle Fire, Ellen the Felon 8:00 p.m. | $8 This week's good deed is also a hell of a good rock & roll show. The occasion will benefit the Spot, a not-for-profit youth clinic. In addition to the bands, there will be a DJ set from Bitch Please, a pirate theme and prizes from area businesses. Oh, and the bands: Magic City, once among the most prolific show-playing bands in St. Louis, has been considerably harder to find lately, owing the move of its superlative drummer. So don't miss this chance to see one of the best live bands going, in this city or any other. (KM)
Murphy's Law @ Fubar 8:00 p.m. | $12-$15 Punk rock party anthems galore. NYHC legend Murphy's Law had to cancel its show in June; this is the re-scheduled date. Expect to wake up not able to remember the awesome time you had. (DH)
Hathead Jones CD Release Party @ Jefferson Warehouse w/ Ded Bugs, The Quaaludes, Standing Pretty 8:00 p.m. | $5 Alt-rockers Hathead Jones release their much-anticipated debut album, Eleven. Matt Meyers of the Ded Bugs produced it and the local favorite will play the release as well. Only five bucks! (DH)
Official Loufest Aftershow @ The Firebird w/ The Orwells, Audacity, Little Barrie 10:00 p.m. | $10 If you have any life left in you after the big event, head down to the Firebird for some like-minded bands. We're pretty sure the party will still be in full effect once Girl Talk wraps up the fest, so you're sure to be in good company. (DH)
Sunday:
Purity Ring @ The Firebird 8:30 p.m. | $12 Canadian dance duo Purity Ring has been lumped into all manner of nonsense micro-groups since its 2010 inception (witch house, anyone?). But stay away from the labels and you'll find a band with powerful ideas and propulsive force. (KM)