salesbyshelly (eBay)
Smell ya later!
KISS occupies a strange world. Part Halloween, part devil rock, part creepy mythos, KISS reigns as being among the top bands that freak your mom out. It should come as no surprise, then, that KISS merchandise also is sufficiently wicked. To celebrate KISS' appearance Aug. 27 at Verizon Wireless Amphitheater, here are six KISS objects that won't appear on most people's wishlists - but perhaps should.
6. Air Fresheners What does KISS smell like? Like virgin's blood and rat poop, I'd imagine, but who knows? You will, if you buy these air fresheners. Bonus: Because these were made in 2006, they're like little time machines for your nose. Bird flu memories!
Fanfire.com
Who's got O-69?
5. Bingo Great Aunt Polly sounds like Marge Simpson's sisters and smells like cat pee (Maybe she could use some KISS air fresheners?), but your dad still makes you visit her in The Home. Combine your favorite band with her favorite game, and ask a friend call out numbers in full KISS makeup to make it a day to remember. You'll never eat strained peas with her friends in the cafeteria again. Well, unless she's like the old lady in the dream sequence of Happy Gilmore.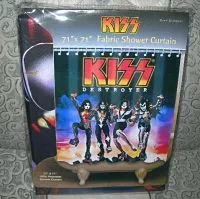 mattyt70 (eBay)
I always feel like somebody's watching me.
4. Shower Curtain When I'm fresh from the bath and sensuously rubbing girly lotion all over my dewy body, I often think, "Self, do you know what would make this scene from a PG-13 flick even better? Four guys in scary makeup staring at me from my shower curtain." And behold!
Fanfire.com
It's a feat of engineering.
3. Demon Tongue If you click the link to the tongue, you'll notice that there's no product description. That's because the jokes write themselves, kids. I mean, everyone knows what to do with an inflatable demon tongue. AmIRight, ladies? Eh? Eh?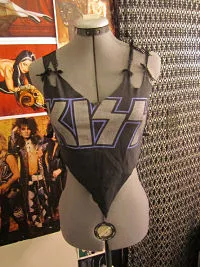 BangYourHeadClothing (Etsy)
Pointing the way to denial.
2. Fishnet Crop Top Ok, I'll cop to sort of liking this Etsy creation; it's an interesting reimagining of an old shirt, and it emphasizes a girly figure, to boot. I think I'm more disturbed by the shirt pointing down to the mannequin's locked vagina.
Fanfire.com
The dead can dance.
1. Premium Casket I suppose that this flame-ridden KISS casket is a little more expected and appropriate than the Major League Baseball caskets that were all the rage a year ago. Still, something about exclaiming, "Why yes, Mr. Mortician, I'll take the casket featuring Gene Simmons' face for my transportation to eternal damnation" would feel like overcompensating for a leading sucky life. If cremation is more your thing (or if you don't feel like paying the $4,000 casket price), KISS also supplies urns.