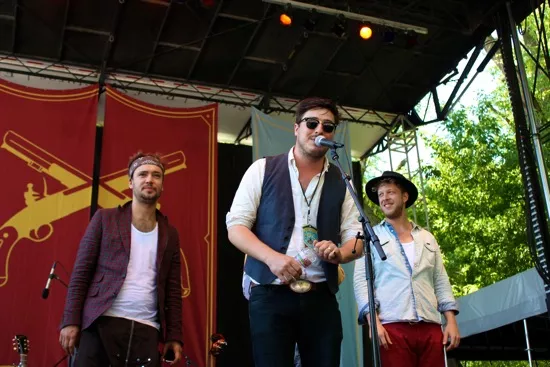 Sarah Myers
Mumford and Sons welcoming the crowd to Dixon, Illinois
Josh Albrecht is riding through downtown Dixon, addressing the strained trash can situation, directing volunteers to the beer tent and generally attempting to address the endless questions headed his way. A young couple flags down his cart.
"Excuse me," she says. "Where is the shuttle to the free parking?"
"All the shuttles meet in the high school cafeteria parking lot," says Albrecht. Then, as he gets a blank stare in response and realizes that's not going to help, "Are you folks from Dixon?"
They aren't. Neither are most of the rest of the thousands milling the small city's historic downtown on Saturday morning, drinking bloody marys and spilling out of the independent bookstore. They're here for the Mumford and Sons Gentlemen of the Road Stopover - one of four in the British folk titan's Quixotic pop-up festival series this summer.
See Also: The Mumford & Sons-themed Decorations in the Store Fronts of Dixon, Illinois: Photos The Best of the Mumford and Sons Dixon Stopover: The Top Hat Awards Mumford & Sons in Dixon, 8/18/12: Review, Photos and Setlist
Dixon is a town of 16,000 situated 100 miles directly west of Chicago and 250 miles north of St. Louis. The town made headlines early this year when the Municipal Comptroller was indicted for the suspected embezzlement of an estimated $53 million. Dixon is also the childhood home of Ronald Regan - a fact commemorated with fervor to rival Springfield, Illinois' Lincoln pride. It's the birthplace of John Deere, and it's where a young Charles R. Walgreen got his first experience working in a drug store.
Josh Albrect is the Executive Director of Dixon Main Street. He's lived in the town for the past six years and grew up not too far away. Early this year, he got a request from the National Trust Main Street to apply for a "major band tour of historic towns." He did not know the band then or at any point in the application process. "No matter what, I wanted to host it," he says.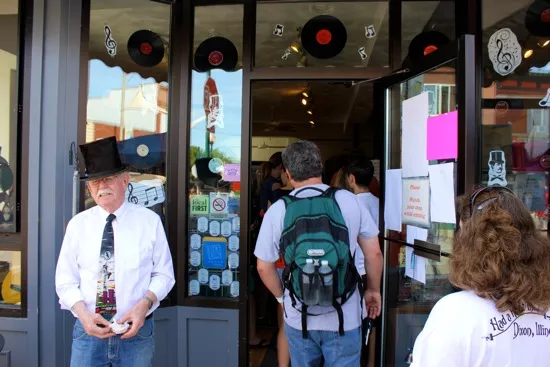 Kiernan Maletsky
Larry Dunphy (left) is co-owner of Books on First
He sent in a four page proposal - "Everything Dixon" - and soon got a call saying the town had made the short list. Chicago's Jam Productions, which is assembling the Gentlemen of the Road Stopovers, took a tour, followed by the band's management. That's when he learned it would be a British band, and he says there was a brief moment when he was afraid it would be One Direction. So when word came through they'd won a bid and the band was Mumford and Sons, Albrecht was relived. "It's a good fit for what we listen to and what we create," he says. "It's aided in getting the approvals we needed."
Dixon Main Street found out in late March it would host Mumford and Sons. The announcement came in May, and all 15,000 tickets sold out in eight hours. And now the weekend of the mini-festival is upon us. Set up started on Monday, which makes sense because the amount of infrastructure in place is staggering. Albrecht says this is easily the most people ever to attend a single day event in Dixon, though the annual Petunia Festival attracts some 20 to 30,000 over the course of a week.
Set up for the Stopover is not restricted to Page Park, where eight bands will perform on two stages. There's also a festival taking up most of downtown, where the streets are blocked off to cars and almost every business - from barbershops to Thai restaurants - has flung open its doors and decorated its windows. Places not equipped to deal with the volume of people (so pretty much every place) could arrange for volunteers, who would get passes to the concert. Dixon Main Street also recruited help for everything from street cleaning to traffic control. All told there were some 1,000 volunteers on hand through the week of the show.
Business owners were overwhelmingly enthusiastic about the Stopover, commending its attention to incorporating places and people in Dixon rather than simply barreling through.
The result was a weekend of some of the best vibes you will find at any major summer music event. Say what you will about Mumford & Sons, about the passport tickets for this thing and the logo-fication of handlebar moustaches. A hipster-ready affair, maybe, but under no circumstances an ironic one: The visitors marveling to the local paper about how much they loved the local flavor in Dixon were earnest as you can be.