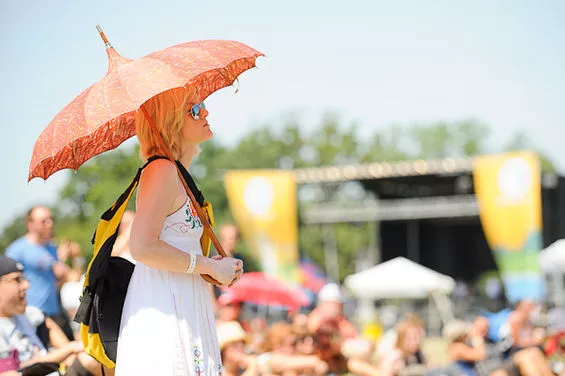 At LouFest 2011. Photo by Todd Owyoung
LouFest is a little more than a week away. There are many reasons to look forward to our city's indie music Super Bowl, now in its third year: the Euclid pop-up store, the local food, the gorgeous setting, the sense of well-being derived from minimizing one's carbon footprint. But ultimately, of course, it's all about the music, which is why we the staff of RFT Music have compiled a list of 29 songs -- our personal favorites -- by bands on this year's lineup. Listen below (the playlist is in basically random order), and let us know what you would have added in the comments.
See also: LouFest 2011: The Complete Rundown LouFest Lineup Announcement and Guide 2012 LouFest Archives
Notes: "Gimme A Chantz!" made the cut anyway, but it was also the only Sleepy Kitty track we could find on Grooveshark. "Speaking Politely," "Don't You Start" and "NYC Really Has it All": Also highly recommended. Most of that stuff can be found on the SK Bandcamp.
A few of our favorite LouFest band music videos -- including a young, orange haired Wayne Coyne, an old and kick ass skating/bmx-ing Dinosaur Jr. and SSLYBY getting dragged through the mud (it's a metaphor!) -- are on the next page.