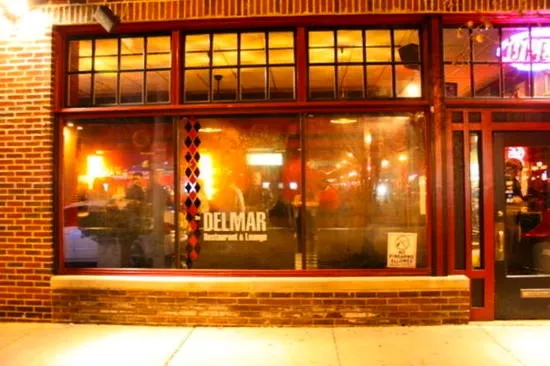 Delmar Lounge once seemed like an invincible safe haven for progressive minded music lovers in the city of St. Louis. The establishment has an almost legendary reputation for showcasing the spontaneity St. Louis loves. During the evening hours of business you could aimlessly find yourself eating dinner and enjoying the smooth sounds of a live jazz band or maybe there would be a house music DJ spinning something light-hearted and groovy.
The range of variety in between the genres is one of the many things that made this place special. Last Sunday I attended what was possibly this establishment's final night in the business. Before I even stepped out of the car I noticed maybe 30 to 40 people piled outside on the corner drinking publicly, guzzling liquor from glasses and pitchers.
Everyone seemed to be having a wonderful time as I quickly glanced at the faces and noticed the crowd was filled with local rappers, guitarists, soul singers, concert goers and comedians. In recent years, the night life scene at Delmar Lounge on the weekend has transformed in a true school hipsterish hip-hop vibe. I walked inside with my friend Jay Stretch and witnessed one of the most chaotic bar scenes in my life. Corey Black approached me, chuckling and saying, "Everything is $4.00 tonight." People were standing at the bar, holding money in the air as if the stock market were crashing.
The bartenders were all completely wasted and showing no mercy in terms of how strong they made the drinks. There was no doorman or entry fee; the entire environment was a mixture of drunken stupor, flashbacks and celebration. Everyone was running around as if this was a scene from Mad Max combined with a scene from Paid In Full sliced in between the movie Beat Street and the final episode of Cheers.
DJ Black Guy went on a run and slammed nothing but classics, jamming new school joints all night long. The television closest to the turntables was linked to the Serato and it was actually very enjoyable watching him mix music videos. He stayed on the turntables spinning non-stop until 4:47 a.m. I was impressed by his ability to play a hit whenever the momentum seemed to shift.
I engaged in a few nostalgic music conversations about the Hi Pointe open mic nights, Red Sea closing and the Duck Room. I remember when Delmar Lounge had a bit of a cold shoulder toward hip-hop. Over the years, times have changed, and during my generation the venue has been overwhelmingly receptive to almost any musical genre with life in its veins.
I knew the party had grown out of control when I noticed the nefarious Crazy Mike himself inside the venue dancing with a random drunken girl. I stopped and laughed with admiration for a brief second, because we all know there's no way in hell Crazy Mike would typically be allowed to come in and cut loose. He was up front dancing with both arms in the air as if he knew this was the chance of a lifetime for him. At this moment I can safely say the party was completely out of control.
Delmar Lounge has been home of St. Louis most notorious weirdos for a few years now. On any given night you can go enjoy some awesome random music, maybe a little bit of jazz or maybe you'll catch a DJ spinning all soul based records. You'll also run into a group of people that appear to be socially awkward and overly thirsty.
I wouldn't have it any other way because this one of those spots where you can people watch or dance if it's your preference to do so. So I found myself sitting at a table with a few of my close friends, all of whom were Delmar Lounge veterans. The night seemed to expand and grow crazier as it went on. Even though the crowd reduced in size, the heart of the party seemed to enlarge. We sat at our table and reflected back upon the most memorable moments we each shared with this venue. The Force was pretty much created due to DJ Needles and Delmar Lounge collectively giving us a hub outside of the Gramophone. It wasn't the Hi Pointe or the Science (Blueberry Hill's deceased Duck Room hip-hop night), but it had a flavor and legacy of its own. I've always felt that the party seemed to end too early at Delmar Lounge, so this was the night of revenge. This was your typical night, except this time the bar was pumped up on steroids.
Everyone was going hard and DJ Black Guy put on a legendary performance in my book. Empty liquor bottles made the perfect backdrop for the ambience, and the bar didn't start asking people to leave until 4:47 in the morning. Shortly before this time arrived I witnessed U-City cops ride by. I pondered how much longer this madness would continue. While we're on the subject this seems like a perfect time for me to say the new black bouncer guy kind of annoyed me. I mean I'm a regular here, learn my face, man, prior to your arrival I never showed I.D. But I'll say this: even he was cool and laid back in the midst of the chaos.
The cops came, said a few words to one of the staff members and burned out. It felt like a scene from the ultimate party movie. Maybe this is the sequel to Nick and Norah's Infinite Playlist minus all the romantic stuff and love story undertones. This night deserves a script and a motion picture screenplay dedicated to its honor.
The room was overflowing with the spirit of random drunks and random conversations. I went to bar to try and scrimmage another round of drinks for me and my friends. I spoke to a crazy guy I see there all the time and he reaches in his pocket and pulls out a pocket knife. He tries to hide the knife discretely in his palm and at this point I realized we were now enjoying Delmar Lounge in its purest form. Everyone here is crazy in one form or another and we're all here hoping the music keeps flowing.
Eventually the front lights of the building were turned off by one of the managers and from there we stayed an extra 30 minutes before a drunken and disgruntled employee yelled, "We want to go home too, lets go!" and like that the party ended.
We live in a special era in our city. Music venues are crashing left and right. These special places play a role in breeding the overall culture of St. Louis' music scene. A few of these places have become hubs for hipsters and indie musicians. These places are turning into dinosaurs and the meteor is social networking. I don't think this is the reason why Delmar Lounge closed, but let us not act like in it didn't play a role in some form or fashion.
A piece of history now sits on the corner in a lonely and desolate state. When I was younger I stood outside this very window and watched Coultrain and Black Spade perform together for the first time. Before the radio started playing my music people like DJ Needles would use this venue to break my records. I started a making a few records with the goal of hearing them played at this venue in mind.
Delmar Lounge was the centralized hub for so many different forms of musicians and over-the-top music lovers. You see, this is a place that stood the test of time and was virtually free of judgement when it came to the patrons. You could dedicate your night out to being yourself if you came here. You would certainly run into one of your favorite underground local rappers or singers. If you're in need of entertainment on a Tuesday, come down here and have a drink, get harrassed by some weirdos, and listen to some entertaining music. There is no dress code or style preference to worry about. Delmar Lounge was one of those places where it truly was all about the music and it didn't matter what kind of music to be exact. We lost a true gem on this night, but it was a great night and I'll never forget it.
I took a glass home. Corey took a beer pitcher. My friend Jenni Lovette took a whiskey glass. I'm uncertain if my friend Marty took any memorabilia but as we exited the building he suddenly started cussing out the drunk employee that told us to leave. We walk outside to empty pitchers and glasses everywhere on the sidewalk. The gloves were off tonight and this night, more so than any night I've ever experienced at this bar, served as the proper moment of affirmation. Delmar Lounge was truly a special place and we all hope it returns in one form or another.
Salute!