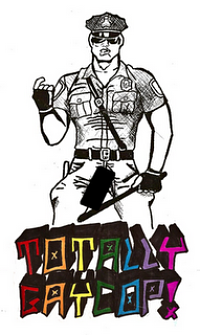 ACAB? ACAF? What about city cops? These questions and more (or less) plagued the minds of the members of Totally Gay Cop, forming the impetus that brought the band into existence in the fall of 2011. Featuring former members of Leeches, Sayonara, Dude Nukem and about a million more, Totally Gay Cop plays hardcore punk reminiscent of Slip It In era Black Flag with hints of Flipper-style heavy weirdness. The band released a demo tape in October 2011 with then-drummer Erik Meyer (of Sweet Tooth); Joseph Hess (of Spelling Bee) began manning the drums following Erik's departure to Portland, resulting in a second demo in April. Last month's outdoor generator show with No Class served as the release for their latest, a self-titled EP. Their downloadable demos, live video, a streaming track of side A from the new EP, and an interview with guitarist Ben Osborne follow.
The DIY punk, hardcore and metal scenes have always existed underground and off-the-radar in St. Louis, operating out of basement venues and VFW halls throughout town and rarely-if-ever striving for mainstream attention. While necessary to conduct business properly, an unfortunate side-effect of the approach is that within a few years of disbanding great musical acts are often seemingly erased from the public consciousness. This could have to do with the fact that there is no "retirement plan" for aging punks -- indeed, the genre is perpetually populated by kids in the 18- to 24-year-old demographic -- or perhaps more to do with the intentionally underground middle-finger-to-the-public-at-large attitude with which the music carries itself. In any case, I've always found this posthumous descent into obscurity to be a shame, and my aim with this weekly blog is to shed some (discreet) light on the actions of the current local scene as well as to document some of the notable bands from our city's past.
See Also: Gateway to the West Fest Returns - The Full Lineup is Here
Here Are Five Unreleased Sweet Tooth Songs
There is an Epic Outdoor Generator Show Impending, The Likes of Which We Allegedly Aren't Supposed to Tell You
The Requiem: Still Willing to Shred Easy Chairs with Lawnmowers. Interview, Photos, Video And the Complete Discography
Better Days Saw the Cro-Mags Stabbing Coming and Has a Seven-Inch on the Way
St. Louis' First 'Real' Breaks: Interview, Photos, Video And The Complete Discography
Side A of TGC's latest:
You can purchase the EP at Apop Records or from the band. Download their demos here and here. Interview with guitarist Ben Osborne:
(Interview edited for content and clarity.)
Ben Osborne: Can we listen to Jpop [Japanese pop music] while we do this?
Daniel Hill: Recommend me a band.
Go to Youtube. Type in k-y-a-r. Yeah, that's it. Now just start playing the hits.
Okay, so...
[In reference to advertisement playing on Youtube video] I'm not going to answer any of your questions while this capitalist bullshit is playing.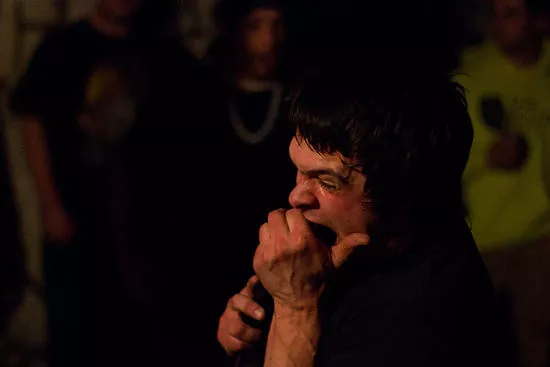 Okay....
Soooo punk. [Advertisement ends.]
So you guys did a weekend up north recently; how was it?
It was pretty cool. In Milwaukee nobody moves and it was really boring. And we moved the basement show in Minneapolis up to the living room and threw knives at a wall after we played, which was awesome. And in Milwaukee some like 45-year-old suspected homosexual wrote a poem about us while we played, which was one of the most flattering things that's ever happened to me.
Do you have the poem?
It goes like this:
"Can't talk any other way I've had days that sound like this
Totally Gay Cop makes me nervous. I feel his Sam Brown up in my butt
The cuffs round my wrists Spreadeagled + frisked
Take me away Totally Gay Cop Take me away
By P.P.D' Caca"
That's....interesting. [In reference to Jpop] This music is distracting.
I've never heard this song. I don't know this hit.
Okay. Tell me about the seven inch.
We recorded....well I recorded us at a basement show. I don't know, it's a live recording. [Vocalist] Juicebox put it out on his own record label, Juicebox Records. We've probably sold like 5 copies.
Sweet. What else do you want to talk about?
I mean, I was pretty much okay with just the poem. Also, always hate cops. Nobody reads this, right?