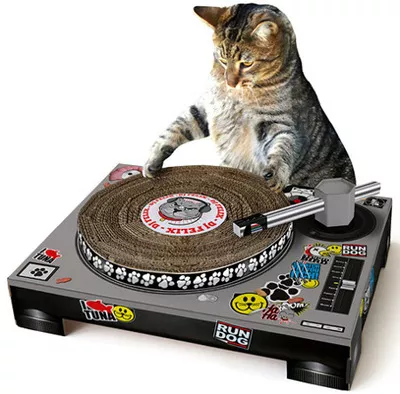 Remember when the turntable was considered a legitimate instrument in a rock band? Neither do I. But there are rare instances where DJ scratches are not a dealbreaker in a non hip-hop context. Here are the six best rock songs featuring turntables. Let us know your favorites and we'll REEEEEEEEEEEEMIX. (Note; Remixes are not included in this list)
6. Pearl Jam & Cypress Hill - "Real Thing"
Judgement Night was a forgettable 1993 action flick starring Emilio Estevez and Dennis Leary; its soundtrack, which commissioned rock bands to collaborate with hip-hop artists, is more memorable. Some of the pairings are clumsy, like Sonic Youth and Cypress Hill's dub weed ode "I Love You Mary Jane." Cypress Hill's other contribution, "Real Thing" with Pearl Jam is the album's second best track (behind the Helmet/House Of Pain opening cut) and the most direct example of the then-rare meeting of turntables and alternative rock.
5. The Dismemberment Plan - "Close To Me" If I wasn't told that this was a cover of the Cure classic, I may never have figured it out. The Dismemberment Plan's contribution to the Give Me The Cure covers compilation is a head-scratcher even before the unexpected turntable cameo. What's particularly impressive is how much the scratches resemble the guitar work - which, in the great tradition of Washington D.C. indie rock, is "angular." Back in 1995, the Dismemberment Plan was a snotty, art-punk band whose debut ! sounded like a band playing in a sewer (this practice would not be commonplace until ten years later in Baltimore). "Close To Me" is the first sign of ambition that lands outside of the realm of fast and loud. Oh, and The Dismemberment Plan is writing new songs now, which is totally freaking me out.
4. Deftones - "MX" If Deftones wanted to break away from the nu-metal trend of the late 90s, adding new band member Frank Delgado on turntables was a questionable decision. Luckily, Delgado preferred to use records as a sampler, manipulating the sounds and capitalizing on the warbling pitch that results when an LP is scrubbed over the needle. "MX" from Around The Fur, Delgado's first appearance as a Deftone, is one such example. I have no idea what source record he is using, or what effects he runs said record through, but I do know it sounds like a demon laughing, which is all together not out of place in a Deftones song. 3. Beastie Boys - "Sabotage" When I was in sixth grade, I thought those sounds in "Sabotage" were made by a kazoo. End blurb.
2. Modest Mouse - "Heart Cooks Brain" Modest Mouse's landmark Lonesome Crowded West album is full of decisions that only Modest Mouse would have made. It's hard to imagine any other band adding relatively by-the-book DJ scratching to a song like "Heart Cooks Brain." It works because "Heart Cooks Brain" is aesthetically a hip-hop song, built from an eternal loop with motific lyrics. Even Isaac Brock's whammy-bar guitar lead is treated like a sample. The scratching could have dated this track, but it is just another element of a song frozen in timelessness.
1. Beck - "Where It's At" A large portion of the population can't even hear the word turntable without thinking of "Two turntables and a microphone," popularized by Beck on "Where It's At." The hit from the masterful Odelay is not exactly a rock song, but it's not exactly hip-hop or any other genre either. The DJ-in-rock-band scenario was a direct result of the kids who were raised on MTV rap starting their own bands. Beck had the same interests as, say, Limp Bizkit or Linkin Park. But where those bands forced hip-hop or metal into conflicting contexts, Beck copied and pasted his fascinations into pop art collages; "Where It's At" is the ancestor of Girl Talk's copyright infringing party mixes. The talked about turntable makes an actual appearance in the song after the first chorus: wiki wiki wiki "That was a good drum break." Yes it was, Beck. Yes it was.