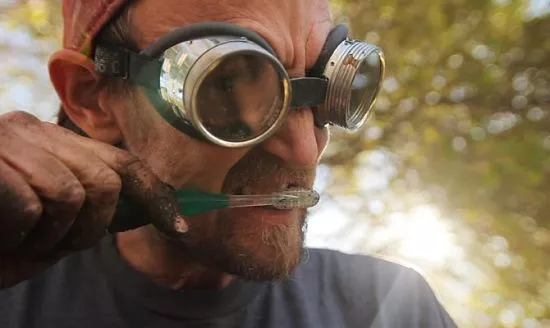 Beaver Nelson - Monday @ Off Broadway
You can actually comfortably go outside today! The temperatures are supposed to be in the 80s. It's been so damn oppressively damn hot this whole damn summer that this respite, however brief, is newsworthy on even a music blog. My massively overtaxed air conditioner is assuredly on its last leg, but on the plus side I've only had to mow the lawn once in the last three months.
Lo-fi pioneers Sebadoh come to Off Broadway this week; the show is Wednesday. During the show, I recommend loudly and drunkenly badgering Lou Barlow to play Dinosaur Jr. songs, then attending the Dino Jr. show in two weeks and drunkenly requesting Sebadoh songs. Bands like it when drunk jackasses attend their shows, right? Bobby Bare Jr. returns to town on Thursday, also at Off Broadway. I recommend that you drink way too much and request only songs by his dad. Local rockers The Orbz play it's last show at the Firebird this Saturday; you should probably drink way too much and request that they just not break up instead. The rest of our picks follow.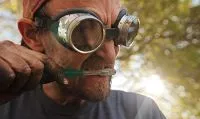 Beaver Nelson Mon., 8:00 p.m. August 13 @ Off Broadway - $8-$12 By Roy Kasten What keeps Beaver Nelson going? The teen prodigy has been pouring out unguarded, witty persuasions since the early '90s, and doing so in the most competitive environment imaginable: Austin, Texas. But Nelson has always leaned more toward the bent tunefulness of David Lowery or Elvis Costello than his Texas brethren. This year's sprawling Macro/ Micro splices together strange instrumental interludes with pungent power-pop anthems and brainy homages to the subconscious, which always does the dirty work for a sneaky songwriter like Nelson. He's prolific, charming and stubbornly faithful to his rock and folk muses. On the Big Screen: Nelson recently worked with filmmaker Stephen Henderson on an album-length video project, and you'll get to see the final cut projected behind the singer at Off Broadway.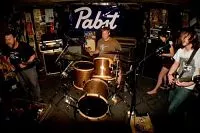 Anodes Tues., 8:00 p.m. August 14 w/ LzBnz, Caution Children @ Lemp Neighborhood Arts Center - $5 By Joseph Hess Anodes pulls from the rosters of Orion Pax and Iron Hills, two groups that played a vital role in the St. Louis post-hardcore scene throughout 2011. Orion Pax was a trio that spit a thunderous sound, with a thick wall of guitars rolling above booming albeit jazzy drumming. Vocalist and guitarist A.J. Hofstetter led Orion Pax with blistering energy, using his bleeding-throat screaming and vicious style of guitar scraping to leave a messy fingerprint on the brains of many show-goers. Hofstetter reprises his role in Anodes, a band that combines the maddening pace of Orion Pax songs with the driving rhythm and familiar melody of early emo music. Drummer Casey Oliver, also a former member of Orion Pax, lends a level of precision and intricacy to Anodes with pinpoint percussion. Guitarist Sean Survant hails from the sludge group Iron Hills and makes good use of his dense guitar style in Anodes.
Sebadoh Wed., 8:00 p.m. August 15 @ Off Broadway - $15-$21 By Daniel Hill Lou Barlow will be hanging out in St. Louis a lot this month -- or at least, a lot more than usual. As one-third of the classic Dinosaur Jr. line-up (playing this year's LouFest) and principal songwriter of Sebadoh (which, by the way, is a word with no meaning outside the context of the band), Barlow is apparently doubly prepared to sweat it out with the rest of us this August. The latter band helped to pioneer the lo-fi sound in the early 90s, and is often mentioned alongside contemporaries Pavement and Guided by Voices. Their reunion in 2007 has proven quite fruitful, resulting in several album re-issues and subsequent tours. Now we're just holding our collective breath for a Deep Wound reunion. Shhhh, It's a Secret: Sebadoh recently released its first new material in fourteen years, the Secret EP, on Bandcamp. Physical copies will be available on this tour only; make sure you get one.
Bobby Bare Jr. Thurs., 9:00 p.m. August 16 w/ Eef Barzelay @ Off Broadway - $10-$15 By Christian Schaeffer If you thought you had a handle on Bobby Bare Jr., think again. The Nashville misfit can do country-soul, sure -- it's literally in his blood, given his paternity, and few can wrench heartbreak and humor like him. But his alt-rock past asserts itself with his occasional passes through town with his Pixies cover band, Is She Weird? Hell, he even resurrected some AM Gold chestnuts with tossed-off flair but plenty of love on the American Bread EP, full of (you guessed it) songs by America and Bread. But the portrait of the artist in the documentary Don't Follow Me (I'm Lost) tries to capture his multitudes and finds Bare to contain the humor and pathos in his songs -- he's a singer who can opine about "emotions and feelings," as he's fond of saying, and then proceed to fray nerve endings with full-bore rock & roll. Show Up Early: Eef Barzelay, best known as the lead singer of Clem Snide, will open the show. Given that he's released an EP of Journey covers, he and Bare should make a potent pair of soft-rock resuscitators.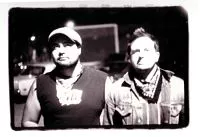 Bassamp & DanO Fri., 8:00 p.m. August 17 w/ The Brothers Gross, Soma Jet Set, Middle Class Fashion @ El Lenador - $5 By Daniel Hill When contacted with some questions for this write-up, guitarist Bass Amp had the following comment he felt he needed to say (completely unsolicited): "I just got a new pocket knife I'm really jacked up about. The handle's got a picture of Ronald Reagan riding a white horse! If I send you a picture of it, will it get printed?" Citing "America" as the band's primary influence (no surprise, then, about the Reagan knife), in addition to "shitting with the door open," "mowing the lawn at night" and "that movie where Sylvester Stallone has to arm-wrestle for the custody of his son," Bass Amp & Dano is a band incapable of taking itself ― much less anything else -- seriously. No matter: This lack of professional posturing adds immensely to the band's charm, whose specialty is catchy punk rock with hilarious lyrics about drinking bum wine, having diarrhea and being American ― which, to Bass Amp & Dano, all seem to be one and the same.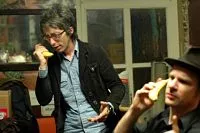 John Paul Keith Fri., 8:00 p.m. August 17 w/ Yankee Racers, Brother Father @ Blueberry Hill - $8 By Roy Kasten John Paul Keith is that rare singer, songwriter and guitarist who, by virtue of deep-in-the-genes musicality, manages to wear all three roles lightly, persuasively and more than a little wildly. A founding member of the long-gone alt-country heroes the Viceroys, Keith now fronts the One Four Fives, a band that ignites his passion for bedrock rock & roll -- from the Everlys to Buddy Holly to Chuck Berry -- and his killing wit. "I've never been lucky, and I've never been hip," he sings on 2009's Spills & Thrills. "Got a whole lotta headaches when I opened my lip." Keith knows you can't play rock & roll without taking a few hard shots, but he always comes back swinging. RIYL: The Blasters, JD McPherson and dancing like you mean it.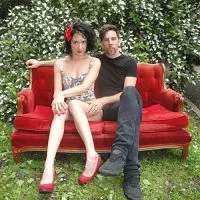 CaveofswordS Sat., 8:00 p.m. August 18 @ 2720 Cherokee - $10 By Christian Schaeffer If marriage is just another name for collaboration -- a synergistic pairing of forces, a mingling of strengths and talents combined to make something lasting and beautiful -- it's amazing that so few rock & roll marriages stand the test of time. Husband and wife Kevin and Sunyatta McDermott are off to a good start as CaveofswordS -- she sings and writes the lyrics, and he takes care of the music, which tends toward organic electronica and looped percussion. Those who knew Sunyatta McDermott (then Sunyatta Marshall) from her role as the lead singer in pop-psych group Helium Tapes or as part of Fred's Variety Group will certainly recognize her controlled and seductive voice, and in these more beat-heavy arrangements she is freed from the constraints of live, loud rock & roll. As such, her voice becomes the uncontested centerpiece of these songs, with Kevin's drum-machine boogies and artfully processed sound collages offer a rich, nuanced palette to sing against.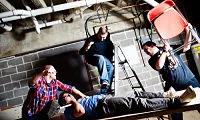 The Orbz Final Show Sat., 8:00 p.m. August 18. @ The Firebird - $10 By Bob McMahon From this 2010 Under Cover Weekend review: The Orbz vocalist, Jason Robinson, took the night's crown for commitment to character in his depiction of Iggy Pop. Donning ripped jeans, shoes, silver gloves, a Pop wig and nothing else, Robinson did everything short of cutting himself and smearing peanut butter in his embodiment of the world's forgotten boy. This included writhing on the floor, screaming his head off and cursing up a storm in between songs. Likewise, the rest of the Orbz did a great Stooges impression. If the band played it faster, their run-through of "I Wanna Be Your Dog" would have been perfect. "No Fun" amped up the energy and "Search and Destroy" had the entire venue rocking out. Ken Adelman in particular did a great job channeling the various guitarists Iggy worked with, adapting his leads to each player.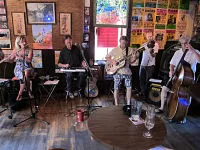 Boss Hall Sun., 12:00 p.m. August 19 @ Shanti - Free By Roy Kasten On a Sunday afternoon in the Soulard neighborhood of St. Louis, you enter the Shanti through the back entrance. It's a smoking establishment, says the sign on the door, rather like a high-voltage warning at the base of the Grand Coulee Dam. Inside, a band called Boss Hall is heading toward the penultimate song of its first set, a familiar Rodney Crowell tune. You could hear ice clink in the bloody marys, save that the ventilators are churning full blast and a couple of barflies won't stop talking to hear what singer Margaret Bianchetta does with the song, and what this band -- unpredictably anchored by its boss, resophonic guitarist Tom Hall -- enables her to do. It's not a big deal, just another band in Soulard, playing one of the best versions of "'Til I Gain Control Again" that's ever been played. "I'll tell you the truth," Hall says. "I'd never heard the song before we played it."