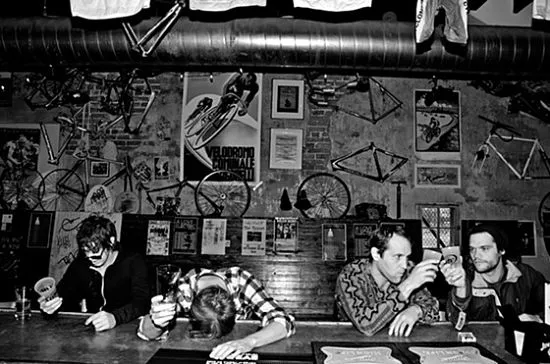 Broncho - Saturday @ the Firebird
Saturday dominates this week's post with a commanding 70% of all picks for the week, though it should be noted that one of our picks, the Open Highway Music Festival at Off Broadway, technically takes place on each of the three weekend days, putting Saturday's lead at eight out of twelve -- or 66 and one third percent, for us math geniuses. However, the Open highway Music Festival also took place on Thursday, and I don't know how to statistically account for things that take place in the past. That's best left to the quantum physics sabermetricists, or something.
That Butt / Googolplexia show that I predicted might happen last week is happening this week, on Saturday. I must re-calibrate my crystal ball, it seems. The Toadies and Helmet are playing Pop's on Saturday -- we don't need to tell you that both of those bands rule, but we will anyway. And have. Finally, pioneering rockabilly songstress Wanda Jackon will play Blueberry Hill, also on Saturday. We didn't realize she's still alive, but she is and that rules. The rest of our picks follow.
Friday:
Stl Is The Movement 3 @ The Firebird w/ A-Game, Tef Poe, Vega, Step or Get Left, Domino Effect, ATG 8:00 p.m. | $5/$10 A-Game and several more of St. Louis' best rappers return to the Firebird, and it's cheap, too! (DH)
Open Highway Festival Friday, Saturday and Sunday @ Off Broadway w/ Jesse Irwin, Fred Friction, Beth Bombara, The Bottle Rockets, Ben Nichols, John Henry & The Engine, Rough Shop, Will Hoge, William Elliot Whitmore, Old Lights 8:00 p.m. | $18-$21 for individual days; $40 for the full Weekend If you're experiencing a moment of hesitation at any point this weekend, just aim yourself at Lemp Avenue and give yourself a high five for making awesome decisions. The lineup is an exceptionally curated blend of Americana and Off Broadway does festive better than anyplace in town. (KM)
Saturday:
The Toadies & Helmet @ Pop's Nightclub w/ Ume 7:00 p.m. | $20 To quote one of my favorite lines I've seen anyone here at RFT Music write this week, "If either band were less awesome it would be in Marcy Playground's spot opening for Everclear and Sugar Ray." --Ryan Wasoba (DH)
Darrell Smith Benefit Show @ Cusumano's Pizza w/ Cross Examination, Who Fucking Cares?, Rites of Impiety, Thorhammer 8:00 p.m. | $5 This is your first chance to see hardcore party starter Cross Examination* in forever and is likely to be your last in about as long. There's plenty of adrenaline to be found elsewhere in the lineup as well, and this can double as your daily good deed: The show is a benefit to help out scene mainstay Darrell Smith with mounting medical bills. Plus, you can buy a fourteen inch pizza for $5 at this place. (KM)
DJ Tony Touch @ Lola 9:00 p.m. | $15 The Mixtape King makes one more mind-bogglingly good get for Lola's Dig series. Touch has been doing this since the '80s, and his ear remains as good today as ever. (KM)
*Ed. Yes, Cross Examination is fronted by one Daniel Hill, who you may know from such places as the byline of this post. No, he had nothing to do with this show's inclusion. Broncho - Saturday @ The Firebird
Wanda Jackson @ Blueberry Hill 9:00 p.m. | $20-$25 Wanda Jackson got her Jack White stamp of approval with a joint record in 2009, but maybe it's more accurate to say Jack White got his Wanda Jackson stamp of approval then. The rockabilly pioneer has been at this for some sixty years and she hasn't lost an ounce of power. (KM)
Googolplexia / Butt Split EP Release Show @ El Lenador w/ Butt, Googolplexia, Little Big Bangs, Escalade 9:30 p.m. | $5 I was right last week, I was just a week off! THIS is the release show for the much-ballyhooed Butt / Googolplexia split, Ass-Sick Creeps. Butt is too aewsome to be missed and its members don't live in our state anymore. Or even each others' for that matter. (DH)
The Casualties @ Fubar w/ Scene of Irony, The Pencil Dicks, Captain Dee & The Long Johns, Six Gun Salvation 7:00 p.m. | $12-$14 When I saw that some of the members of the Casualties had cut all their hair off I almost rescinded this recommendation and called the band a bunch of POSERS, but then I saw that Jorge still has huge liberty spikes so we're all good I guess. (DH)
Broncho @ The Firebird w/ Bug Chaser, Animal Empty, Leather Tramp 9:00 p.m. | $8-$10 Oklahoma's aptly-named Broncho (or is it apt? Maybe I have unfair stereotypes about Oklahomians. Those guys all ride horses everywhere, right?) calls to mind the music of classic 70's bands like The Replacements, Iggy and the Stooges and The Ramones. Bug Chaser opens, and is great too. (DH)
Sunday:
Gruff Rhys @ Contemporary Art Museum St. Louis 7:00 p.m. | $8-$10 Gruff Rhys -- who you may know from his work with Super Furry Animals, Neon Neon, Sparklehorse, Mogwai, Gorillaz and plenty more -- is doing something called an Investigative Concert Tour. He's done this once before; we'll let him explain: (KM)
In August 2012 Gruff will be seeking out the final resting place of his relative John Evans, who left Wales in 1792 on a quest to find a mythical tribe of Welsh speaking Native Americans. Gruff will follow the path of John Evans using film, the written word, photo-story, social media and song to create an investigative road movie and album.