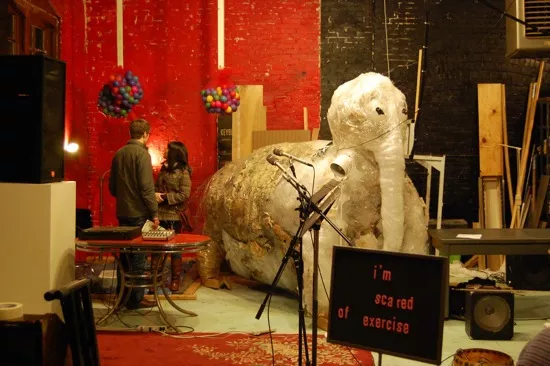 Courtesy of Floating Laboratories
Floating Laboratories, the community art space and DIY music venue with a focus on experimental and multimedia art, is officially closed. It hosted film screenings, poetry readings, video art and non-traditional music. Kevin Harris, artist, space benefactor, live-in curator and operator says, "My main interest is in electronic, research oriented music, sound design, sound art and technological innovations in analog and digital synthesis."
The final performance on July 21 featured Tory and Venus Starbuck, Adrian McBride, Dr Mabuse, Joe Raglani and Harris. "It was the ideal performance," Harris says. "It was the type of music I wanted to focus on and a nice sit down performance where everybody really concentrated on the music."
Harris opened in the venue in 2009 with the sole intention of it being a personal work space, yet it quickly developed into a public entity and DIY venue. "I was making music designed for performance and so were other friends of mine, so we started having little shows. A few friends of mine are pretty serious promoters of this type of music and it seemed the right place to invite people that were touring," Harris says. Floating Labs was voted RFT's Best Underground Club of 2010.
Floating Labs events featured genre-blending music in combination with noise and sound design principles. Final show performer Tory Z Starbuck was a Floating Labs regular. Other recurring acts included bands Half Gay (featuring Harris) and Britches.
Floating Labs debuted Eric Wilkinson's film "The Cabinet of Dr.Mabuse." The piece centered on local experimental artist Dr. Mabuse, who created the film's sound accompaniment.
"Ultimately it comes down to art that is authentic that people have never see before. It has the power to impact people in more profound ways than things that they've seen in museums or galleries all their lives," Harris says.
Spur-of-the-moment installations like "Everybody Track Mud into the House," designed by Crank Sturgeon, were a part of the innovation of Floating Labs. Sturgeon poured water on the stairs and said, "This is called 'Everybody Track Mud into the House.'"
"That was a really funny moment because right when [Sturgeon] said that, my face was like 'No, no, no, don't track mud into the house.'" He was just a really crazy performer who then went on to electrocute himself as his performance," Harris says.
Harris' most memorable moment was the Float Yr Face festival. "There was so much good music. It was one of the first times that, rather than being really passive about the content, this was an opportunity to choose what we wanted and invite people to play," Harris says.
The festival showcased seventeen local and national acts and centered around analog synthesis, piece-meal electronics and ambient and improvisational sound.
Courtesy of Floating Laboratories
Floating Lab's closing was a premeditated act for Harris. No horror stories here; it was just time for a change. "It gets difficult living in an old factory for a long period of time," Harris says.
Harris' living situation isn't quite all, though. Harris felt that the venue had "run its course," that he let too many things happen naturally and that ultimately what the venue became was of its own design.
"Floating Labs operated with only one absolute prerequisite: that the content be such that it offer audience members music that is 'non-traditional' and 'progressive.' The meaning of [these words], as well as logistical details were sort of allowed to happen naturally. I could have set better standards for everything and Floating Labs would have been a more enjoyable experience for those curious and serious about hearing interesting music. At any rate, shows at Floating Labs were always a lot of fun," Harris says.
Floating Labs emphasis on experimental art was not by chance. Harris says he wanted to provide a space "to support music that isn't supported by traditional commercial entities." Much of the venue's direction stemmed from touring bands and the show's content followed suit. While Harris unquestionably supports touring artists, the existing structure left Harris feeling he had less control over the artistic content.
"No one wants a venue where content just happens to happens to fall in their lap. It's always better to choose what you want, but especially at Floating Labs where there is a really narrow, specific kind of music we are trying to put on," Harris says.
Harris began to see the direction he wanted to the take the venue as more and more concerts were played. "With regard to content, I feel it was becoming too complacent. The problem with presenting non-traditional music is that traditions are established quite quickly, and then, the music fails to be non-traditional; it becomes fashionable. It is a very face progression from unique to fashionable to cliche," Harris says.
Floating Labs' evolution was some what happen stance. It began as Harris' personal home, in which like-minded friends gathered to share their art. Some of these friends were promoters and involved in the music scene quickly bumping Floating Labs to venue status. Harris' open-mindedness and loose control allowed Floating Labs to seem like an experimental art installation on its own.
Courtesy of Floating Laboratories
Floating Labs is a 200 year old factory complex nestled on the bluffs of the Mississippi that hovers over the river and railroad tracks. The pavement of the winding downhill driveway was busted in many place, making it hard to navigate during inclement weather, Harris says.
"Floating Labs was already such a great environment without any event happening there. The building and the location alone were something of an event by themselves," Harris says.
Floating Labs' location was perfect for a DIY venue. "It's definitely easy to play loud music there because it's so isolated, and there are no neighbors around. That's what made it kind of an ideal space. The space itself was really conducive to an art factory," he says.
Harris was able to separate the space for multiple purposes. He had a personal room, closed off recording studio and a giant space capable for holding around 100 people for displaying art, recording and hosting shows. There was access to a roof that served as a patio for the public.
"I never encouraged anyone to go out on roofs, but it's sort of hard to control. Once you're out there and in this crazy complex, people just want to explore and get curious and just want to walk around, no matter how many times you tell people not to," Harris says.
The space directly influenced Harris' art towards music. Originally, its size gave Harris a place to work on sculpture, the subject of his master's degree. Yet, Harris acknowledged he had something more within his hands. "I realized that I have this platform to perform music. You can make music in your studio all day long but sometimes it's rare to find performance opportunities for experimental music. I realized I had this outlet and pretty much stopped doing visual art and only concentrated on sound," he says.
While DIY spaces have a tendency to attract unwanted attention, Floating Labs was an exception. Cops arrived only once, not after a call, but because they were curious why there were so many cars parked at the intersection of Ohio and South Broadway. The story goes that they walked into the space, looked at each other, laughed to themselves and turned around. "They obviously knew they were walking into something really weird," Harris says, "but I think they also got the sense that they were walking into something adult-oriented and safe."
Harris remains a huge part of the analog and digital synthesis community and has every intention of continuing in that direction. Currently, Harris plans to focus on his own music in his Cherokee Street loft. Communal art spaces aren't out of the picture. "My ideal space would be a nurturing comfortable environment for performers and audience members. I'd like to have a space where I'd have the funding to invite people in specifically to play, but also have some funds set aside if someone dropped in on tour," he says.