My Morning Jacket | Band of Horses August 8, 2012 Peabody Opera House
Jim James does not have hair. He has a mane, and it is his single best asset as a showman. Better than his sleeved cape (his morning jacket, proposes RFT Managing Editor Chad Garrison), better than his drum pad chain, better even than his flying V guitar.
Yes, he can play the hell out of that guitar -- that's one reason he has attained such celebrity and his band has gathered such a devout following. But last night he and his mane proved enormous, a presence so large as to dominate even the truly cavernous stage and bombastic surroundings of the Peabody Opera House.
Across town, the fossilized remains of Slash were more of a Rock God than almost anything else going. Nostalgia is a powerful force and his is a dying breed anyway. But there is Jim James, proving we don't have to rely on the '80s.
Band of Horses is a headliner in nearly every circumstance except this one. In fact, both of these bands held down its own bill last time through St. Louis, both at the Pageant. Still, Band of Horses did not have a line down the block several hours before showtime, as My Morning Jacket did.
Regardless, Band of Horses was no afterthought. Despite its punctual 7 p.m. start time, the band had a solid audience, both in size and enthusiasm. The more contemplative new stuff, which made up most of the middle of the hour-long set, left us in a reverie. Like My Morning Jacket, BoH rarely leaves absolute silence in a song -- there is almost always a hum or wail to keep the room vibrating.
Front man Ben Bridwell turns out to be adorably affable. He introduces his bandmates with kids' show earnestness and, when his guitar fails him during the spectacular "The Great Salt Lake," he chastises it with finger wags and sheepish grins. He graciously receives the crowd's adulation: "The Jacket are in for a real treat." For a moment I thought the roar of applause would actually necessitate the rare opener encore -- the house lights even stayed down for a tantalizing minute or so. But there was a schedule to keep, and the Jacket would need every moment of its time allotment.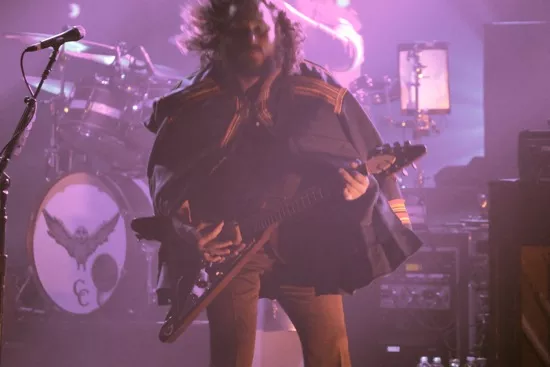 For those who haven't been: The Peabody's stage is set on the venue's second floor. And they are huge spaces, so it's roughly the case that a seat right in front of the band puts you twenty feet above Market Street. Obviously that's not the sort of thing you might notice or care about in the windowless theater itself. But think about it the next time you're there. The effect is disorienting -- the huge room you're standing in is on stilts. A fitting vantage for a band with ambitions as lofty as My Morning Jacket.
The band has attained something of a legendary status as a live band. Its arsenal is impressive: A catalogue of diverse music bound by propulsive riffs and melodies with the strength and approximate effect of bong hits. And I -- not a huge fan of weed in general and absolutely not of stoner culture -- mean that in the best possible way. Why take drugs when you can just go to a MMJ show?
And there's plenty of reasons to do that instead of just listening to the records in your apartment. There's James' aforementioned presence and the band's expert expansion of its songs at shows -- so tightly built are its progressions and diversions it seems crazy to call it jamming. MMJ hasn't released anything since 2010's Circuital, and last night's set list drew from throughout the band's decade-plus worth of catalogue.
The Peabody is a little unlikely for such a spectacle -- gilded doorframes and assigned seats do not scream rock & roll. But the newly renovated theater is proving it can hang. Last week it hosted the similarly non-contemplative Nicki Minaj, and at the MMJ there was (some) dancing in the aisles. It wasn't exactly pandemonium, but then again the packed but not sold out crowd never sat down, either.
Critic's Notebook:
Personal Bias: Much more a sprint than a marathon kind of guy.
Overheard: Approving whoops in the lulls, but not much else. This show was loud as hell.
By the Way: Sorry in advance about this, both the explanation and the result. So, this being a My Morning Jacket show, there was no shortage of MJ in the air, some of which was coming from the dude seated immediately in front of me. Not sure whether he just had some especially rank shit or whether I was right on the edge anyway, but I spent the two-thirds of the show in various states of illness. So this whole thing became something of fever dream. The effects of this will be most clearly seen in the following setlist, which I cobbled together from a combination of my notes and various online reports.
My Morning Jacket Setlist*
Master Plan It Beats 4 U Circuital Outta My System Gideon Rollin Back What a Wonderful Man Mahgeetah Wonderful (with Band of Horses' Ben Bridwell) Where to Begin Steam Engine Isn't It a Pity (George Harrison cover) Victory Dance Wordless Chorus The Day Is Coming Touch Me I'm Going to Scream Holding on to Black Metal One Big Holiday Encore: I Will Be There When You Die I'm Amazed Phone Went West
*See notebook. If anyone can help out with any corrections here, I'm all ears.