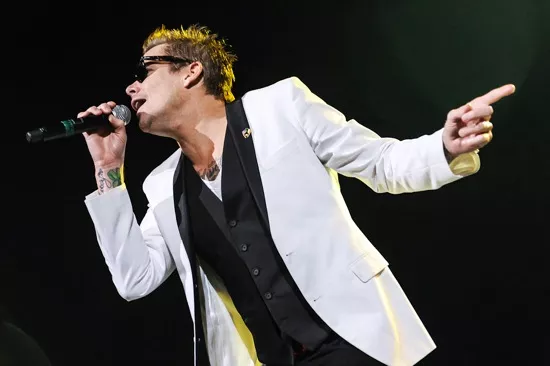 Sugar Ray's Mark McGrath. Duh. Photo by Jason Stoff
Summerland Tour 2012 Family Arena August 7, 2012
"Everyone here will know at least one song by one band tonight," Art Alexakis, lead singer of Everclear, promised early in the evening at last night's Summerland concert at the Family Arena (2002 Arena Parkway, St. Charles; 636-896-4200). Alexakis was correct, although when he forgot the words to his band's 2000 hit "Wonderful" during the group's closing set, it was unclear if he knew at least one song by his own band.
The inaugural Summerland tour brings together Marcy Playground, Lit, Gin Blossoms, Sugar Ray and Alexakis' Everclear, who, over four hours, play their biggest, now-erstwhile hits, with Alexakis and Sugar Ray frontman Mark McGrath playing emcees for the night of '90s alternative rock. During Sugar Ray's set, the second to last of the evening, McGrath, drinking from a Solo red, paused to comment, "There's no real order to the bands onstage," a sentiment of solidarity for certain, but little else. The Summerland lineup staggers bands by their popularity -- or, perhaps a better way to quantify it, the number of chart toppers they amassed at the height of their commercial success.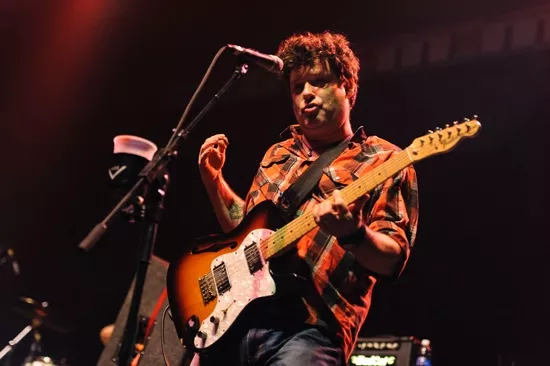 Marcy Playground. Photo by Jason Stoff
Thus, Marcy Playground started off the evening, playing nine songs from its catalog including "Devil Woman" and "Special," a bonus track, both on the group's 2009 album Leaving Wonderland...In A Fit of Rage, and songs from its penultimate 1999 self-titled release such as "Poppies," "Saint Joe on a School Bus" and, obviously, "Sex and Candy," which capped the set. Even by the end Marcy Playground, the crowd at the Family Arena had failed to fill out -- it was about 15 percent full -- but, as one would imagine has been the movement of each audience on this seventeen-city tour, people hooted, hollered and helped out with the words during "Sex and Candy," which quickly became the kind of sing-along that shows like this thrive in. It'd be easy for Marcy Playground to rest on the fame of that 1997 uber-hit, but it doesn't, and for those who were in attendance at last night's show, the band turned around a solid set of grungy, alt-rock without schtick or comment.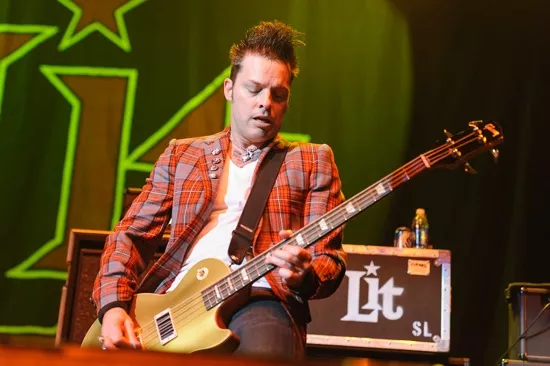 Lit. Photo by Jason Stoff
Lit followed Marcy Playground's understated, driving set with a decidedly more amped-up performance. The infectious energy and rock-star spirit of lead singer A. Jay Popoff and bandmates felt copied and pasted from a stage in 1999, which is a roundabout way of staying that Lit have still got it, maybe never lost it. Sponsored by Jagermeister -- and taking swigs of it throughout their set -- the band played fan-favorites from its first release A Place in the Sun, including "Zip-Lock," "Four," "Miserable" and "My Own Worst Enemy," and two songs from its new album View from the Bottom, "Miss You Gone" and "The Broken." Popoff's '90s alt rock meets punk stage presence saw him shirtless early in the band's set and running into the audience and all over the stage, its many platforms and speakers. Hyper-local nostalgia hits hard with Popoff, thanks 105.7 FM the Point for being the first radio station in the country to play the band's demo of "My Own Worst Enemy" and for, "believing in us." The group's sincerity and passion is palpable; they're not Lit from the '90s but just Lit from the now, here to have a good time and make sure the audience has the same. As the band prepares to exit the stage Popoff takes one more pull from the bottle of Jager before inviting the whole of the arena to party with him after the show.
Gin Blossoms. Photo by Jason Stoff
Like most shows of its kind, Summerland is mostly a well-oiled machine. Within a few quick stage changes, McGrath and Alexakis are back to welcome the Gin Blossoms, which Alexakis says, "Pretty much defined the '90s. They had more hits than anyone." Maybe not entirely accurate, but there's something to the Gin Blossoms meandering melodies and lovelorn lyrics that does well capture that mid-'90s pop-rock sound. During 100.3 FM Gen-X Radio's brief stint in St. Louis listeners were unlikely to make it through one hour of programming without hearing "Hey Jealousy," "Found Out About You," "Til I Hear It From You" or "Follow You Down." At last night's show the band played their hits pitch-perfect and polished, with lead singer Robin Wilson sounding as crisp and crystal clear as he ever did. Before launching into its first song, "Follow You Down," made famous on 1996's Congratulations I'm Sorry, Wilson said, "We're the Gin Blossoms from Tempe, Arizona, and we're here to kick ass and chew bubblegum...and we're out of bubblegum." By itself, that Roddy Piper quote from the 1988 film They Live might be throwaway, but as "Follow You Down" ended, Wilson added, "Thank you so much. I've been doing that schtick for six years, and no one has ever thrown bubblegum onstage before." St. Louis Gin Blossoms fans also came to kick ass and party.
Marcy Playground, Lit and the Gin Blossoms each managed to achieve a stand-alone feeling to their performances, each relying on nothing more than their own strengths and string of hits to define their performances. Not until the second to last act of the evening did it feel like the '90s-a-palooza that Summerland is billed to be, but man, oh man, did Sugar Ray do its best to change that. A departure for certain, Mark McGrath and co. offered as entertaining a show, yet one that erred more on the side of spectacle.
Sugar Ray. Photo by Jason Stoff
McGrath was ushered on stage by the Saved By the Bell theme song, which bled into the band covering the Sufaris' "Wipe Out," with McGrath, bespectacled in sunglasses, seeming to invite the comparison to Animal from the Muppets. If McGrath was Animal, then Sugar Ray's set was the Great Gonzo, firing bombastic cannonball-sized bits from the first to last song. All the radio and Total Request Live jams were represented: "Someday" followed by "Answer the Phone," then "Every Morning" and "When It's Over." McGrath is a showman, a ham and a half, and Summerland is better for it. His energy and eager enthusiasm plays like the rest of the "Summerland fellowship" (a term Robin Wilson used to describe the collective) who preceded Sugar Ray, though in louder, more animated bursts. The only hiccup in an otherwise entertaining interlude was the group's cover of the Ramones' "Blitzkrieg Bop," which at worst was middling and cringe-worthy, but at best so absurd it worked. This is Summerland, and the '90s rock stars are calling the shots.
Sugar Ray ended the most dialed-up performance of the night with its first big hit, "Fly," and if possible, the audience cheered and danced and sang along with increasing zeal as it had, incrementally so, as the night progressed. When Sugar Ray exited and announced the last act of the night, Everclear, a bizarre thing happened as the lights came up and techs descended on the stage for set changes: Flocks of audience members exited the arena. Generally I expect a headliner to receive the bulk of a room that gradually swells with each preceding act, but that was not case. Though the show's closer, it was obvious when Everclear took the stage why the crowd quickly thinned.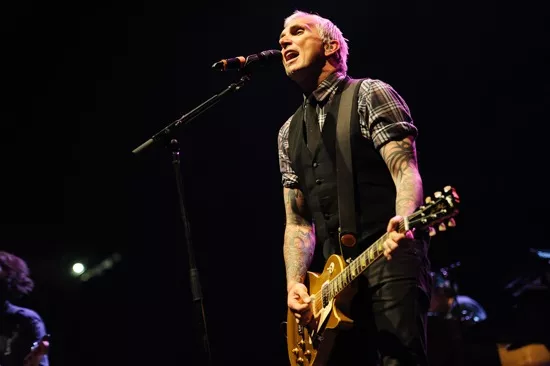 Everclear. Photo by Jason Stoff
Everclear's Dave French, Freddy Herrera, Josh Crawley and Sean Winchester did their best to bolster lead singer Art Alexakis, but his underwhelming vocals, mumbled with disinterest and peppered with lyric-flubbling and -forgetting, was the first time that evening that a band sounded undeserving of latter-day praise. Opening with "Father of Mine," the group played ten songs; mostly hits and early cuts from their 1995 album Sparkle and Fade -- is the tour named for "Summerland," the fifth track on that album? I guess we're supposed to infer as much. They didn't sound great, but when, eight songs in, Alexakis couldn't remember the lyrics to "Wonderful," one of the band's biggest radio hits, it started to also feel kind of sad.
"Everybody stop. I forgot the words to my own song," Alexakis said. "Do you guys mind if we start from the second verse? I know this is a big song for a lot of people and...do you want me to start over? I got distracted when somebody told me something I didn't like."
It's unclear what was said or who exactly distracted him, but the flub was made especially embarrassing by the band's obvious efforts to assist with back-up (primary?) vocals throughout the set: Were they trying to help prevent the very lyric-lapse that occurred? The discomfort created by Alexakis not knowing his own work was temporarily alleviated when Lit's A. Jay Popoff returned to the stage to sing a sick rendition of the refrain of Led Zeppelin's "Rock 'n' Roll," the band shredding guitar and pounding drums. It was almost engrossing enough to forgive Alexakis, and the last song, Everclear's first single, "Santa Monica," saw him sharing vocals with Popoff and Robin Wilson, who, for their parts, definitely knew the words to that song. So did the audience, or what was left of the audience at that point. By then, with failures and triumphs well past exposed, the best we in the crowd could do was throw ourselves into the song into the moment, dance with abandon and participate in the collective shout-along that yearns to, "Swim out past the breakers/watch the world die."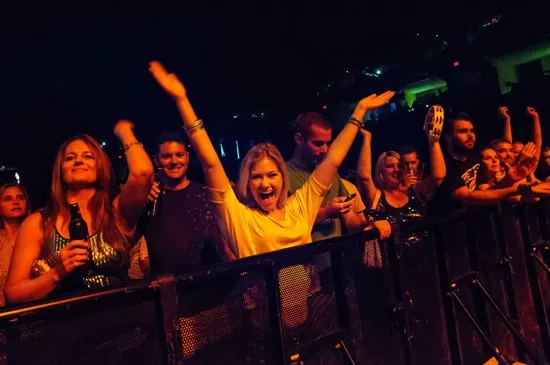 Critic's Notebook:
Personal Bias: Technically I think my age makes me a "Millennial," but since such generational labels paint with broad strokes, I'd much prefer to consider myself a Gen-X kid.
Random Detail: During Lit's set, security guards asked multiple parents to stop foisting their toddlers onto their shoulders. "But sir, 'My Own Worst Enemy' is Aidan's favorite song!"
Overheard: "I feel like he thinks he's the voice of a generation," said about Mark McGrath during one of the singer's many interludes and, "I feel like I'm at Rollercade at 8 p.m. on a Friday night in 1997."
Marcy Playground Setlist: 1. Devil Woman 2. Poppies 3. Rock 'n Roll Heroes 4. Special 5. Deadly Handsome Man 6. Saint Joe on a School Bus 7. Punk Rock Superstar 8. It's Saturday 9. Sex and Candy
Lit Setlist: 1. Four 2. Lipstick and Bruises 3. Miss You Gone 4. Miserable 5. Zip-Lock 6. The Broken 7. My Own Worst Enemy
Gin Blossoms Setlist: 1. Follow You Down 2. Until I Fall Away 3. Lost Horizons 4. Found Out About You 5. Allison Road 6. A Million Miles Away (Plimsouls cover) 7. 'Til I Hear It From You 8. Hey Jealousy
Sugar Ray Setlist: 1. Wipe Out (Sufaris cover) 2. Someday 3. Answer the Phone 4. Every Morning 5. When It's Over 6. Mean Machine 7. Blitzkrieg Bop (the Ramones cover) 8. Fly
Everclear Setlist: 1. Father of Mine 2. Everything to Everyone 3. A.M. Radio 4. Herion Girl 5. Heartspark Dollarsign 6. I Will Buy You a New Life 7. Be Careful What You Wish For 8. Wonderful 9. Rock & Roll (Led Zepplin cover) 10. Santa Monica