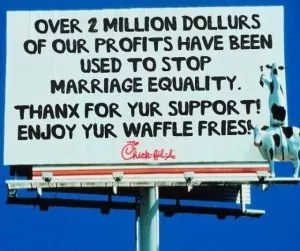 Chick-Fil-A Chief Operating Officer Dan Cathy made controversial statements recently in defense of marriage - which is Conservative speak for "anti-gay." But if he ever listens to music that isn't made by Michael W. Smith or Steven Curtis Chapman, he probably runs into - and unknowingly enjoys - songs dripping with homosexuality. Here are the six gayest songs that might be on Dan Cathy's iPod. Feel free to leave comments about the following topics: a) your favorite secretly gay popular songs, b) your opinion of this ongoing scandal, and/or c) why the hell is there a pickle on those sandwiches? I mean, I love pickles, but it's just weird.
6. The Who - "I'm A Boy" This Easter egg in the Who's catalog is about gender identity. The narrator is raised like a girl and constantly has to remind his family that he is, in fact, not. His sisters do girly things to him, dressing him up and doing his hair and makeup. The song turns around the conformity that keeps so many people in the closet, as the protagonist lets his sisters do his hair and makeup and play dress up in order to fit in. "I'm A Boy" was released as a single, but it's far from "Greatest Hits" territory as far as the Who tracks go. But given Dan Cathy's headstrong commitment to his beliefs, if he is a fan of the Who he is likely a completist.
5. The Village People - "In The Navy" Everybody knows that the Village People is as gay as it gets, but somehow the group is tolerated by the Tea Party demographic (who, by the way, always seems to have an LP of Go West in their collection). "Y.M.C.A." is familiar to all as a wedding staple, but "In The Navy" is gayer. Yet, it makes sense that right wingers would flock to this song if only because of the pro-military stance. They just have to look the other way on the line about "signing up seamen fast."
4. Frankie Goes To Hollywood - "Relax" Like "In The Navy," Frankie Goes To Hollywood's "Relax" makes the gay-o-meter go all the way up to double rainbow. This means its chances of appearing on Dan Cathy's iPod are slim. But, in the event that it snuck onto the device as part of the Zoolander soundtrack, I take great pleasure in imagining the Chick-Fil-A-hole hearing the line "When you want to come" repeated ad nauseum on earbuds. 3. Aerosmith - "Dude Looks Like A Lady" When I was in middle school, my dad's side of the family had a reunion, and he and his brothers decided to sing "We Are Family" at a karaoke bar and swap out lyrics to say "I got all my brothers with me." Then, when the verse came in, they all realized they'd never paid attention to that part of the song and just had to guess how it went. I imagine somebody like Dan Cathy thinking positively about the potentially homophobic angle of "Dude Looks Like A Lady." You're making fun of a guy for looking like a girl. But if he were to only focus on the hook, he'd miss out on gems like "Baby, let me follow you down" and "Let me take a peek, dear."
2. Queen - "Bohemian Rhapsody" Legend has it that "Bohemian Rhapsody" was the first song Freddie Mercury wrote after learning he had AIDS. That puts "I don't wanna die, I sometimes wish I'd never been born at all" in a different context. And, given the song's status as a sing-along, the though of those words coming out of that ignorant Dick-Fil-A's lips put a smile on mine.
1. The Kinks - "Lola" "Lola" is not the only subversively gay song in the Kinks' discography. "On The Outside" and "Out Of The Wardrobe" have their undertones, but "Lola" is the one that has crept into the public eye most visibly. First off, "Lola" rules, and I hope it's on Dan Cathy's iPod the same way I hope that African refugees I will never meet have clean drinking water. That low piano 35 seconds in is so very heavy. The song details a relationship with a masculine woman who "talked like a man" and "almost broke my spine" in a hug. "Lola" could be overt if it were not so vague. "Girls will be boys and boys will be girls / It's a mixed up muddled up shook up world / Except for Lola." (Is Lola not mixed up because she is comfortable with her transgender identity?) "I am what I am and I'm glad I'm a man / And so is Lola." (Is Lola glad because she's a man or because the narrator is?) Given the popularity of this song in relation to its subject matter, it is probable that an ignorant homophobe heard "Lola" while defiantly chomping on a Chick-Fil-A sandwich in his/her SUV. And given its awesomeness, this person likely turned up the radio, maybe even chewed in rhythm. Oh, the taste of irony, like a honey mustard dipping sauce. Only sweeter.