Dum Dum Girls - Monday @ Off Broadway
This week's picks feature three rather large (as in a lot of bands) festival-type shows -- four if you count the 90s-fest happening at Verizon on Tuesday. On Friday, STL is the Movement 3 will go down at the Firebird; rappers Tef Poe, A-Game, Vega, Step or Get Left, Domino Effect, and ATG will perform. On Saturday Old Rock House plays host to Farm's Rock, a benefit for EarthDance farms. Barn Animals, Fight for Midnight, Peach, Scarlet Tanager, Black Bears, and the Bible Belt Sinners will perform; the money raised will benefit EarthDance, a working farm in Ferguson. Finally, Sunday at Off Broadway is day four of the Open Highway Festival, with a slew of talent descending on the venue. Days one through three occur Thursday through Saturday; they'd be listed here too but we're trying spread the love around. The rest of our picks follow, including the Toadies and Helmet at Pop's and Maximum Effort's Record Release at CBGB.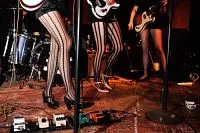 Dum Dum Girls Mon., 8:00 p.m. August 6 @ Off Broadway - $12-$16 By Mike Appelstein From this 2011 album review: In the past two years, California's Dum Dum Girls has transformed from a one-woman home-recording project into an indie-rock contender. After several well-received independent releases, the band stepped up to join Sub Pop in 2010. The resulting album, I Will Be, was full of dark pop hooks and seemed to be somewhat of a continuation of the guitar-and-drum-machine dynamics of the earlier indie releases. However, Dum Dum Girls' new release, the He Gets Me High EP, marks a sea change. Once again co-produced by the legendary Richard Gottehrer (responsible for classic albums by Blondie and the Go-Go's), its four songs -- including an amped-up cover of the Smiths' "There Is a Light That Never Goes Out" -- simply brim with hooks and confidence. And if He Gets Me High sounds like a transitional record, that's the way Dum Dum Girls lead singer/songwriter Dee Dee envisioned it. "I consider it a halfway point between the fuzzy home recordings and making a pop album," she says via phone while preparing for the band's first headlining tour. "Everything we've been working up to, I feel like it's finally culminating."
Everclear, Sugar Ray and Gin Blossoms Tues., 7:00 p.m. August 7 @ Family Arena - $41-$61 By Jaime Lees Back in time of grunge, there was this adorable band called Gin Blossoms. It was a scrappy band with a jangly tambourine and Teenage Fanclub-like harmonies but overexposure on the radio made Gin Blossoms feel like a sweet little brother of a band that you just couldn't shake. It was the kind of band you didn't mind too much, but you wished it would stop following you around so that you could go do big kid stuff. But now you're all grown up and when you look back at that hazy memory you see Gin Blossoms for what it really was: a sweet little brother of a band that you probably should have spent more time with and appreciated more. Also on the bill: Everclear, Sugar Ray, Lit and Marcy Playground. Nostalgia overload.
Russian Circles Tues., 8:00 p.m. August 7 @ The Firebird - $12/$14 By Daniel Hill Chicago's Russian Circles plays sprawling instrumental rock that incorporates the full spectrum between intense heavy metal passages and soft, delicate instances of quiet melody, creating an enthralling musical monster that expertly explores the dynamics of each. The three-piece has been creating buzz in its hometown since assembling out of the remains of Dakota/Dakota, which was also an instrumental act, in late 2004. Early tours saw the band opening for bands such as Isis, Minus the Bear, Daughters, Pelican, and even a European jaunt opening for Tool, but lately the band has been headlining its tours, having proven itself a formidable act. Crom Is Strong: Drummer Dave Turncrantz formerly played for now-defunct St. Louis rock band Riddle of Steel. Show the man some much-deserved hometown love.
My Morning Jacket Wed., 7:00 p.m. August 8 w/ Band of Horses @ Peabody Opera House - $37.50-$49.50 By Katie Moulton Shaggy. Wooly. Beard-rock. All are the meaningless adjectives overused by critics writing about My Morning Jacket and other "Southern rockers" who sport natural chin mufflers. Must musicians be pigeonholed by their face-scaping? Nay, especially since Kentucky-based MMJ has never been afraid of stretching its sticky fingers into any genre -- whether covering the Muppets in earnest, embarking on a psychedelic swamp bender or a choral funk ode to black metal. The band's sixth studio album, Circuital, released late in May 2011, features all shades of Jim James' storied tenor, from soulful wail and ghostly falsetto to the goofily whispered "Shaaa!" which closes the title track.
Maximum Effort Record Release Show Thurs., 9:00 p.m. August 9 w/ Canadian Rifle @ CBGB - $5 By Josh Levi Mixing UFO-conspiracy-theorist literature and chugging punk power chords, Maximum Effort has brought fun back to the St. Louis punk scene. More rock than punk, this south-city quartet exhibits proficient musical skill, coupled with catchy-as-hell punk riffs. Stylistically similar to the West Coast punk sound of the late '70s/early '80s, ME conjures memories of Dangerhouse Records bands and the Angry Samoans. Lead singer Nick Zengerling's paranoid lyricism rants and raves with tales of black helicopters, secret agents and government cover-ups. As proof of its excellent songwriting, ME showcases its ability to rile up camaraderie with sing-along songs such as the anthemic "NOYFB (None of Your Fucking Business)." With plans of future recordings, you can expect Maximum Effort to continue spreading the gospel, exposing the truth that is hidden from us all.
Fred Friction Fri., 9:00 p.m. August 10 w/ Accelerando, the Painkillers @ Schlafly Tap Room - Free By Jamie Lees Fred Friction does not offer precision, flashiness or a flawless performance. He offers the truth. And though this local legend has an army of musicians to choose from when he wants accompaniment for his live shows, he frequently prefers to present his deceptively simple sings with just his voice and an acoustic guitar. He sings sweet stories of childhood dreams, relays booze-soaked tales of regret and pushes through sad love songs with twist endings. Friction's songs are personal and touching in such a way that it is impossible to separate the man from the music. His sincere delivery is inimitable, and the tunes are always accompanied with wise, knowing eyes and a bemused grin. Note: Friction's unique personality and style of dress is often noted among audiences. They say that he's a St. Louis institution who might need to be put in a St. Louis institution, but isn't that true of all of the best ones?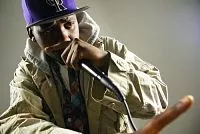 Stl Is The Movement 3 ft. Tef Poe Fri., 9:00 p.m. August 10 w/ A-Game, Vega, Step or Get Left, Domino Effect, ATG @ The Firebird - $5/$10 By Annie Zaleski From this 2011 review of War Machine: Tef Poe's War Machine is a nineteen-track tour de force. The Force member's musical versatility has always been his calling card, and so it's not surprise that Machine embraces diversity and defies pigeonholing. Genre-wise, it touches on warm R&B, ominous hip-hop, celebratory club bangers and futuristic synth-rap. Emotionally, it's a roller-coaster -- songs are menacing, lighthearted, vulnerable, tough, serious and even fun. Machine's nineteen tracks feature plenty of familiar names in terms of performance (Theresa Payne, Rockwell Knuckles, Tereasjenee, Vandalyzm, Erick Richardson, Family Affair) and production (Tech Supreme, Basement Beats). That Tef successfully fuses these diffuse genres and collaborators is a testament to his talents.
The Toadies & Helmet Sat., 7:00 p.m. August 11 w/ Ume @ Pop's Nightclub - $20 By Ryan Wasoba Helmet and Toadies each had its share of hits (the former with "Unsung" and "In The Meantime," the latter with "Possum Kingdom" and "I Come From The Water"), but neither could be defined by its singles alone. Helmet's morse-code riffing slacker metal is fresher today than the crop of Sabbath re-hashers -- and former drummer John Stanier's gig in Battles isn't hurting the band's cred. Meanwhile, Toadies' oddball Pixies-indebted pop remains as chilling and creepy as ever. While these are not the only bands to benefit from the alternative rock bubble economy, they are two of the rare survivors. If Either Band Were Less Awesome: It would be in Marcy Playground's spot opening for Everclear and Sugar Ray.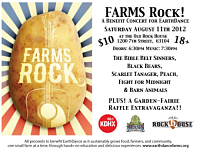 Farms Rock: A Benefit Concert for EarthDance Farms Sat., 7:30 p.m. August 11 w/ Barn Animals, Fight for Midnight, Peach, Scarlet Tanager, Black Bears, Bible Belt Sinners @ Old Rock House - $10 By Christian Schaeffer The "do it yourself" mantra is much more than a motto for punk-rock show goers -- it's a way of life for musicians, artists and promoters across the city. Now, that spirit of self-sufficiency in music and art converges with ecological sustainability and farm-to-table food sense with Farms Rock! A Benefit for EarthDance. Located in Ferguson, EarthDance is a working farm that aims to teach would-be green thumbs how to grow their own produce while building community. The benefit is fittingly local-focused, and some of the bands even have bucolic, farm-friendly names: Peach, Scarlet Tanager and the Black Bears will perform, along with the Bible Belt Sinners and Fight for Midnight. Think (and Drink) Locally: Hometown beer barons at 4 Hands Brewery will be offering their craft brews, keeping the entire night's footprint within a 30-mile radius.
Open Highway Festival Day 4 Hangover Party ft. Beth Bombara Sun., 3:00 p.m. August 12 w/ Jesse Irwin, Fred Friction @ Off Broadway - $5-$8 By Kelsey Whipple At this point, the "singer-songwriter" label has become just about as cliché as this St. Louisan is not. Wise beyond her years with range beyond her genre, the young, confident crooner has proven a formidable solo force through two EPs and a full-length, as well as stints pairing her light, lovely vocals with Old Lights and Cassie Morgan. Bombara's earnest and occasionally eerie blend of folk, country and the softer side of rock provides a spot-on soundtrack to the city's summers and grocery stores, where her good nature and good tunes make for a solid, if unconventional show. Outside of her clear vocals, Bombara's subtle strengths lie in her backing instrumentation, which follows the same organic, unrushed pattern of arrangement as her intro and outrospective lyrics.