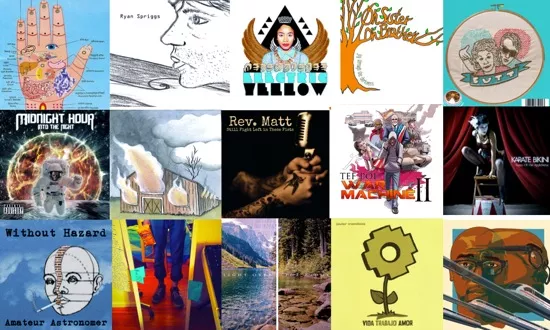 This is pretty self-explanatory, really -- here you will find every musical project released in the St. Louis area (we're interpreting pretty broadly) in July 2012, listed in alphabetical order. There are links to information about the bands and places to buy these things as well as streaming previews wherever possible. Some of these we've talked about already, including the Union Electric's Time is Gold, the Great Grandfathers' Saint Anthony's Fire and Teresajenee's Electric Yellow. Some, like Rockwell Knuckles' Take Me To Your Leader and Javier Mendoza's Vida Trajajo Amor are from well known artists, and some are relative newcomers (like Totally Gay Cop, Remi Sorbet and Pawns or Kings). All are a testament to the fertility and industry of our city's musicians -- peruse away, and please support these folks by buying anything you especially like.
Note: We realize there are probably a few things we missed. If you know of something that came out last month, let us know in the comments and we'll amend this post. And we'll be doing this again, so if you'd like to have your record included in the August installment, email me at kiernan dot maletsky at riverfronttimes.com with "ATTN: St. Louis Record" in the subject line.
Update, 8/6: Huge shout out to Carlos and the incomparable STL Mixtapes, who pitched in with five more July releases, including new music from D.I. Skreet, Trixie, Ciej, Roh Bee and Boatshoe Holly. They've been added below.
---
Arson For Candy -- Self-Titled EP
---
Boat Shoe Holly -- Before I Blow
Download from Addicted Dopeness
---
Boss Hall -- In the Pale
Feature: Boss Hall's High Pedigree and Low Profile
---
Butt/Googolplexia -- "Ass Disaster"/"Butt Release" Split 45
Feature: Rob Severson's many labors of love.
---
Ciej -- Next Time Tigers
---
D.I. Skreet -- Renaissance Pt. 2: The Re-Up
---
The Great Grandfathers -- Saint Anthony's Fire
---
Happy Daze -- Centralized Revolutions EP
Javier Mendoza -- Vida Trajajo Amor
---
JUX -- Self-Titled
---
Karate Bikini -- Sauce of the Apple Horse
Buy and preview tracks on Amazon
---
Midnight Hour -- Into the Night
---
Oh Sister, Oh Brother -- Joy Through the Darkness
Pawns or Kings -- "Light Over the Ridge" Single
---
Position 69 -- The G.T.H. E.P. #1
---
Remi Sorbet -- Through the Leaves
---
Rev. Matt -- Still Fight Left in These Fists
---
Rockwell Knuckles -- Take Me To Your Leader
---
Roh Bee -- SHISHA
Download via Mediafire
---
Ryan Spriggs -- Self-Titled
Saint Orleans -- Pay Homage
---
Tef Poe -- War Machine 2
---
Teresajenee -- Electric Yellow
---
Totally Gay Cop -- Self-Titled 7"
Available at TGC shows.
---
Trixie -- Little Miss Incredible 2
---
The Union Electric -- Time is Gold
---
Without Hazard -- Amateur Astronomer EP