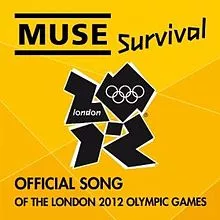 Yes, it still looks like Lisa Simpson doing filthy, filthy things.
Allow me to sound like an old person for a minute: Back in my day--which is 1996, the only time I remember being cognizant of an Olympics theme song, because I was nine and didn't know better--the Olympics theme song did not have kitschy theatrical background vocals or an extended instrumental breakdown or the word "vengeance." It did have Gloria Estefan, which is to say that everyone has his or her cross to bear. I'm not sure how this happened, but the official theme song of the 2012 London Olympics is by Noted Actual Band Muse; it's called "Survival," and it sounds like something you might hear inside a Hot Topic while two people in MCR shirts talk about how much they hate jocks.
For your perusal: Some especially strange Olympics theme songs. Spoiler alert: I'm including the one with the word "vengeance" in it, at least until someone can confirm that Ye Shiwen plans on hunting her steroids accusers with a broadsword.
Control group: Gloria Estefan, "Reach" This is what I imagine every Olympics theme song to sound like before I actually hear it, though this might just be because the contemporary Olympics seem like the ultimate in mid-90s end-of-history international feel-goodery.
I have no desire to ever hear it again, but I'll say this for it: If you were able to look inside the head of any of those gold medalists flashing by in the video (Michael Johnson!) at the moment they won, this is probably exactly what's going on in there. Which is more than I can say for the other songs on this list.
Winning something you've been training for your entire life in front of a billion people is an inherently sentimental, gooey moment. What makes this song ridiculous isn't the sentiment--it's how fabricated it comes off on a big network TV stage with a bunch of coordinated drummers and Gloria Estefan.
1. Muse, "Survival" This song is so campy that Mae West turned it down for the scene in Sextette where she had sex with a bunch of male strippers dressed as gymnasts. If Tim Burton were directing the opening ceremonies, Danny Elfman would arrange it for the part where Gabby Douglas is kidnapped by a huge bat with Johnny Depp's mouth.
I mean, I kind of enjoy it, but for something as relentlessly earnest as the Olympics a song that ends with a solid minute of guitar noodling and pseudo-operatic background vocals seems like a weird choice. 2. Christopher Cross, "A Chance for Heaven" If you put "Los Angeles," "1984," "summer nightz," and the font from the WCW logo into the computer from War Games, it will spontaneously generate this song, and with it a reasonably accurate clone of the Christopher Cross from Yacht Rock.
Before I die I'd like to spend four minutes inside a Pontiac Fiero listening to this on cassingle, ideally while driving down a coast drenched in indeterminately sourced neon lights.
3. Bryan Adams and Nelly Furtado, "Bang the Drum" Sometimes, stereotypes are stereotypes because they are true. Canada's Olympics theme song featured Nelly Furtado and Bryan Adams, and socialized health care, and just a huge thing of poutine.
Honorable mention: Tonis Magi, "Olimpiada" This song actually killed Leonid Brezhnev.