Nicki Minaj brought her Roman's Revenge tour to the Peabody Opera House (14th St. and Market St) last night with opener 2 Chainz. It was a big day for the MC -- she was nominated for a couple VMA's and released the video for her new single, "Pound the Alarm," where she gets feathery in Trinidad.
Last night's show featured the expected hits, insane back-up dancing and costume changes. Photographer Todd Owyoung was there -- check out a few of his best shots below.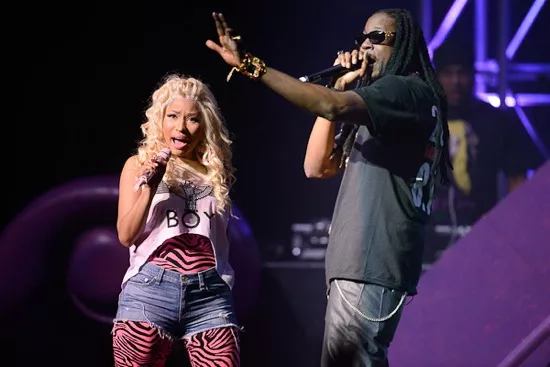 Todd Owyoung
Nicki onstage with opener 2 Chainz performing "Beez in the Trap"
Todd Owyoung
Classy.
Nicki Minaj 2012 Tour Setlist
Roman's Revenge Did It On 'EM I Am Your Leader Beez In The Trap Stupid Hoe Dance A** Right By My Side Monent 4 Life Automatic (DJ Interlude) Starships Pound The Alarm Whip It Where Them Girls At (David Guetta Cover) Turn Me On Till The World Ends (DJ Interlude) Save Me Fire Burns Marilyn Monroe (DJ Interlude) Fly(DJ Interlude) Roman Reloaded Come On A Cone HOV Lane Bedrock Superbass