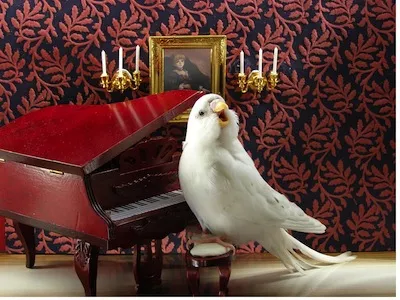 Compiling the best songs about birds is tricky. Many great ones are too metaphorical ("Bird On A Wire" by Leonard Cohen, "Freebird" by Lynyrd Skynyrd) and many literal ones are not great ("I'm Like A Bird" by Nelly Furtado). Continuing the Nitpick Six series about animal songs, here are the six best songs about birds. Let us know your favorite avian songs by commenting below or sending a messenger pigeon to the RFT offices.
See Also: The Six Best Songs About Cats The Six Best Songs About Dogs Nitpick Six Archives
6. Maps & Atlases - "Pigeon" Chicago's Maps & Atlases is no stranger to avian imagery. Its first legitimate release was 2006's Trees, Swallows, Houses, and the highlight of its 2010 album Perch Patchwork is a bouncy slice entitled "Pigeon." David Davison sings "When a pigeon comes to greet you / Sometimes it's hard to tell / Exactly what it means," you can easily visualize the chubby bird waddling up to the singer. I always imagine he's sitting on a park bench, because pigeons tend to gravitate towards cities large enough to have public transportation. Maybe Davison gets his wizard-like guitar powers from his communications with birds -- or maybe they just like to nest inside his Whisker Wars-worthy beard.
5. John Denver - "The Eagle And The Hawk" John Denver's tunes are generally subdued, but "The Eagle And The Hawk" captures the triumphant spirit of the fierce birds in its title. The gung-ho orchestration gives a backbone to otherwise hollow metaphors like freedom and touching mountain tops. It sort of feels like a Yes song, but all sauce and no noodles. And the lyric "There's blood on my feathers" is pretty badass, especially for somebody who had Kermit on speed dial.
4. The Trashmen - "Surfin Bird" "Everybody's heard about the bird," claims The Trashmen's singer Tony Andreason. Quite an assumptive claim, but he gives the backstory in case anybody is uninformed: "Bird, bird bird," he continues. "Bird, bird's the word." But Andreason is not satisfied with the nine variations of the line, so he inquires, "Don't you know about the bird?" This might make you pause and second guess your knowledge of the subject. If you don't know about the bird, then what else don't you know about? What else are they not teaching us in school? I thought I knew about the bird, but what is so dire and important, Trashmen? Tell me, I must know! "Everybody knows bird is the word," Andreason replies, his elastic voice as comforting as a blanket warm with the body heat of a litter of newborn puppies. 3. Simon & Garfunkel - "Sparrow" 2. Marvin Gaye - "Sparrow" The sparrow is a common bird, lacking the rarity or the frivolity of breeds considered more exotic. Simon and Garfunkel write about the creature's humility, asking "Who will love a little sparrow?" The oak tree says no (what a dick!), the swan says no (how cocky!), and the golden wheat says no (go gluten free!). In closing, the earth says yes and the tune reveals itself as a parable about the circle of life that is at least eighty percent better than anything Elton John wrote for The Lion King. Marvin Gaye views the bird differently in his "Sparrow." He focuses on the complicated beauty of the bird's song and laments its absence.
Both songs are good, but Marvin Gaye's "Sparrow" is superior to Simon and Garfunkel's for three reasons:
a. While both view the sparrow positively, Simon and Garfunkel plays the "ugly duckling" card in a manner which might be insulting to the sparrow itself. Gaye does not need to bring up the bird's flaws in order to justify his appreciation. b. Marvin Gaye mentions his own name in the song and rhymes "Gaye" with "away." Although Simon later released an album called There Goes Rhymin' Simon, he and his partner fail to seize the opportunity. In fairness, Garfunkel's name is prohibitive in the rhyme scheme. c. Simon and Garfunkel's version, unlike Gaye's, does not have a totally sweet sax solo.
1. Bars Of Gold - "Birds" This certainly isn't the most familiar pick, as Bars Of Gold is not a very popular band and "Birds" isn't even its most popular song. If you scoff, please know that I take no pleasure in obscurity. I am consistently hesitant to include generally unknown songs in my weekly Nitpick Six, so the inclusion of the 2010 track "Birds" by Bars Of Gold should be a sign of its greatness. Bars Of Gold's organic take on punky indie rock is tough to pin down. In the first minute of "Birds," we get a banjo fake-out intro, a prickly post-punk verse, and around 1:12, the payoff of all payoffs. Frontman Marc Paffi, who formerly fronted post-hardcore band Bear Vs. Shark, sings "Do you like biiiiiiiirds?" at the ideal moment, followed by questions that accelerate in specificity: "Do you like real big birds?" (Yes) "Do you like great big birds?" (Yes) "Is that the biggest bird I've ever seen?" (Maybe). If this song had more to do with our airborne friends, it would probably suffer from overkill. Any less, and it wouldn't qualify for this list. As is, "Birds" is one of the few songs made in the last few years that I can call perfect with no reservations.